| | |
| --- | --- |
| Venables happy with his defense this spring despite big numbers Saturday | |
---
| | |
| --- | --- |
| Sunday, April 12, 2015 3:01 PM | |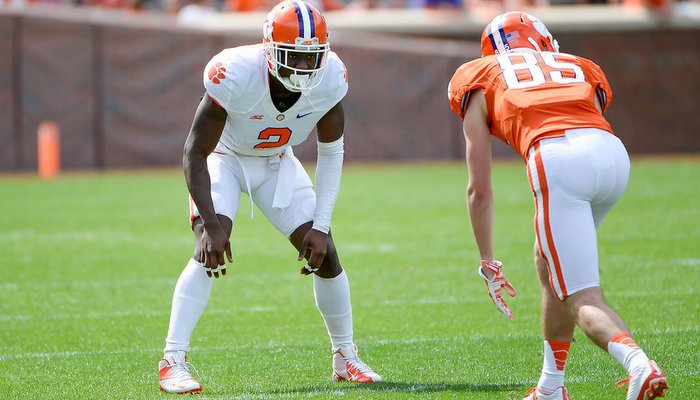 CLEMSON – Defensive coordinator Brent Venables

Brent Venables
Def. Coordinator / Linebackers
View Full Profile didn't seem concerned with his group's performance following Saturday's Orange & White Game, instead joking with reporters that he picked the wrong team to coach as the White defeated the Venables' Orange group 35-24.
"The white defense was obviously the better of the two defenses," Venables said after the game. "I screwed that one up. I actually chose the offense - the orange offense instead of taking the defense. That'll be the last time I listen to anybody else."
Venables said he wouldn't let a few miscues in a glorified scrimmage overpower the fact that the defense had a good spring.
"Good spring. There are a bunch of things that you can nitpick about today, but overall I thought we had a really strong spring," he said. "We will have an opportunity to have a strong defense. We have a little bit of depth in the secondary. I think we will be strong up front. We have to continue to develop and get better in our pass rush. B.J. Goodson

B.J. Goodson
RS Sr. Linebacker
#44 6-0, 240
Lamar, SC
View Full Profile has had a good, strong spring. He wasn't in there today. I think we have good chemistry at there. We need to develop guys and get more depth at linebacker.
"We're an injury away right now from that position being a liability, but I think we have a chance to have a good corps there. Leadership development and some of these guys are going to have to grow up really fast when they get on campus. We have five D-linemen showing up this summer. We have to continue to develop some guys who haven't been starters that are in that one or two deep. They'll have to have a great summer and do a great job of getting in and watching themselves from the spring video and cutups. We'll see where we go, but we have a chance to have a strong starting 11, plus a few."
Other notes
Cornerback spot opposite Mackensie Alexander

Mackensie Alexander
RS So. Cornerback
#2 5-10, 190
Immokalee, FL
View Full Profile
" Cordrea Tankersley

Cordrea Tankersley
Jr. Defensive Back
#25 6-1, 195
Beech Island, SC
View Full Profile , Ryan Carter

Ryan Carter
RS So. Cornerback
#31 5-9, 180
Grayson, GA
View Full Profile , Marcus Edmond

Marcus Edmond
RS So. Cornerback
#29 5-11, 170
Hopkins, SC
View Full Profile , Adrian Baker

Adrian Baker
RS So. Cornerback
#21 5-11, 180
Hallandale, FL
View Full Profile - those are our corners. They've all done some really good things. Some guys have to add some strength to their game and improve in their coverage and technique, but I like the group. We have some length there, some speed there, and some toughness there. Their development will be critical. You need to be able to play with more than two corners. I feel really good about Cordrea and where he's been. He had a good spring a year ago but didn't have a great fall camp for whatever reason. We can't replicate that. Mark Fields

Mark Fields
Fr. Cornerback
# 5-10, 185
Cornelius, NC
View Full Profile and Tanner Muse

Tanner Muse
Fr. Linebacker
# 6-4, 205
Belmont, NC
View Full Profile aren't here yet. Mark will have a chance if he knows what to do and he comes in good shape to jump into that mix."
Linebackers
"I really like where we're at with our SAM/Nickel spot with Korrin Wiggins

Korrin Wiggins
Jr. Defensive Back
#12 5-11, 195
Durham, NC
View Full Profile and Dorian. B.J. can play the strong side position as well. And then Kendall Joseph

Kendall Joseph
RS Fr. Linebacker
#34 5-11, 225
Belton, SC
View Full Profile , Korie Rogers

Korie Rogers
RS Fr. Outside Linebacker
#43 6-2, 235
Buford, GA
View Full Profile , Jalen Williams

Jalen Williams
Fr. Linebacker
#30 6-0, 215
Columbia, SC
View Full Profile , Chad Smith

Chad Smith
Fr. Linebacker
# 6-3, 215
Sterling, VA
View Full Profile , Judah Davis

Judah Davis
Fr. Linebacker
#36 6-2, 220
Clemson, SC
View Full Profile and JD Davis. I really feel good about where Kendall and Korie are. I think those are two really quality young guys and I think they have a chance to be really good players. Kendall is probably a little bit further ahead mentally. Kendall could go out there right now and run it and we'd be just fine. I've been pleased with them. We don't have a lot of proven guys in game situations. I really like the group, though; instinctive, tough, physical, can run, tackle, work hard - all those things. I like our group."
The pass rush
"Shaq (Lawson) has done it. I think (Kevin) Dodd will be a good complement to him along with Ebo ( Ebenezer Ogundeko

Ebenezer Ogundeko
RS So. Defensive End
#1 6-3, 250
Brooklyn, NY
View Full Profile ). From there you have Richard Yeargin

Richard Yeargin
RS Fr. Defensive End
#49 6-4, 225
Lauderdale Lakes, FL
View Full Profile and some other young guys coming in. Chris Register

Chris Register
RS Fr. Outside Linebacker
#45 6-2, 245
Browns Summit, NC
View Full Profile just got over there, so he's learning from the ground up. We have three more D-ends coming in this summer. It's hard to count on true freshmen, but one or two of them are probably going to have to jump in there with that two deep and compete with that group of guys. You only need two, but your two better be awfully, awfully good. I think we have three plus. Richard and his continued development. He had a very good spring. Ebo showed he could play winning football. Have a great summer these next few months - really locking in, attacking weaknesses. I think we have a chance to be strong."

Tags:
B.J. Goodson
,
Cordrea Tankersley
,
Marcus Edmond
,
Mackensie Alexander
,
Korrin Wiggins
,
Adrian Baker
,
Ryan Carter
,
Ebenezer Ogundeko
,
Chris Register
,
Korie Rogers
,
Richard Yeargin
,
Kendall Joseph
,
Judah Davis
,
Jalen Williams
,
Tanner Muse
,
Mark Fields
,
Chad Smith
,
Brent Venables