| | |
| --- | --- |
| Venables break down the defense at the break, talks Pagano and Ogundeko | |
---
| | |
| --- | --- |
| Saturday, March 14, 2015 9:38 AM | |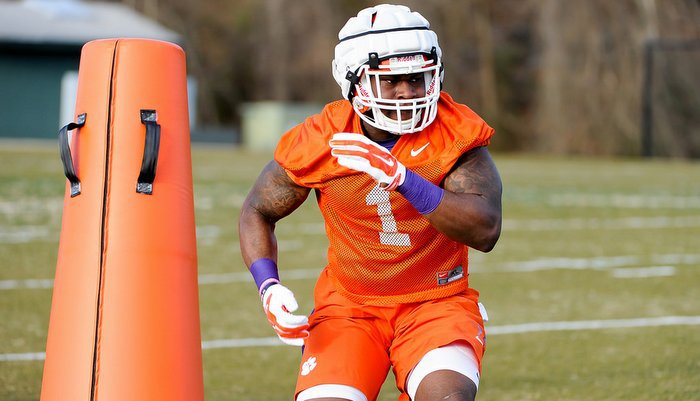 CLEMSON – The Clemson Tigers are at the halfway point of spring practice but following the final practice before spring break defensive coordinator was not exactly happy with his defensive unit.
Venables' displeasure showed during his interview session with media following Wednesday afternoon's practice. Venables hadn't met with the media since the first week of practice and he said that not a lot had changed since that meeting.
"Not really. Not since the last time we spoke. Nothing really has changed," an unhappy Venables told the media after practice in the indoor practice facility. "We had a scrimmage and then two practices that we didn't do a whole lot. Everything is pretty much the same. We've got good competition at linebacker and in the secondary. We don't have a lot of depth up front and have that same group of guys that are kind of standing out - Shaq (Lawson) and (Kevin) Dodd and (D.J.) Reader and (Carlos) Watkins and (Scott) Pagano inside. So that is kind of where we are."
With the depth along the defensive line depleted, Venables is looking to redshirt sophomore Scott Pagano

Scott Pagano
RS So. Defensive Tackle
#56 6-3, 295
Honolulu, HI
View Full Profile to take the next step and he said that the Hawaii native has shown that he can be a physical presence.
"He [Pagano] is physical. He is excited for his opportunity and he has prepared well," Venables said. "I see him out there competing and doing well. He has done well in the PAW drill and has won more than his fair share of battles. He has done well."
Venables said that he has liked what he's seen out of the linebacker corps after two weeks of practice.
"They've been solid," he said. "I've been pretty pleased with Ben (Boulware) and B.J. (Goodson) working with Korrin Wiggins

Korrin Wiggins
Jr. Defensive Back
#12 5-11, 195
Durham, NC
View Full Profile and Dorian O'Daniel. Got young guys like Korie Rogers

Korie Rogers
RS Fr. Outside Linebacker
#43 6-2, 235
Buford, GA
View Full Profile and Kendall Joseph

Kendall Joseph
RS Fr. Linebacker
#34 5-11, 225
Belton, SC
View Full Profile and Jalen Williams

Jalen Williams
Fr. Linebacker
#30 6-0, 215
Columbia, SC
View Full Profile working in there as well. Chris Register

Chris Register
RS Fr. Outside Linebacker
#45 6-2, 245
Browns Summit, NC
View Full Profile , all those guys have been looking good. I like them. They can run, they can hit, and they're instinctive. They like to work. It's a good group of guys.
"Korrin is playing the Nickel and doing a good job there. Dorian O'Daniel

Dorian O'Daniel
RS So. Linebacker
#6 6-2, 215
Olney, MD
View Full Profile has showed up some. Korie Rogers and Kendall Joseph have done a good job there."
However, Venables is looking for more out of the secondary.
"Ah, inconsistent. Not where we need to be," he said. "Some other guys aren't quite there yet and Ryan Carter

Ryan Carter
RS So. Cornerback
#31 5-9, 180
Grayson, GA
View Full Profile is the next best guy as of today."
Other defensive notes
< Ebenezer Ogundeko

Ebenezer Ogundeko
RS So. Defensive End
#1 6-3, 250
Brooklyn, NY
View Full Profile
"He is a little more consistent, He is just more consistent and not busting. He's in good position. He has awareness and he is confident and he playing fast."
Albert Huggins

Albert Huggins
Fr. Defensive Line
#67 6-3, 280
Orangeburg, SC
View Full Profile
"He is playing defensive end. That is where he is playing and it's all he has played up to this point."
B.J. Goodson

B.J. Goodson
RS Sr. Linebacker
#44 6-0, 240
Lamar, SC
View Full Profile
"He's a fifth-year senior that's invested a lot in this program. He recognizes that guys like Stephone (Anthony) and Tony (Steward) have been great leaders in our corps. Any great organization, business or team rises and falls with leadership. We try to foster that and nurture that whole concept and he recognizes that he has to do his part to fill that void. If he doesn't lead, who will?
"He has to have that mindset and the key is being able to do that day-in, day-out, month-in, month-out and year-round. That's what's hard. The discipline to do the things right all time and lead all the time."
Dorian O'Daniel
"He's good. He's so much further than he was last year. He's got a lot more confidence and a lot more sure of himself. It's night and day from where was."

Tags:
B.J. Goodson
,
Dorian O'Daniel
,
Korrin Wiggins
,
Scott Pagano
,
Ryan Carter
,
Ebenezer Ogundeko
,
Chris Register
,
Korie Rogers
,
Kendall Joseph
,
Jalen Williams
,
Albert Huggins