| | |
| --- | --- |
| "Unstoppable." Recruits react to Clemson's win over Miami | |
---
| | |
| --- | --- |
| Tuesday, October 27, 2015 7:01 AM | |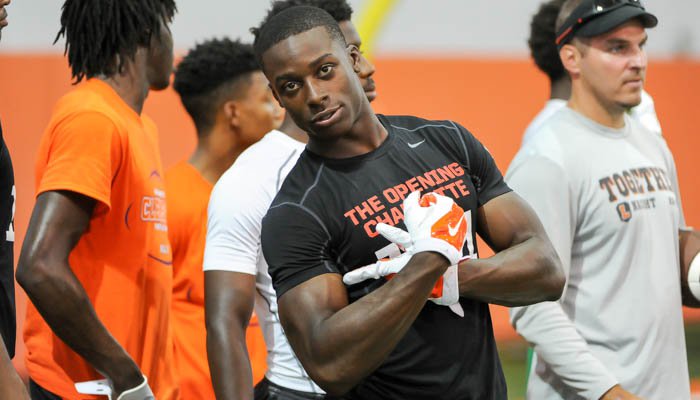 Clemson's resounding win over Miami made the college football world sit up and take notice, and the recruits took notice as well.
The Tigers thumped the Hurricanes 58-0 Saturday in Sun Life Stadium, rolling up 33 first downs to Miami's six while gaining 567 total yards of offense to Miami's 146. Quarterback Deshaun Watson was 15-of-19 for 143 yards and a touchdown while Wayne Gallman had 122 yards on the ground as the Tigers pounded out over 400 yards rushing.
It was a dominating performance from start to finish, and Clemson's recruits were tuned in.
Linebacker Jamie Skalski out of Newnan (GA) Northgate said the Tigers were dominant.
"I thought it was a great team win," Skalski told TigerNet. "They just keep showing people how dominant of a team they really are."
Quarterback Zerrick Cooper out of Jonesboro (GA) said he liked what he saw on both sides of the ball.
"It was a blowout, but really a great game," Cooper said. "The offense was very explosive, and the defense was unstoppable and put up points."
Cooper said he loves what he sees out of Clemson's offense, especially the playcalling of Tony Elliott and Jeff Scott.
"I love what they are doing," Cooper said. "The credit goes to both Coach Elliott and Coach Scott. It's exciting to watch."
Offensive lineman Sean Pollard took delight in watching Clemson's offensive line change the line of scrimmage with it's dominating effort.
"It was a great team win," Pollard said. "The offensive line showed they can play smash-mouth football. They also showed they can play together and run the ball down someone's throat."
Wide receiver Cornell Powell out of Greenville (NC) Rose is having an outstanding season, with 40 catches for 900 yards and 15 touchdowns. He has 21 touchdowns overall while posting an average 112.5 receiving yards per game.
Powell told TigerNet that Clemson's offense is unstoppable.
"It was just straight dominance," Powell said. "They showed why they are in the top four! The offense is unstoppable. They have a great leader at quarterback, and they're clicking on all cylinders."
Defensive end Xavier Kelly out of Wichita (KS) East has seen his high school team stumble out to an 0-7 start, but he's enjoyed watching the Tigers' defense. Especially ends Kevin Dodd and Shaq Lawson.
"It was great football all around," Kelly said. "I love how the younger players made an impact, too. Seeing those guys (Dodd and Lawson) motivates me and gets me excited. I can't wait to get there."