| | |
| --- | --- |
| Twitter becoming a game-changer in recruiting | |
---
| | |
| --- | --- |
| Friday, July 20, 2012 10:20 AM | |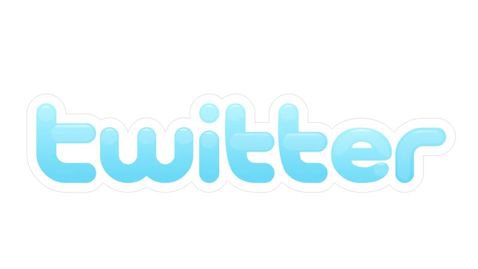 The college football recruiting landscape has changed – for the good and the bad - thanks to Twitter.
The social media company grows and changes each and every day, and college football recruiting and the way that Twitter is used by not only football coaches, but recruits and even fans is an ever-changing backdrop to the world of college football.
Twitter's projected ad revenue in 2012 is $259 million, and it is projected to be at $540 million by 2014. Eleven new Twitter accounts are created every second, and one million accounts are opened every day.
Facebook had jumped into the fray and is still used by recruits, fans and players alike as a means of staying in touch.
Twitter, however, allows all of the above to take that to another level. Facebook limits the number of "friends" a person can have to 5000. Anything above that, and a player would have to create a "fan page" to keep up with the amount of friend requests. On Twitter, there is an unlimited amount of followers a user can have, and you can still block the undesirables or people that you don't want seeing your tweets.
For a young player who thrives on the attention that Twitter provides, it's just too good to pass up.
It's the same thing for fans, who can't resist the chance to interact with players. And that brings me to Keith Marshall, the 2012 running back who committed to Georgia after having Clemson at the top of his list for much of his recruitment.
Marshall is serious about Twitter – he has over 13,000 tweets to his credit. And it was during Marshall's recruitment that Georgia fans began to follow Marshall en masse, constantly tweeting to Marshall and about Marshall. They far out-classed any of the other schools that were in the running for Marshall's services, and Marshall soon committed to Georgia.
Shortly after his commitment, Marshall tweeted out to all of his Bulldog fans that they needed to get to work on the recruiting trail of another high-profile back:
1st up .. get my bro @TG1UNO to join dawg nation !!

— Keith Marshall (@Truthh4) December 6, 2011
The player mentioned in this tweet is Todd Gurley, a running back out of North Carolina who picked the Bulldogs over Clemson and others.
Did the mass tweets have anything to do with those two players choosing Georgia? You would hope not, but social media has changed the way we interact with each other [for instance, teenagers texting to each other even though they are sitting next to each other] and changing the way that many young people form their opinions. You also see it when recruits reach out via Twitter to get fans of a certain school to get another recruit a certain amount of followers, wanting everyone to feel the "love" that Twitter engenders.
For the NCAA, Twitter is still a bit of a murky issue and an issue that the governing body is finding hard to regulate. Some of what they do regulate comes across as downright silly, such as when former T.L. Hanna tight end and current Tennessee Volunteer Justin Meredith congratulated former teammate [and current Clemson commit] Ben Boulware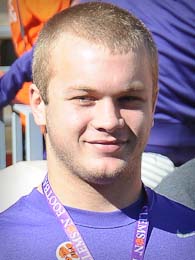 Ben Boulware
Outside Linebacker
6-1, 230
Anderson, SC
View Full Profile on a scholarship offer from the Vols. That had to be removed because it is deemed a violation as current members of an institution are not allowed to comment in any way on recruiting, prior relationships notwithstanding.
Fans, however, can pretty much say what they want as long as it doesn't cross the line of promising benefits. But fans are not stopped from following recruits and even sending tweets about how much they want a certain prospect at their school. The NCAA is constantly running about three or four years behind in making sure that enforcement keeps up with society, so expect that trend to continue.
If you want to get a feel for what is happening with recruits and Twitter, the following is a list of Clemson recruits and targets and their Twitter handles. You just might enjoy reading.
Kendall Fuller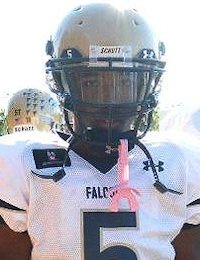 Kendall Fuller
Defensive Back
6-0, 185
Olney, MD
View Full Profile (@KENyoufeelmee)
Demarcus Walker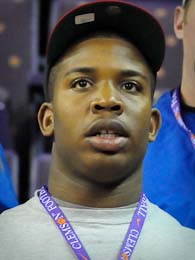 Demarcus Walker
Defensive End
6-4, 276
Jacksonville, FL
View Full Profile (@livinglegend_44)
DeShaun Watson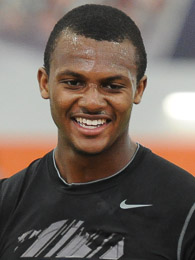 DeShaun Watson
Quarterback
6-3, 190
Gainesville, GA
View Full Profile (@ShaunWatson4)
Tramel Terry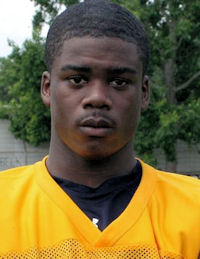 Tramel Terry
Wide Receiver
5-11, 170
Goose Creek, SC
View Full Profile (@TeamTDterry_GC)
DeMarcus Robinson (@demarcus11robin)
Alvin Kamara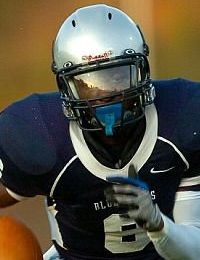 Alvin Kamara
Running Back
5-9, 180
Norcross, GA
View Full Profile (@A_kamara6)
Robert Nkemdiche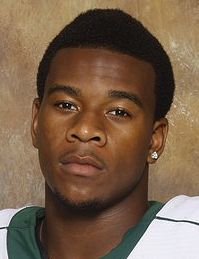 Robert Nkemdiche
Defensive End
6-5, 275
Loganville, GA
View Full Profile (@Robertusmagna_1)
Wayne Gallman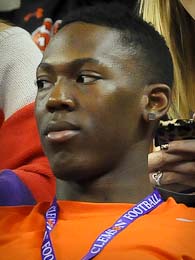 Wayne Gallman
Running Back
6-1, 195
Loganville, GA
View Full Profile (@Wanye_Kanye)
Ryan Jenkins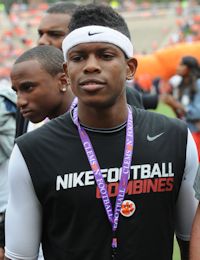 Ryan Jenkins
Wide Receiver
5-11, 177
Alpharetta, GA
View Full Profile (@TeamFlash80)
Jordan Leggett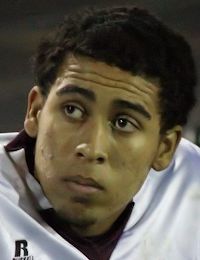 Jordan Leggett
Tight End
6-6, 235
Navarre, FL
View Full Profile (@Clemson_Bound)
Elijah Daniel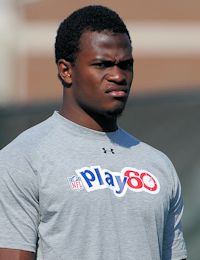 Elijah Daniel
Defensive End
6-4, 255
Avon, IN
View Full Profile (@elijahdaniel6)
Ben Boulware (@benboulware7)
Dorian O'Daniel (@DougieDTripleOD)
David Kamara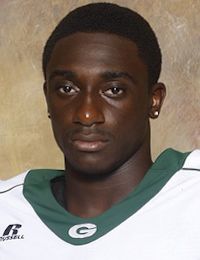 David Kamara

5-11, 185
Loganville, GA
View Full Profile (@KamaraIsland_3)
Jadar Johnson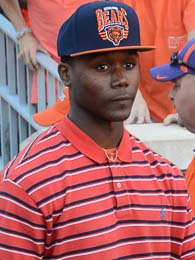 Jadar Johnson
Defensive Back
6-1, 180
Orangeburg, SC
View Full Profile (@_Jadar_)
Dylan Sumner-Gardner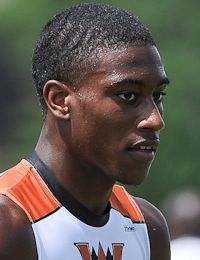 Dylan Sumner-Gardner
Safety
6-1, 190
Mesquite, TX
View Full Profile (@_DreamChasinn)
Vernon Hargreaves (@VHargreaves24)
Derrick Green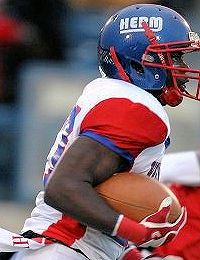 Derrick Green
Running Back
6-0, 215
Richmond, VA
View Full Profile (@bigdnice27)
Tyrone Crowder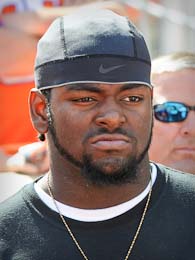 Tyrone Crowder
Offensive Guard
6-2, 315
Rockingham, NC
View Full Profile (@Tha_Truuff)

Tags:
Alvin Kamara
,
Ben Boulware
,
David Kamara
,
Deshaun Watson
,
Demarcus Walker
,
Derrick Green
,
Dylan Sumner-Gardner
,
Elijah Daniel
,
Jadar Johnson
,
Jordan Leggett
,
Kendall Fuller
,
Marcus Robinson
,
Robert Nkemdiche
,
Ryan Jenkins
,
Tramel Terry
,
Tyrone Crowder
,
Wayne Gallman