| | |
| --- | --- |
| Tuesday night practice news and notes | |
---
| | |
| --- | --- |
| Tuesday, August 18, 2015 6:49 PM | |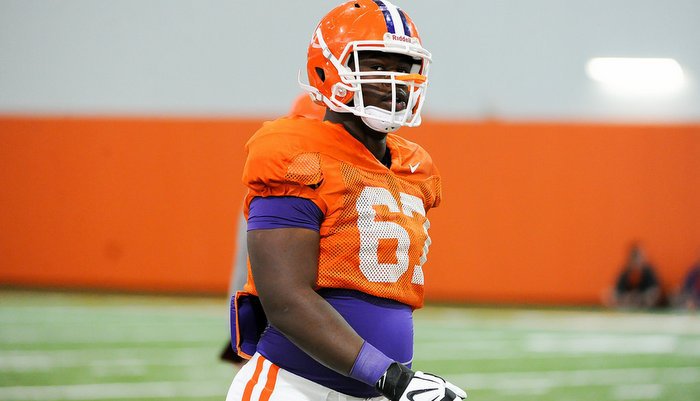 CLEMSON – Fall camp is over.
Classes on Clemson's campus start Wednesday morning, and the football team held the final practice of preseason camp Tuesday afternoon at Jervey Meadows before lighting forced the team indoors for the remainder of the session.
Head coach Dabo Swinney

Dabo Swinney
Head Coach
View Full Profile said the Tigers are tired of hitting each other, and said linebacker Ben Boulware

Ben Boulware
Jr. Outside Linebacker
#10 6-0, 235
Anderson, SC
View Full Profile 's scuffle with left guard Eric Mac Lain

Eric Mac Lain
RS Sr. Offensive Tackle
#78 6-4, 305
Hope Mills, NC
View Full Profile Saturday is a perfect example.
"They are tired of each other. If you spot the ball, they are going to compete," Swinney said after the session. "It doesn't matter what we ask them to do they compete. There is a good chemistry to this team I like. But from time to time they get tired of each other and get after each other after the whistle a little bit. Nothing that is a problem."
Swinney smiled when asked if Boulware had been any different since his ejection in Saturday's scrimmage.
"He's fine. Same old Ben. Hopefully he learned a lesson," Swinney said. "If he wants to play he has to play within the rules."
Other notes
Thursday scrimmage
"We have another big scrimmage on Thursday. We've talked about it and we have an idea of where we're going, but there's a few guys on that bubble that we've got to make some decisions on and that will be a big part of what Thursday and Friday are all about because when we do get started on Friday we want to take the next couple of weeks and really get focused on preparing the guys we think are going to play"
Safety depth, including Jadar Johnson

Jadar Johnson
Jr. Defensive Back
#18 6-0, 200
Orangeburg, SC
View Full Profile
"He has been solid. Jayron (Kearse) and Jadar and T.J. (Green) can all play at a high level for us. That will be a competition that will go all season. Jadar is a very talented player who can be a little inconsistent with his focus from time to time. But there is no question he can play and play at a high level and that's what we need from him. And Jefferie Gibson

Jefferie Gibson
RS Fr. Safety
#17 6-4, 200
Hope Mills, NC
View Full Profile has made progress. He's not quite where those guys are but he has made a lot of progress from the spring and he is a guy I am proud of."
Linebacker depth since Wiggins' injury and Korie Rogers

Korie Rogers
RS Fr. Outside Linebacker
#43 6-2, 235
Buford, GA
View Full Profile leaving team
"Wiggins was at the Nickel/SAM and we were pretty deep there already. You don't want to have an injury but that is probably a position where we could get away with one. We are ok there with the return of (Travis) Blanks and his experience and Dorian O'Daniel and the experience he has gained over the last couple of years. And then T.J. Burrell

T.J. Burrell
RS Jr. Linebacker
#41 5-11, 215
Goose Creek, SC
View Full Profile is a guy that can play there, too. I think we are good there. Our challenge is inside because Kendall (Joseph) has been out and we hope to get him back in about another week. We think Kendall is ready to play and we are ready to play him. We almost played him last year. He is a very mature young man and very focused. But his being out has really forced the growth of Jalen (Williams) who is going to be a good player. And Chad (Smith) and J.D. (Davis) and Judah (Davis) and Martin Aiken

Martin Aiken
RS Jr. Defensive End
#53 6-2, 255
Smoaks, SC
View Full Profile . All of those guys have gotten a ton of work but they are inexperienced."
Cornerback rotation
"I think Mackensie (Alexander) has really had an excellent camp and I think he's clearly out front right now, although those other guys compete and are getting better. Cordrea Tankersley

Cordrea Tankersley
Jr. Defensive Back
#25 6-1, 195
Beech Island, SC
View Full Profile has been pretty steady. He's had a solid camp. He might run out there first, but it's a battle. Adrian Baker

Adrian Baker
RS So. Cornerback
#21 5-11, 180
Hallandale, FL
View Full Profile has competed all camp with Mackensie. Ryan Carter

Ryan Carter
RS So. Cornerback
#31 5-9, 180
Grayson, GA
View Full Profile , Marcus Edmond

Marcus Edmond
RS So. Cornerback
#29 5-11, 170
Hopkins, SC
View Full Profile , those guys can all play and then we've got young Mark Fields

Mark Fields
Fr. Cornerback
#24 5-10, 185
Cornelius, NC
View Full Profile that is getting better every day. Every rep he gets, he gets better. He's really, really fast and explosive. He's not technically disciplined right now like those other guys, but he's another guy that has shown that he's got a chance to compete. It's a deep group. You're going to see a lot of guys playing in the back end. You won't just see two guys take all of the snaps. You're going to see all of those guys get an opportunity to play."
Albert Huggins
"He's doing good. He's learning how to play inside. It's really a new position for him. We made the move the latter part of the spring. I called him out today. I thought he had a good day today. Every day is a growing opportunity for him. Physically gifted, but the fundamentals, the technique, the leverage, the hands - everything you have to do inside he's still coming on and trying to slow the game down a little bit. A great attitude. A great work ethic. Unbelievably talented, but he's got to put it all together."

Tags:
Eric Mac Lain
,
Cordrea Tankersley
,
T.J. Burrell
,
Martin Aiken
,
Ben Boulware
,
Marcus Edmond
,
Jadar Johnson
,
Adrian Baker
,
Ryan Carter
,
Korie Rogers
,
Jefferie Gibson
,
Mark Fields