| | |
| --- | --- |
| Tuesday from the WestZone: Swinney talks Syracuse, pizza and dancing | |
---
| | |
| --- | --- |
| Tuesday, November 10, 2015 12:42 PM | |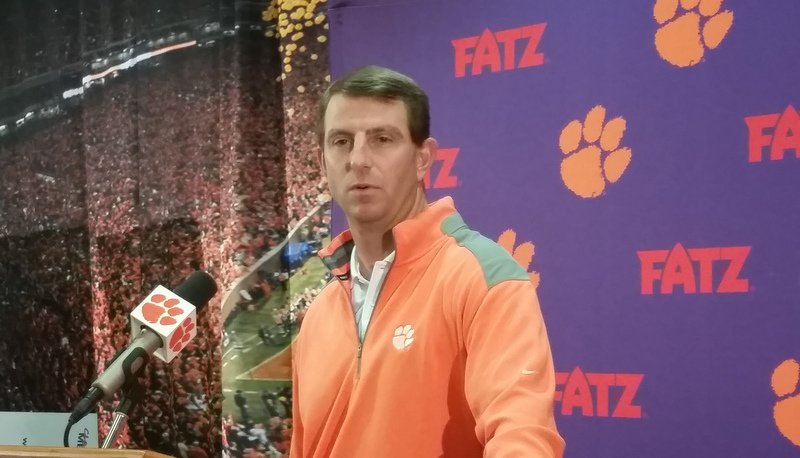 CLEMSON - It's a great time to be a Tiger.
Clemson head coach Dabo Swinney met with the media Tuesday morning in the WestZone to talk about this week's game at Syracuse, and he started by complimenting the Clemson men's and women's soccer teams before discussing this weekend's 3:30 p.m. kickoff in the Carrier Done.
"It's Great time to be a Tiger. I'm so proud of our men and women's soccer teams. Really proud of our team on the way they competed last weekend in a really hard-fought battle," Swinney said. "To be 9-0 for only the third time in the history of this school is really a great accomplishment for these guys. For us, it's just back on the road heading up to Syracuse. This is a trip I think our guys look forward to. Any time you get a chance to go to New York - that's the neat thing about college football in that a lot of our guys get a chance to go up there to a place they haven't seen. I hadn't been there until two years ago. It's a good experience as far as a place to play a game. I had never been there until two years ago. They are 3-2 at home. They're tough at home. Tough team. Tough crowd. They had a close loss to LSU in a 10-point game and three-point game Pitt as well. We have to continue to do what we do and get ourselves mentally and physically ready to play our best game of the season."
The Orangemen are 3-6 overall and just 1-4 in ACC play.
"There are some question marks on them because they've had some injuries and we aren't sure which quarterback is going to play," Swinney said. "For us we're trying to focus on ourselves and we're trying to get better. We have not played our best ball yet. It's a huge opportunity for our seniors - if we win the game the seniors are going for their 27th ACC win and a chance for a 10th win. There is so much on the line for us each and every week. It's a season of its own and a story of its own. For us, it's just staying dailed in staying focused and keeping the structure in place."
Swinney said the Carrier Dome is a difficult place to play.
"It is loud. You have to manage the noise. It's indoors and they're right on top of you," he said. "It's similar to N.C. State in that regard, but with a roof on it. They can reach out and touch you. That's the biggest thing and then the team you are playing. They are a prideful bunch at home, especially. They haven't had the type of year you want, but they've had a ton of injuries. The thing I'm impressed with when I watch Syracuse is the fact that they play hard and physical. They present some challenges. Offensively they have the ability score.
"They went right down the field and scored in the opening drive against FSU and played them tough for a while. They have done a lot of different things. They have all kinds of stuff we have to defend. And they have different quarterbacks. They have really good skill. They have three great wideouts and do a great job with the running game. They play tough at home and we know that for us we're going to get everyone's best game. That's just the way it is and that is why it's important for us to play to the standard we talk about."
Punt returner Brisley Estime is third nationally in punt returns, with two touchdowns in his 14 returns.
"He averages almost 19 yards a punt return and he leads our league," Swinney said. "We have to punt effectively to get the hang time we want so we can get our guys down there and have to leverage the ball and get him on the ground . We haven't had many punt return issues. He's a good one."
Other notes
Rex Ryan wearing a Clemson helmet
"No. I didn't know that. He's crazy. I didn't know that. He is hilarious. I love Rex Ryan. Whether you like him or don't like him, he is who he is. As you perceive him, that's how he is. He's a real guy and is passionate about what he does. I am really happy that they got a big win last week. One of our social media guys was showing me pictures of their practice last week and I guess they had college day at their practice, and they had pictures at their practice and Rex was decked out in Clemson gear. And of course all of the Clemson guys are out there in Clemson gear - Mike Hamlin and James Trapp and Jonathan Meeks and Tony Steward - they were all out at practice in their Clemson gear. That was neat. I'm going to see a lot of former players on this trip. We had a ton of guys here last week. Marcus Gilchrist has already called me. He's going to be there. And of course all of the Bills guys will be there."
Seth Ryan is a holder, how important is he?
"Seth Ryan is a pretty good wideout, too. He's smart, he's fast, he runs good routes and he's got good ball skills. And how he got to be the holder - he grew up in training camps holding. He's been a holder his whole life. There is a skill to that. We wanted to red-shirt him and get some weight on him. He's a good football player and has been a big part of the success we've had. Replacing our entire battery was a concern for us coming into the season. Nice to know we will have him another couple of years. He can play any position for us at wideout. He's a putty guy for us and he can go and play any position for us."
Jim Brown and Syracuse
"Speaking of special teams, I've been waiting all year to name Jim Brown as the captain for the Syracuse game. That's the way the response is supposed to be (laughter) We've got some wise, mature people in this room. When I said that to the team yesterday, I got nothing. Crickets. We've got our own Jim Brown. And they are all going (blank looks). It's sad beyond explanation that arguably the greatest running back of all time ... they don't even know who he is (laughing). The only Jim Brown they know is the snapper at Clemson. Once I explained the story to them they were like, 'Yeah I know him. I've seen a clip on him.' That will be neat seeing our Jim Brown serving as our captain this weekend."
Dancing and President Clements
"The fun is in the winning. Everyone has fun when you're winning. Lose one of those games, and there won't be any dancing. We've got the best president in the country. His personality has rubbed off on me. He's one of the most genuine, normal people in the world. No offense to college presidents. Most of them I've been around are...they are college presidents. This guy is just as normal a guy as you'd ever meet. You'd never think college president. But he is so smart and passionate about what he does. Great family guy. A great fit for Clemson and a great family guy. He needs to work on his dance moves."
The boycott at Missouri
"I don't know enough about the situation there. I don't really know enough to have an opinion there. All I know is what we do here. Before anything could become a major crisis, I would like to think I'd know about it. We have a lot of communication and transparency here in our program. There are very few things that don't get vetted here because of the way we're set up. There are bigger things than football. I can tell you that. I don't know the circumstances of that situation. Obviously it was something that was major. I guess they felt like they had to take a stand. Everyone has to make decisions but there are consequences with the decisions you make. Sometimes they're good and not so good."
Artavis Scott back at punt return?
"He will stay in there. He is working himself back at full strength. We would prefer to get one of these other guys to take a load off of him. Ray-Ray is out now and plays a lot of snaps on offense. We've got guys. We just want them to do their jobs. G-Hop is another guy we'd like to see get another chance there. Artavis is ready when we need him. He'll continue to be mixed in there."
The pizza party
"I meant what I said. I forget the power of media or the power of being a highly ranked team. If we had three wins, no one would show up and it wouldn't even make the local news. Where we are right now means everything is magnified to the nth degree. It's just what popped into my head. Y'all kept asking me about the poll. There is no celebration of a midseason poll. I was just saying let's celebrate on December 6. It was just a comment. Hey, I'm fired up for it. There is only one issue - we have to win the rest of the way and we have to win on the 5th. We've got work to do. Hey, I'll be there and we'll have it ready to go, so show up. Show up."
Is Brent Venables the best defensive coordinator in the country?
"I think he is the best defensive coordinator in the country. Anybody on my staff who has an opportunity, I would love that for them. That's something everyone has to evaluate on their own. One thing we ain't going to do is talk about jobs. We're going to talk about who we're playing and this season. I would never want anyone to not have a chance for advancement if they want that. We have a program in place that they can take with them if they get opportunities to grow?
Do you need dance lessons?
"No. I'm a hopeless cause. I would like to learn the Shag. That's a state dance. I would like to do that. I've got a guy who wants to come teach all the coaches but haven't had a chance to do that yet. Hey, I'm coachable."