| | |
| --- | --- |
| Troy notes: Fear the beard? | |
---
| | |
| --- | --- |
| Wednesday, August 31, 2011 8:14 PM | |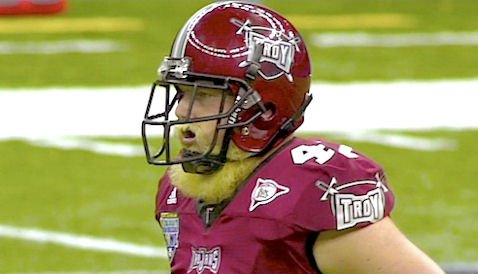 Troy head coach Larry Blakeney said on the Sun Belt Conference media call on Tuesday that he is driving the point home to his young team that they have a wonderful opportunity in front of them Saturday.
Blakeney brings his Troy Trojans into Death Valley for a 3:30 p.m. contest, and he said he hopes his program can "make some noise" with a win over the Tigers.
"The positive side of playing these kinds of folks is that there is a tremendous opportunity to go out there and make some noise with the BCS and put in a feather in your cap," Blakeney said.
"I have definitely sold our guys on the opportunity that we have when we play Clemson."
However, Blakeney also knows that while the Tigers are young, so are his Trojans.
"We have had good preparation and not many distractions," he said of fall camp. "We have a good group of young players, but we are a young football team that was made even younger when we had some players that didn't make it eligibility-wise."
Other Troy notes:
The Series
The Trojans and Tigers have never met in football, although the Trojans have faced five other members of the ACC. Coach Blakeney has faced Florida State (2006), Georgia Tech (2006), Virginia (2003) Maryland (2001) and Miami (2001) since leading the Trojans into the FBS. Troy has played four other schools from South Carolina, compiling a 6-10-1 all-time record in games against Charleston Southern (3-0), Newberry (1-5-1), Presbyterian (2-2) and USC (0-3).
Quick Hitters
The Trojans enter the 2011 season picked to finish second in the Sun Belt Conference. The Trojans earned a share of their fifth straight league crown in 2010. Troy shared the league title with FIU last year. The Panthers are the preseason pick to win the title this year.
Troy has an all-time record of 49-35-6 in 90 season openers. That record includes a 21-23-4 record in road season openers.
Coach Larry Blakeney has posted an overall record of 14-6 in season openers, including a 9-6 mark in road season openers.
Troy is 3-2 all-time in games played on Sept. 3. The Trojans lost at Bowling Green 31-14 (2009) in their last game on this date.
Coach Larry Blakeney has posted an 46-29 record during his career in games played in September and he is 68-67 overall in his career in home games.
Junior running back Shawn Southward enters the 2011 season needing just 30 rushing yards to move onto the top 20 career rushers at Troy University. He is also two rushing TDs shy of the top five on the career list at Troy.
Sophomore quarterback Corey Robinson needs 274 passing yards to become just the sixth player in school history to throw for at least 4,000 yards in a career.
Offensively, the Trojans open the 2011 season with a combined 88 career starts among returning players. Of those starts, 51 are on the offensive line. Defensively, the Trojans return 110 total career starts to open the season.
A pair of Trojans made an accidental friendship with the sister of Clemson junior offensive lineman Matt Sanders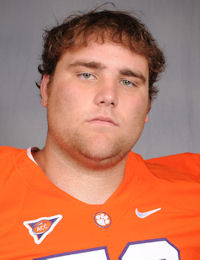 Matt Sanders
RS Jr. Offensive Line
#54 6-6, 320
Crestview, FL
View Full Profile . Troy juniors Montrell Conner and Hollis Moore were in a car in Troy when Sanders' sister, Jacey, collided with them. The Crestview native, who is a freshman at Troy, got out of her vehicle wearing a Clemson t-shirt. The Trojans overlooked the support for their first opponent and assisted Sanders by changing a flat tire on her car.
Goggans Beard Report: Trojans punter Will Goggans became somewhat of a national phenomenon last December after the R+L Carriers New Orleans Bowl. It wasn't his punting that garnered acclaim because he did not even get onto the field until the second half, but it was his facial hair. Now a senior, the Douglas, Ga., native is back at it this year. In 2010 he began growing out his beard during training camp and by the time the Christmas holidays rolled around it was plenty long enough to be bleached white so that he could play Santa Claus. After shaving the beard off during spring practice, Goggans started re-growing it in May and it is almost back to the length that led one national web site to declare it "the greatest beard in the history of college athletics." Goggans has said he plans to dye the beard colors during the season, including potentially pink for October, which is "Breast Cancer Awareness Month". The one color he won't dye it is black like his follicle hero, Brian Wilson of the San Francisco Giants, because that would leave him unable to go back to white in time to play Santa again in December.