| | |
| --- | --- |
| Trapp details reasons for Clemson commitment | |
---
| | |
| --- | --- |
| Sunday, January 4, 2015, 8:46 PM | |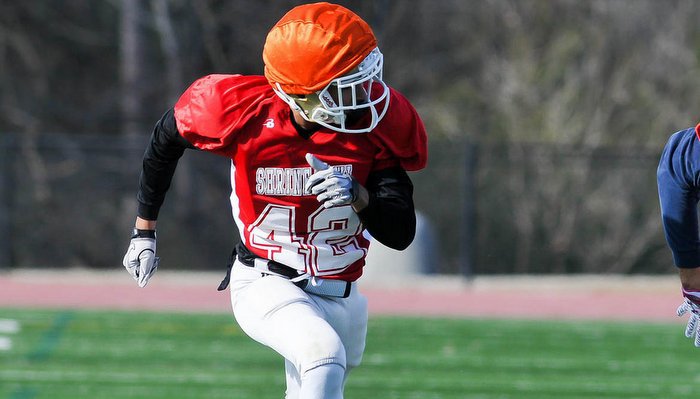 When New Year's Eve rolls around each year, most people make resolutions for the upcoming year that may or may not last, but Amir Trapp

Amir Trapp
Cornerback
5-9, 160
Central, SC
View Full Profile made a decision that will impact the rest of his life.
The Central (SC) Daniel cornerback accepted a greyshirt offer and committed to play football at Clemson last Wednesday night, a decision that he said makes him excited about the upcoming year.
"I felt like it would be a good opportunity to have something for me to look forward to in 2015," Trapp told TigerNet Sunday evening. "I will enroll at Clemson next January. I'll go to Tri-County for the first semester and then I'll enroll at Clemson the second semester."
Trapp is the son of former Clemson defensive back and track star and current team chaplain James Trapp.
Depsite his father's ties to the Clemson program, Trapp said that he made his own decision to accept the greyshirt offer and turn down scholarships from Furman, Gardner-Webb and Presbyterian.
"He told me that it was my decision," Trapp said. "I gathered as many options as I could throughout the season and then I weighed all of my options and made the decision that was best for me."
Part of the draw to Clemson was being able to learn from some of the Tigers' experienced cornerbacks, and to be coached by defensive backs coach Mike Reed

Mike Reed
Assist. Coach / Defensive Backs
View Full Profile .
"I feel like I need time to develop a little more and I feel like Clemson gives me that opportunity to do that," he said. "There's a little more competition at Clemson, as well. I think it's a great opportunity to be coached by Coach Reed. Whenever I see him, he's always smiles and jokes. I feel like it would be great to play for him. I know he's put a couple of guys in the league and that's something that I look forward to."
Trapp will also join a slew of other Daniel alumni - Shaq Lawson, D.J. Greenlee, Adrien Dunn, J.D. Davis and Judah Davis - at Clemson as well as have his father close by.
"I talked to Greenlee and he gave me some advice," he said. "I don't expect to see my dad that much or interact with him that much but I will see him from time to time. The Davis twins, I've known them since I've been here. It's good to be a part of that group."
Trapp runs a 4.41 40 but checks in at five foot, seven inches, however that didn't stop him from shutting down some the state's best wide receivers like J.J. Arcega-Whiteside at last month's Shrine Bowl.
"I think it did. In practice it showed what I could do and then it the game they didn't really throw the ball much," he said. "It did help me out a little bit. It was one of my goals to show that I can cover the bigger receivers and I feel like I reached it."
Whenever Trapp gets his opportunity at defensive back or returning kicks, he said that he'll be ready.
"They're getting a hardworking player, for sure," he said. "I'm going to work for my chances and when I get them I'm going to take them. I don't see why I couldn't help up returning kicks or punts. I love returning. If it comes, I'll be more than thankful."
For his career, he grabbed 11 interceptions and averaged 22.3 yards per punt return with three touchdowns.