---
| | |
| --- | --- |
| Wednesday, March 19, 2014 8:35 AM | |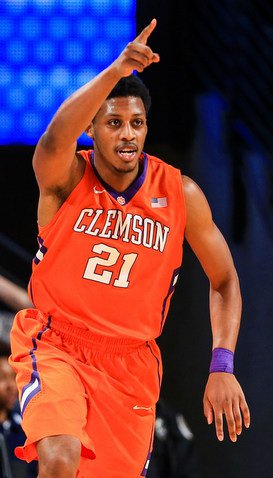 CLEMSON – Sometimes a little tough love is all it takes.
Junior guard Damarcus Harrison

Damarcus Harrison
Jr. Guard
#21 6-4, 200
Greenwood, SC
View Full Profile started out the season with double-digit efforts in the first two games, then scored a career-high 20 points against Davidson in the third game, and it looked like the Greenwood native was on his way to becoming the second scorer the Tigers would need to back up K.J. McDaniels

K.J. McDaniels
Jr. Forward
#32 6-6, 200
Birmingham, AL
View Full Profile .
However, he cracked double digits just once more over the next 18 games, and his minutes began to dwindle, bottoming out at seven in Clemson's win at Florida St. on February 1st. He played just eight minutes in the home win over Georgia Tech a few days later, and his stats in ACC play were not something to be proud of.
That's when his father and assistant coach Steve Smith

Steve Smith
Assistant Coach
View Full Profile intervened.
Prior to Clemson's trip to Syracuse on February 9th, the elder Harrison and Smith stopped by Damarcus' apartment for a little chat. His dad's message was a forceful one.
"We sat down in my apartment and we talked," Harrison told TigerNet following Tuesday's win over Georgia St. "They told me what I needed to do, and what I needed to do to help this team be successful. It was about just keeping my mental state in the right place, and knowing what I need to do in order to help my team do good. Just to go out and play as hard as I can. That's what I've been doing lately."
Harrison played just eight minutes against the Orangemen, but showed head coach Brad Brownell

Brad Brownell
Head Coach
View Full Profile enough that he played 30 minutes in the overtime loss to Notre Dame.
His ACC stats prior to and including Syracuse? In those first seven conference games, Harrison averaged just 4.3 points per game, scoring 39 points in those seven games.
In the 11 games since the Syracuse game – and the talk – Harrison has scored 123 points, averaging 11.18 points per game. He has been under double digits just four times during that span, and came up big by scoring 17 points against Georgia St. Tuesday night.
Message received.
"I think I took that message to heart, especially coming from my dad and Coach Smith," Harrison said. "I've been playing very well lately and that has helped out my mental state. That is when everything started clicking for me. That is why I like being close to home. In other years in my career (at BYU), I couldn't see him and I couldn't really talk to him in person. But that was big, and I appreciated that very much."
Harrison said that Smith echoed what his father said, and the two spent a lot of time on the practice court implementing the changes.
"His message was the same as my dad's," Harrison said. "He was telling me what I needed to do. I think I needed to hear that from both of them, so I could execute out on the court. They were telling me it was being aggressive, but it was also picking my spots and shooting with confidence, that kind of thing. During the workouts, that is what I have been doing. As long as I keep doing that and making smart plays, everything else will take care of itself."
That newfound confidence was on full display Tuesday, and he hit a tip-in at the 3:17 mark that gave the Tigers a 69-59 lead. Thirty seconds later – on the back end of a fast break – Harrison calmly drilled a 3-pointer from the right wing that gave Clemson a 72-59 lead and effectively put the game out of reach.
"That three-point shot – one of the assistant coaches told me that I was going to make a big shot and to just be ready and I did," Harrison said with a big smile after the game. "It feels good to be able to contribute to a big win."
Brownell said he hopes that Harrison can continue playing at his current level.
"He's just gotten some confidence. He still has to play consistently well, and he's a guy that we expect to play at a high level," Brownell said. "But when he's going, he's a good player. He is someone who can do a lot of different things for us. He's not great at any one thing, but he can do everything pretty well and I thought he played well tonight with a lot of confidence."