| | |
| --- | --- |
| Top defensive end says Tigers are "in a really good place" | |
---
| | |
| --- | --- |
| Wednesday, October 21, 2015 2:52 PM | |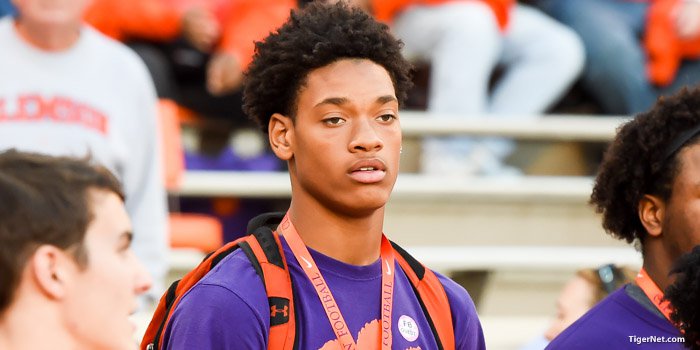 One of the nation's top defensive ends for the 2017 recruiting cycle was back in Clemson this past weekend, and he said the atmosphere in Death Valley was electric. The visit also leaves the Tigers in "a really good place" for his services.
Yetur Matos, a 4-star 2017 prospect out of Fredericksburg (VA) Chancellor made the trip to see the Tigers play Boston College on Saturday, along with teammate and 2017 defensive tackle prospect George Brown.
Matos also has offers from – among others - Duke, Maryland, UNC, North Carolina St., Penn St., Pitt, Virginia, Virginia Tech and West Virginia.
Last weekend's trip served as the first game day experience at Clemson for Matos and his family, and he told TigerNet Tuesday evening that he was impressed by the Homecoming atmosphere.
"It was great. I had a lot of fun. Me and my family and teammate, we all just spent the day out there," Matos told TigerNet recently. "We came down the night before and it was a very exciting experience for all of us. It was really exciting. The fans are passionate about their team, and it was just an electric atmosphere. The fans were crazy, especially for a football game."
It wasn't Matos' first trip to Clemson – he attended head coach Dabo Swinney's high school camp over the summer and has made several other trips to campus, and he said it's the family atmosphere that makes him want to come back each time.
"When I went down for a junior day, I got a chance to watch them practice and see the community, and I really felt like what they were saying was something that was actually real - the family aspect of their team and the community, sharing, just being one big family, and I really felt that when I went down there," Matos said.
Matos talked to defensive ends coach Marion Hobby, defensive coordinator Brent Venables and Swinney on Saturday about an array of topics.
"They were talking about a bunch of different topics, mostly about family, the rest of their schedule, the preparation for games and stuff like that," he said
But it was Hobby's attendance at Matos' football game last Friday night that really caught his attention.
"I feel like it shows a lot and that he's very interested in me that he would come all the way to Virginia to watch me play even when I'm going to Clemson the next day. That really meant a lot to me," he said.
While it's thought that Penn State and Clemson are in a battle for Matos' services, he declined to name a leader, only saying that the Tigers will be in contention when he makes his decision.
"I'll probably make a decision sometime between the winter and the spring. I'm not going to say that they're number one or number two, but they're definitely at the top of the list," he said. "If I considered all of my options right now, they're in a really good place with me, and they'll definitely be a place that I'll consider."
In 2014, the 6-5, 230-pound prospect recorded 68 tackles and a fumble recovery in 10 games.