| | |
| --- | --- |
| Tombstone ceremony puts 2013 to rest, signals start of 2014 season | |
---
| | |
| --- | --- |
| Wednesday, March 5, 2014 11:14 AM | |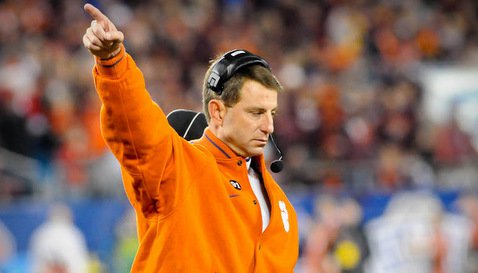 CLEMSON – O, wind, if winter comes, can spring be far behind?
Perhaps football and Shelley don't mix, but the ever-changing weather patterns in the upstate of South Carolina are winter's last gasp, and that means spring can't be far behind. With spring comes spring football.
Clemson begins spring practice Wednesday afternoon, a practice that will begin with the tombstone ceremony celebrating the win over Ohio St. in the Orange Bowl, but once that ceremony is complete the 2013 season will officially be laid to rest, the players will file into the indoor practice facility and the 2014 season will begin.
Head coach Dabo Swinney

Dabo Swinney
Head Coach
View Full Profile said Tuesday that this is a fun time of the year for players, fans and coaches.
"It's always fun to start to build a new team. That's the great thing about college football, you really start over every year," Swinney said. "Everybody has to move on, and that's just the nature of college football. This is in particular an exciting time for me because this is the most veteran team that I have had. Last year we had 10 scholarship seniors, the year before that we had 11 scholarship seniors, and this year we have 19. I'm really, really excited about the leadership we have in place and the experience that comes with that leadership.
"Proud of our staff for the preparation we've had for spring ball starting tomorrow. We've done a lot of self-evaluating, trying to get better. Really have studied everything in depth, both sides of the ball and special teams. Everything that went right and wrong as ways to break our quality control down. I'm pleased with the players and how they've worked all January and February in what we call our Get Ready phase, they've been getting ready. They've done a great job. Coach (Joey) Batson and his staff has done an excellent job with them, and they're champing at the bit to get back out there and play some football."
Swinney said that despite an 11-2 campaign and a BCS bowl win, his team will be getting back to basics.
"We've got a lot to do this spring, just like everybody else in the country," he said. "We've got a bunch of stuff to get accomplished, but the biggest thing is getting back to the basics, starting over. You have new players coming in your program every year, you can't assume anything. The challenge is even though we have a lot of veterans, we still have quite a few young guys we've got to get up to speed in some key spots. We've got to really keep those veterans engaged and we have to do a good job of bringing those young guys along."
He then said it helps that he has the same staff in place that he had last spring.
"That's the challenge for us as coaches. Every (coach) is back, so we've got great continuity and chemistry there. It's not as much about scheme," Swinney said. "We have a lot of schemes to correct and learn from, that's part of what spring ball is, is teaching off of last year as you go through your meetings. But we structure spring ball based on what we need to correct. But also what we've done well and just the basics of who we are. We can't get caught up in the Xs and Os, we've got to do a great job of improving how we do things. I'm very comfortable with what we do, but we've got to get better at how we do it. Maybe that's how we teach it. Maybe that's a drill. Maybe that's a technique. Maybe it's a way we say it. Whatever it may be, it's certainly a lot of improvement in that area. And guys understanding how to do things, not just what to do. Mentally improving as a football team is going to be huge for us."
While there aren't a ton of questions surrounding Clemson's defense, Swinney knows that most of the questions heading into the spring center around the offense.
"Offensively, obviously the big question for everybody sitting in this room and probably everybody outside this room is who's throwing it, who's running it, and who's catching it," he said. "For the last several years around here, everybody's known who's going to throw it, run it and catch it. So that's probably the bigger question. But I'll be honest with you: I really feel great about the people we have here, that's why you recruit. I really feel good about the talent we have in our pipeline at those positions. I love the personnel that are in place."
Despite the fan and media fascination with the battles at quarterback, running back and wide receiver, Swinney said he will be keeping an eye on the offensive line.
"The bigger concern for me, I guess, is sorting out our tackle situation. That to me is much more of a question going into spring ball than quarterback, running back, wideout," he said. "I know by the time we play, we're going to have some quality people ready to go. But the tackle situation is a question, because we've lost two guys that we didn't anticipate losing. Giff Timothy, who had a year left, would have been a two-year starter for us. Patrick DeStefano

Patrick DeStefano
Offensive Line (2012 - 2013)
#71 6-5, 275
Spartanburg, SC
View Full Profile was on his way to being a starter for us, an outstanding player.
"So you lose two guys off-cycle, that's a huge, huge question. So kind of settling that out – I like the guys we have, we just have to develop them. We've got Isaiah Battle

Isaiah Battle
Jr. Offensive Tackle
#79 6-6, 280
Brooklyn, NY
View Full Profile . Eric Mac Lain is going to play both, he's probably going to go into spring starting off at guard as our starter, we're going to give him a chance to be the starter, feel like he's earned that opportunity, we'll see what he does with that. He's also going to have to keep his hand in at tackle."
He also hopes to see continued development from veterans Shaq Anthony

Shaq Anthony
RS Jr. Offensive Tackle
#76 6-3, 265
Williamston, SC
View Full Profile and Joe Gore

Joe Gore
RS Jr. Offensive Tackle
#73 6-4, 275
Lake Waccamaw, NC
View Full Profile .
"Shaq's got good experience and has done some good things for us, and he's very talented. Joe Gore is what you're looking for," Swinney said. "He really has all the tools to be an outstanding player, it's just a matter of putting it together, does he stay healthy and avoid some of the setbacks he's had as a young player. His junior year is big for him. Maverick Morris

Maverick Morris
RS Fr. Offensive Line
#69 6-4, 285
Broxton, GA
View Full Profile , is he going to be a guy who grabs our attention, I like what I've seen from him as far as the offseason and how he's worked in our mat drills and bowl practices. Now can he go out there and put it together and execute what we're trying to do. Lot of question marks.
" Kalon Davis

Kalon Davis
RS Sr. Offensive Guard
#67 6-5, 330
Chester, SC
View Full Profile is a guy that's probably going to play some tackle for us as well. He's very smart, moves well, I think he's going to have a better than average shot at being able to play guard and tackle. That's the jigsaw puzzle that's the biggest question to me, we're going to move some guys around. We've got some veteran guys on the offensive line that we're going to get them out of their comfort zone like Kalon and ask him to do a little bit more. We've just got to put that together and find out who the best five are. I think we've got good flexibility as far as being able to move guys around up front. But that's definitely to me the biggest question is sorting out the tackle spot."
Swinney said another concern is kicker after the graduation of the consistent and steady Chandler Catanzaro

Chandler Catanzaro
Punter / Kicker (2009 - 2013)
#39 6-2, 195
Greenville, SC
View Full Profile .
"And then kicker, we just lost probably the most accurate kicker in the history of this school," he said. "That's a pretty big deal. The one bad season that we've had, we weren't very good at kicker. So that's a very, very critical position, especially when you're as good on defense as I hope to be. Ammon Lakip

Ammon Lakip
RS Jr. Kicker
#36 5-10, 185
Alpharetta, GA
View Full Profile is poised and ready to step in that role. Very encouraged by Ammon and his development, especially what I saw out of him the last part of the season and bowl practice, but hey, he's got to go do it. So I'm excited about him and his opportunity."
He said his squad has to take advantage of each practice opportunity, especially with so many jobs on the line.
"We've got 15 days and we've got to maximize every single day," Swinney said. "Compete, that's really the word going into this spring is compete. I expect great competition as we go into this thing. There's a lot of jobs that are wide open. There's a lot of guys we all know exactly what we got, a guy like Grady Jarrett

Grady Jarrett
Sr. Defensive Tackle
#50 6-1, 290
Conyers, GA
View Full Profile , I think we all know what we got in him. But we've got a lot of spots that are open. So the competition is going to be a lot of fun. That'll definitely make us all better."