| | |
| --- | --- |
| To stay, or not to stay, that is the question | |
---
| | |
| --- | --- |
| Tuesday, December 10, 2013 8:24 AM | |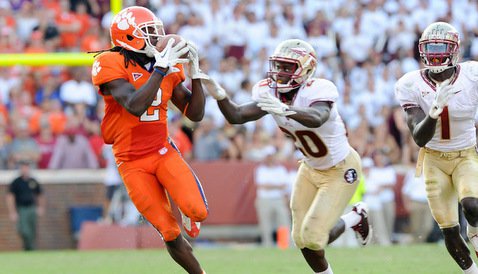 To stay, or not to stay, that is the question.
With apologies to William Shakespeare and the opening of a soliloquy in Hamlet, the above phrase was meant for a few of Clemson's junior football players and their soon-to-be-rendered decisions of whether to stay in school for another season or to test the waters of the NFL Draft.
Leaving early is, in many cases, a huge gamble. For every sure-fire first rounder that decides to leave school a year or two early, there are several others who are picked later than expected or not picked at all, losing money and their final year of eligibility in the process.
Most fans will tell the players that they need to stay in school another year, and those are mostly for selfish reasons. If a player is good enough to think about the NFL, he will certainly help out your favorite college team next season, right? The coaches will all tell you that most players need to stay in school.
In some cases, however, the coaches are wrong and the players are right. Clemson head coach Dabo Swinney

Dabo Swinney
Head Coach
View Full Profile told junior DeAndre "Nuk" Hopkins that he thought he should stay in school for another year, but Hopkins left and parlayed his decision into a first round draft selection.
Sometimes, it just doesn't work out the way you want it to. Clemson quarterback Tajh Boyd

Tajh Boyd
RS Sr. Quarterback
#10 6-1, 225
Hampton, VA
View Full Profile 's draft stock was high after the thrilling win over LSU in the Chick-fil-A Bowl, but he decided to come back for his senior season, and Clemson fans applauded his decision to stay in school. Now, looking back on it, I wonder if he regrets that decision. His stock has slipped after a few less-than-stellar games in front of national television audiences.
In some cases, the players make the wrong decision, including several players that were on that LSU team that lost to Clemson last season. Punter Brad Wing, tailback Michael Ford and offensive tackle Chris Faulk of LSU declared for the draft a year early as juniors despite low expectations and were not selected. All could have helped LSU this season and perhaps elevated their draft prospects.
Several Clemson juniors have decisions to make once the Orange Bowl is over, including wide receivers Sammy Watkins

Sammy Watkins
Jr. Wide Receiver
#2 6-1, 205
Fort Myers, FL
View Full Profile and Martavis Bryant

Martavis Bryant
Jr. Wide Receiver
#1 6-5, 200
Calhoun Falls, SC
View Full Profile , linebacker Stephone Anthony

Stephone Anthony
Jr. Linebacker
#42 6-2, 235
Polkton, NC
View Full Profile , safety Robert Smith

Robert Smith
Jr. Safety
#27 5-10, 210
St. George, SC
View Full Profile , defensive tackle Grady Jarrett

Grady Jarrett
Jr. Defensive Tackle
#50 6-1, 290
Conyers, GA
View Full Profile , cornerback Bashaud Breeland

Bashaud Breeland
RS Jr. Cornerback
#17 6-0, 195
Allendale, SC
View Full Profile and defensive ends Corey Crawford

Corey Crawford
Jr. Defensive End
#93 6-5, 270
Columbus, GA
View Full Profile and Vic Beasley

Vic Beasley
RS Jr. Defensive End
#3 6-3, 225
Adairsville, GA
View Full Profile .
Swinney said early last month that he sees only one player worthy of leaving – Watkins.
"I don't think any of those guys should come out other than maybe Sammy," Swinney said. "I think all those guys need another year. I don't think there's any question about it. If anybody's telling them otherwise, they're not very well-informed. But could those guys come out? Absolutely. Play on the next level, maximize their opportunity. The only guy that I could say fits in that category to me is Sammy."
Defensive coordinator Brent Venables

Brent Venables
Defensive Coordinator / Linebackers
View Full Profile , who already loses cornerback Darius Robinson

Darius Robinson
Cornerback (2010 - 2013)
#8 5-10, 175
College Park, GA
View Full Profile and linebackers Spencer Shuey

Spencer Shuey
Gr. Linebacker
#33 6-3, 230
Charlotte, NC
View Full Profile and Quandon Christian

Quandon Christian
RS Sr. Linebacker
#34 6-2, 225
Lake View, SC
View Full Profile , could see his defense gutted by defections, and he said that he agreed with Swinney in that only one Clemson junior fits the profile of a slam-dunk first rounder.
Venables said he has too many players listen to the wrong people and lose their college eligibility and the chance for a football paycheck in a short timeframe.
"Listen, I've had the guys that think (they're a first-round guy). I know exactly what they're being told," Venables said. "I'm like, you're not really there. They're like, well, everybody's talked to these guys and other people talked to these people, and I'm a first or second round at worst. And next thing you know, you don't get drafted, and they're like, what do I do? I still get calls from guys that gave up something so pure and innocent, and you don't ever get that back. You better be sure, you better be sure, you better be sure."
TigerNet takes a look at each of the juniors and whether they should "go" or "stay."
Sammy Watkins
Watkins is a finalist for the Biletnikoff Award for the nation's best receiver, and has 85 receptions for 1,237 yards and 10 ten touchdowns. I had one NFL scout walk over to me when Watkins was a freshman, and laughingly ask me why Watkins wasn't a first round pick. When I asked why, he smiled and said it was that Watkins wasn't eligible. Yet. He's eligible now. And really, the only mystery surrounding his NFL draft placement is whether he will go in the first ten picks. TigerNet says: GO
Vic Beasley
Beasley is another name you hear mentioned as a possible defection. He leads the team with 12 sacks, a figure which is tied for third nationally. He is also the hardest to figure out. I had one NFL scout tell me that Beasley compares to Bruce Irvin, a 2012 first round pick of the Seattle Seahawks. I also had another scout tell me during halftime of the South Carolina game that one of the reasons Connor Shaw was getting so many yards on third was because Beasley was getting out of position and up the field too fast, showing his lack of maturity at the position. However, he still wound up with two sacks and the NFL is quick to draft elite pass rushers – and he certainly fits that bill right now – and let them come along at their own speed. Beasley is the hardest to call. Even if he is a first rounder, it likely won't be until late in the round, and another year at school could enhance that status. Unless he winds up a consensus Top 20 pick, then TigerNet says: STAY
Corey Crawford
Crawford has 40 total tackles, but just three sacks despite seeing a lot of the double-teams occur either in the middle on Grady Jarrett or on the other side with Beasley. Crawford has everything the NFL looks for in an elite pass rusher in terms of size and speed, but another year in school can only help his status. TigerNet says: STAY
Grady Jarrett
Whenever we speak to opposing coaches or players, the first player they mentioned on Clemson's defense was usually Jarrett, not Beasley. I had one NFL scout tell me that he thought Jarrett could be one of the top three-to-five defensive tackles taken in the draft if he declared. However, that doesn't mean he earns a first round grade, and would more than likely fall somewhere in the middle. Jarrett has 53 tackles and 10 tackles for loss on the season, and he just gets better and better seemingly every time he steps out on the field. Another year could send him into that lofty first round status. TigerNet says: STAY
Stephone Anthony
I have to admit I was a bit surprised when I saw that Anthony was considering leaving. I get it...there are financial decisions and family decisions that have to be thought about, but Anthony isn't ready for the NFL. Not yet. CBS Sports has him rated as just the 10th-best OLB for the 2015 draft, and he would likely fall much lower than that for the 2014 draft, while I have seen other reports that say he could be a high pick if he entered the draft. For the season, he has 78 total tackles and four sacks. TigerNet says: STAY
Martavis Bryant
Bryant is a riddle wrapped up in a mystery inside an enigma. His physical traits are impressive, combining the kind of size and speed NFL scouts drool over. He has just 39 receptions on the year, but they go for a whopping 800 yards, a 20.5 yards per catch average. There are games where he streaks down the sideline and your mouth just drops. And then there are games where he disappears for long passages of time, and drops in certain situations have hurt him and hurt quarterback Tajh Boyd's confidence in Bryant. He is another tough one to call…..I truly believe he could use another year in school, and with one more dedicated season he could set some records of his own. But if he gets any kind of grade above the middle of the second round, he has to consider leaving. However, he needs to show the NFL he can be a more polished receiver and catch something other than the deep patterns. TigerNet says: STAY
Bashaud Breeland
Breeland leads the team with four interceptions and is actually fifth on the team in tackles with 52. Finally healthy, he has been Clemson's most consistent cover corner. However, he still needs more time to refine his game. TigerNet says: STAY
Robert Smith
Smith is third on the team with 65 tackles, and played solid if not spectacular defense this season. However, he only has one interception. One concern for Smith returning next season is playing time – will Jayron Kearse

Jayron Kearse
Fr. Safety
#20 6-4, 205
Fort Myers, FL
View Full Profile and Travis Blanks

Travis Blanks
So. Defensive Back
#11 6-0, 190
Tallahassee, FL
View Full Profile earn the starting spots, or can Smith hold off the challenge and keep his hold on a spot? No matter, he isn't ready for the bright lights of the NFL just yet. TigerNet says: STAY

Tags:
Bashaud Breeland
,
Brent Venables
,
Corey Crawford
,
Darius Robinson
,
Grady Jarrett
,
Jayron Kearse
,
Martavis Bryant
,
Quandon Christian
,
Robert Smith
,
Sammy Watkins
,
Spencer Shuey
,
Stephone Anthony
,
Tajh Boyd
,
Travis Blanks
,
Vic Beasley