| | |
| --- | --- |
| Tigers used to being underdogs against FSU | |
---
| | |
| --- | --- |
| Monday, September 17, 2012 5:27 PM | |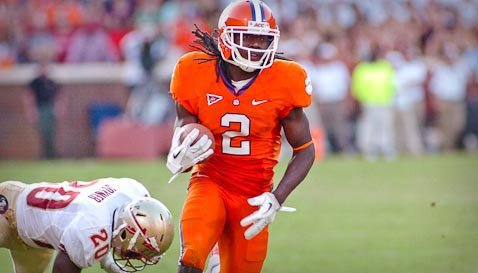 CLEMSON – Something doesn't add up somewhere, and that's okay with the Clemson Tigers.
The Tigers are the defending ACC Champions, are 3-0 [including a win over Auburn in the Georgia Dome in the season opener], feature one of the most explosive offenses in the nation and have beaten this week's opponent six of the last nine meetings, including a thriller last season in Death Valley.
Florida St. has wins over Savannah St., Murray St. and Wake Forest – all in decidedly impressive fashion – but were the media's darling last season and finished with a 9-4 overall record, 5-3 in conference play. Two years ago, the Tigers were 6 ½ point underdogs to Florida St. and beat the Seminoles everywhere but on the scoreboard in another thriller in Doak Campbell Stadium.
That means this week's battle at Florida St. – slated for an 8 p.m. kickoff on ABC - should be another epic, classic battle, right? Not if you listen to the oddsmakers, who have listed the Noles as a 14-point favorite, and national pundits.
Over the last nine seasons, Clemson has been favored to beat Florida St. exactly one time – they were the favorite before the Tigers' 41-24 victory in Death Valley in 2009. The other eight seasons, the Noles were favored – sometimes heavily – but somehow the Tigers defied the odds and won five of those eight meetings.
In other words, the Tigers are perfectly comfortable being the underdog again this week.
"You know, as they say, it's Florida St.," left tackle Brandon Thomas
Brandon Thomas
RS Jr. Offensive Line
#63 6-3, 305
Spartanburg, SC
View Full Profile told the media Monday. "The public holds them up on a pedestal. I think we will be prepared as a team, and we will be ready for them. We take it one week and one opponent at a time."
Wide receiver Sammy Watkins
Sammy Watkins
So. Wide Receiver
#2 6-1, 205
Fort Myers, FL
View Full Profile said the lack of respect doesn't bother the defending champs, and he heard about the point spread from one of his coaches early Sunday.
"If we come out this week and practice like champions, I think we will be okay," Watkins said. "I don't pay attention to any of that. They won't determine what the outcome will be. They say 14 points, but who knows? We just have to come ready to play. A lot of people talk bad about Clemson, but we always seem to show people they are wrong about Clemson. We have something to prove."
Middle linebacker Stephone Anthony
Stephone Anthony
So. Linebacker
#12 6-3, 235
Polkton, NC
View Full Profile said the players have known since the beginning of the season which team would be the underdog, especially considering an undefeated Clemson team was an underdog to the Noles at home just a year ago.
"No, it doesn't surprise me at all," Anthony said. "We knew we were going to be underdogs. We knew we wouldn't be favored to win this game since the season started. But this will be one of those games that the most physical team wins the ballgame. "
Defensive end Malliciah Goodman
Malliciah Goodman
Sr. Defensive End
#97 6-4, 270
Florence, SC
View Full Profile said the Tigers are used to being the underdogs.
"It doesn't matter," Goodman said. "It's been like that every year I have been at Clemson, and we have accomplished so much. Winning the division two out of the last three years. We are just going out and playing football."