| | |
| --- | --- |
| Tigers' upset bid falls short against No. 8 Arizona | |
---
| | |
| --- | --- |
| Saturday, December 8, 2012 11:45 PM | |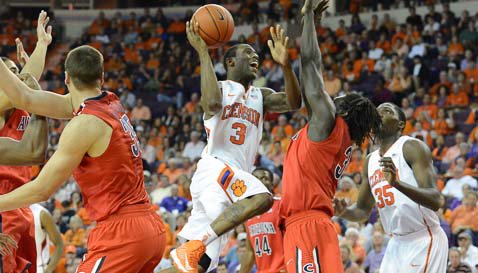 CLEMSON – The Clemson Tigers found themselves in exciting territory Saturday night, taking a 42-36 lead over undefeated and 8th-ranked Arizona on Rod Hall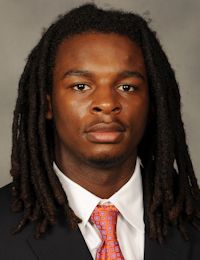 Rod Hall
So. Guard
#4 6-1, 210
Augusta, GA
View Full Profile 's 3-pointer with 12:13 remaining in the contest.
Clemson had erased an earlier 14-point deficit and Hall's trey completed a 34-14 run over 17 minutes of game play, and the Littlejohn crowd rose to its feet as the ball swished through the net, giving the Clemson faithful hope the Tigers could spring the upset over the Wildcats.
At that point, however, Arizona acted like the top ten team they are and closed out the game on a 30-8 run as the Wildcats (7-0) knocked off the pesky Tigers (5-3) 66-54 in Littlejohn Coliseum.
Milton Jennings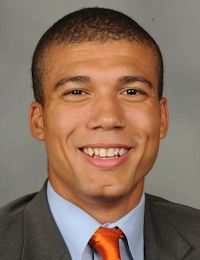 Milton Jennings
Sr. Forward
#24 6-9, 225
Summerville, SC
View Full Profile returned from a two game suspension and led Clemson with 15 points, while K.J. McDaniels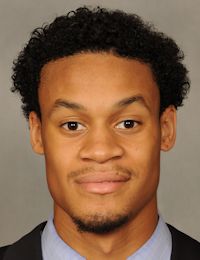 K.J. McDaniels
So. Forward
#32 6-6, 200
Birmingham, AL
View Full Profile added 13 and Adonis Filer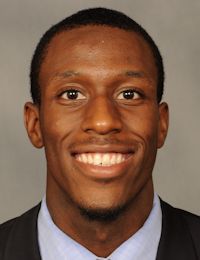 Adonis Filer
Fr. Guard
#3 6-2, 190
Chicago, IL
View Full Profile 10. Arizona was led by the 20 points of Mark Lyons. Clemson blocked 12 shots, including four blocks by McDaniels.
"I am certainly disappointed after we fought so hard to get the lead in the second half," Clemson head Brad Brownell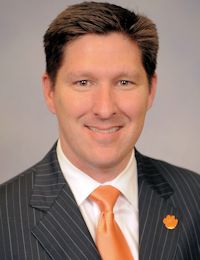 Brad Brownell
Head Coach
View Full Profile said. "I don't know if it was the moment or the game, but it took our guys awhile to get adjusted. Once we did, I thought we played some really good basketball for a portion of the game. We also had some really poor plays – offensive turnovers, steals for them – just things you can't do against a team with that talent level."
A big key in Arizona's game-ending run was free throw shooting as both teams hit the bonus early in the second half – Arizona hit 17-of-20 free throws while the Tigers managed to hit just 9-of-17, with several misses coming in a critical stretch midway through the half.
"Free throws were huge," Filer said after the game. "We kind of ran out of energy, and they hit some big shots. Good teams hit free throws, and they hit 17-of-20. I am not really sure what happened."
Milton Jennings hit a 3-pointer that gave Clemson a 47-44 lead with 8:45 remaining, but the Tigers hit just one of their next six from the charity stripe, turned it over four times and missed five straight shots from the field as Arizona widened the lead and eventually closed out the win.
Clemson had trailed 28-24 at the half, but jumped out to grab its first lead of the contest at 37-36 on a driving layup by Rod Hall with just over 13 minutes remaining. Clemson's largest lead would be at 42-36, which started Arizona's final run.
Brownell said the team can take some positives from the game.
"We will just use it to look at what we did, to see that when we play good basketball we can play with a lot of teams," he said. "But we have played two high-level teams where we play reasonably well for a while and then haven't been able to finish. I don't know if it is youth or inexperience at the guard spot, but we have wasted possessions. We still don't have that go-to scorer that can settle your team down, and that is a problem at times."
The first half was a wild affair that saw the Wildcats threaten to run the cold-shooting Tigers out of the building early, only to see Clemson's defense exert its strength and propel Clemson back in the contest.
The Wildcats jumped out to an early 5-4 lead a couple of minutes into the game, and then went on a 10-0 run over the next 3:19 that saw them take a 15-4 lead. Arizona then scored seven of the next 11 points and expanded the lead to 22-8 at the 8:54 mark of the first half. At that point, the Tigers were shooting poorly and getting out-rebounded and it looked like the game would get away from them.
K.J. McDaniels ended the run with a 3-pointer and Devin Booker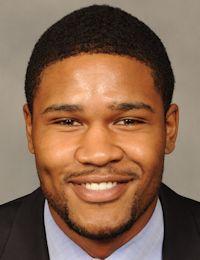 Devin Booker
Sr. Forward
#31 6-8, 250
Whitmire, SC
View Full Profile hit two free throws that made it 22-13, but the Wildcats hit a pair of free throws that slowed down the Tiger run and made it 24-13.
Arizona eventually made it 26-17 with 3:57 remaining in the half, but the Tigers then went on a 7-0 run and McDaniels capped the frenzy with a put-back dunk that made it 26-24 with 39 seconds remaining in the half and brought the Littlejohn crowd to its feet. The Wildcats would add two final free throws and led 28-24 at the break. Arizona hit only one of its last 15 shots from the field over the last nine minutes of the half.
Arizona head coach Sean Hill said the Tigers are tough defensively.
"They will be as physical and tough to score on as any team all season long," Hill said. "They made a great run on us. At one point, they were on a 34-14 run. If that comes on the road, it is usually curtains. They are able to block shots from a lot of different positions."
Postgame Coaches' Quotes
Clemson Head Coach Brad Brownell
Overall thoughts:
"We're certainly disappointed with the outcome after we fought so hard to get a lead in the middle of the second half. We didn't play well early…I don't know if it was the moment, I don't know if it was taking a while for our guys to adjust to the game, but when we finally got adjusted and got our legs under us, I thought we played some really good basketball for a portion. We also had some really poor plays. We had too many turnovers, a bunch of steals for them. Those are just some things you can't do against a team of that level. They shot free throws well, had a bunch of offensive rebounds, extra possessions and finished on the break and in transition when they got numbers. I thought our guys played pretty hard. I really thought Devin Booker really competed. I thought Book was into it early when nobody else really was. I thought Milt (Jennings) got himself into the game and played well in spurts. K.J. McDaniels had a little bit of a tough time in his matchup with (Solomon) Hill. They were getting after it a little bit. We also had some poor offensive execution tonight. We didn't run some things the right way. That's disappointing to me, because we worked on a lot of things this week, I thought we'd be better in that regard. So, all in all I thank our fans for coming out, they were terrific, gave us a big lift in the middle of the game and just disappointed that we couldn't send them out with a better result and a better ending."
On encouragement by good stretches of play:
"We just use it (run in the middle of the game) to look at what we did, to see that when we play good basketball, we can play with a lot of teams. But this is still a situation where we've played two high level teams and played reasonably well at times. But for whatever reason, we haven't been able to finish. I don't know if some of that is our youth, lack of experience at the guard spot, where we have too many wasted possessions. We don't have that go-to scorer that can settle your team down and go make something happen when you need something to happen - and that's a problem at times. Rod (Hall) had a poor game tonight, which surprised me in some ways. It wasn't that he didn't score much, but rather that he had the turnovers. So, tonight was a myriad of problems - but there was obviously some very good play at times, too."
On team's youth affecting the play down the stretch:
"We certainly had to grind. Arizona does some good things. Our field goal percentage defense was outstanding! I think they're 52% for the year and we held them to 35% shooting. They're making 10 threes a game, shooting 42% from the three. You look at those numbers and I would've told you that we would've been in great shape. We wanted to limit their threes and keep them off the line, and we wanted to do our best on the boards. We didn't do our best on the boards. There were a lot of loose balls and extra possessions that hurt us. I'm anxious to watch the film and see the result of that."
Arizona Head Coach Sean Miller
Overall thoughts:
"It was a very good win for our team. Unless you've done it, you don't realize how difficult it is to travel across the country on a couple of days' turnaround and play in front of a crowd like Clemson had tonight against a really quality team, especially on defense. They'll be as physical and tough to score on, I believe, as any team we'll play all season long. They made one great run at us. I think at one point, they were on a 34-14 run. If someone makes a 34-14 run on you and you're on the road, that's usually curtains. But to our team's credit, we had a ton of resolve. We made some tough plays to stay in the game and then just seemed to get that momentum back that we had early in the game. I'm just proud of being able to do that. Sometimes, early in the year, if you can win a game shooting 35 percent, it's more meaningful for the future than it is watching your team have one of those nights when the ball goes in. We were able to win tonight in spite of our offense."
On the importance of offensive rebounding:
"That's one of the things we do well. We've done that well, really, in every game this year. If you look at our team, that's an area where we have a lot of depth and talent, and it was in place tonight. Again, it overcame a few things. Clemson has a unique ability to block shots. Usually, there's one player—maybe a center—that affects the game. You could see why they're a great shot-blocking team. They block shots at a number of different positions. McDaniels is really long, deceptively long. I don't think, until you play the game, you realize how athletically talented he is, and obviously Booker. But they had 12 blocks tonight. Some of the shots we usually make or get fouled on, they made great defensive plays. That's one of the reasons why we had so many offensive rebounds. I think they blocked our shot and we retrieved it about five times."
On his message to the team midway through the second half:
"Just stay with it. Coming here, we didn't think we were going to roll in and it was just going to be easy. We knew it was going to be hard. I think that was my message: This is what we've talked about. This is how it feels to be on the road. Let's get back to executing, doing the things that make us a good team. Don't let this moment become bigger because the crowd is loud or they're on a run. Let's get back to being who we are. That's not the reason it happened, either, by the way. It wasn't a great pep talk as much as that I wanted to make sure, in that timeout, that we didn't lose our complete focus and not say, 'Not tonight', or, 'Wow'. To see us not get caught up in that and continue to fight and really, from that point, we played some excellent basketball."
If you can't see the PDF below, click here to open it.