| | |
| --- | --- |
| Tigers ready for the postseason | |
---
| | |
| --- | --- |
| Thursday, December 1, 2011, 10:44 AM | |
CLEMSON – A new season beckons for the Clemson Tigers, a season that has a chance to wash away the angst and disappointment the last few weeks have wrought.
It's called the postseason, and that begins this Saturday night when the Tigers travel to Charlotte and Bank of America Stadium to take on the Virginia Tech Hokies in the ACC Championship Game, a game in which a BCS bowl berth is on the line.
A win in this game and another win in a bowl game would go a long way in helping ease the sting of losses in three out of their last four regular season games.
"The biggest thing I feel this team needs to do is just realize this is the postseason," senior right tackle Landon Walker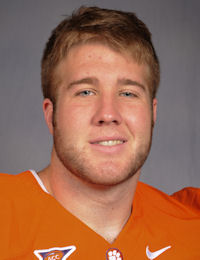 Landon Walker
Gr. Offensive Tackle
#72 6-6, 305
North Wilkesboro, NC
View Full Profile said this week. "The last three games are behind us. We ended the season poorly. And I think that we didn't play as well as we wanted to there at the end of the season. But obviously the postseason, in any level, is just a different mentality.
"The way you enter the postseason, there's going to be a lot of teams watching at home and you have the privilege of being in the game, in the ACC Championship game. So I think the biggest thing to address the team is just it's a new season."
Walker admitted that the Hokies and Tigers are heading in opposite directions right now.
"I feel like ever since Virginia Tech's only loss, ever since that game they've been -- the sky's the limit for them. They've been doing nothing but great things. Every game they've played their offense has just gotten better every game. And it seems like we were going that way until about three weeks ago. Georgia Tech kind of was a downfall for us. We didn't play as good as we wanted to against Wake and obviously N.C. State and South Carolina. We haven't been ourselves the last three, four weeks."
Clemson was a team that played with a confidence and swagger through an 8-0 start, but has struggled with that confidence – and consistency – since the Georgia Tech loss, something that Walker said has carried over into subsequent weeks.
"I think confidence level is something we've been talking about the last couple of weeks or so and getting that back," he said. "I feel like we fell off there a little while, especially at N.C. State. That was a big blow to the confidence, getting beat like that. We hadn't gotten beat like that in a couple of years.
"So that really hurt us. But I think that relaying to the team, it's the postseason and there's a lot of teams watching us. That's going to bring confidence right there. It's a whole different mentality. If anything, hopefully that can bring some confidence to the team."
The Tigers are listed as underdogs to the Hokies – and rightfully so – but Walker says that is something he and his teammates can use for motivation.
"I think when we were playing the beginning of the season we were picked to lose in almost every game when we played," Walker said "I think at least the first five or six we were picked to lose. Even when we were winning against Auburn and Florida State, Virginia Tech was picked to beat us at Virginia Tech. That was very big for our motivation. I think when we were picked to lose those games, I think it helped the team. We had something to play for more so than the end of the season when you're on top of -- you're kind of on top and everybody's gunning for it.
"I think it makes it a lot easier to get motivated and play for that kind of thing. Obviously when you have a point spread and you're not the team that's picked to win, I think that's motivation in any case. But, yeah, I definitely think that's going to help our team this week in practicing harder and developing a winning mentality this week when we practice."