| | |
| --- | --- |
| Tigers lead for South Aiken defensive tackle prospect | |
---
| | |
| --- | --- |
| Friday, September 9, 2011 8:20 AM | |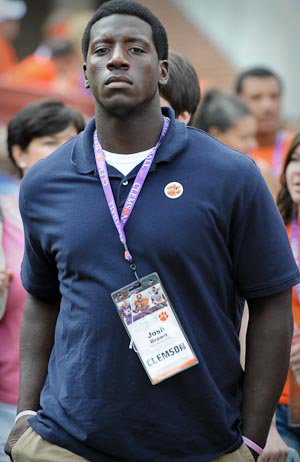 Defensive tackle prospect Josh Brown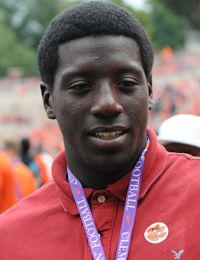 Josh Brown
Defensive Tackle
6-5, 290
Aiken, SC
View Full Profile says he wasn't expecting his lunch on Saturday to come with a prize at the end of the meal.
The 2012 South Aiken prospect was a visitor at Clemson's home game against Troy last week, and was visiting with several other prospects over lunch when defensive line coach and recruiter Dan Brooks came and asked him to take a walk with him.
"We were at lunch in the room there at the stadium and Coach Brooks told me to walk with him," Brown told TigerNet Thursday night. "I didn't know where we were going, but we walked into Coach Dabo Swinney's office. We sat down to talk, and he asked me about my future and what did I like about Clemson.
"I told him I thought Clemson was a great place, and it was the kind of place I could see myself going. He said he liked my aggressiveness and the way I played, and then he asked what my thoughts were on coming to Clemson. I told him everything was really up in the air the last couple of months, and he made the offer. He asked me how I felt about that, and I told him there were no words to describe it."
The 6-5, 281-pounder said he played on the offensive line the majority of last season, but did spend four games on the defensive line and recorded 21 tackles, including six tackles for loss and two sacks.
He said he loves the family atmosphere at Clemson, and will be back on campus this weekend when the Tigers host Wofford.
"I love way they make you feel like family there," he said. "It is just really special, and they treat everybody like family. You see how they line up and lock arms before the game, and they cheer for each other before the game. And the fans are really into the game."
Brown said he had his eye on senior defensive tackle Brandon Thompson the entire game.
"Number one, he plays my position, and number two, I love the way he prepares for the game," he said. "He looks to the sky and praises God first, and then he stays focused the entire game. He gives 100 percent, and he has some good moves. He has some moves I want to copy and take out on the field Friday night."
He said Clemson is definitely his leader, and he plans on making a decision after his season at South Aiken is finished, and if he picks Clemson, the Tigers are getting a Nick Fairley-type of player.
"I always give a lot of effort," he said. "I am more aggressive than some people like, and they say I am a dirty player. I just see myself going after it every week. I am like Nick Fairley or Ndamukong Suh. I take it personally out there. If someone says they are going to run over me or block me, I say there is no way. I am gonna play them until the whistle blows."