| | |
| --- | --- |
| Tigers in good shape to land mature Gilmore | |
---
| | |
| --- | --- |
| Sunday, January 29, 2012 6:08 PM | |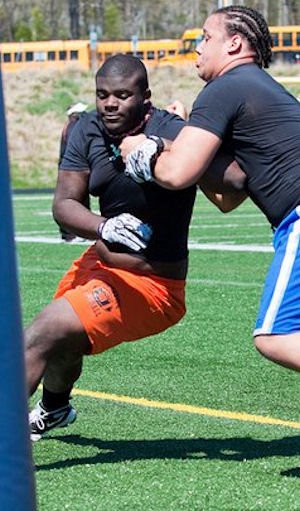 Talking to Greg Gilmore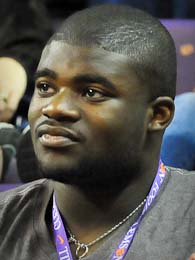 Greg Gilmore
Defensive Tackle
6-4, 285
Hope Mills, NC
View Full Profile is not like talking to a normal 17-year old, it's like talking to a person who is wise beyond his years.
The 6-4, 275-pound defensive end out of Hope Mills (South View) N.C. visited Clemson this past weekend, and the junior's recap of the visit sounded like a person much older than his years.
"It was great; I loved it," Gilmore told TigerNet Sunday afternoon. "I have never been there before, and I was excited about seeing the campus for the first time. I expected a lot out of Clemson, and that is what I got."
Gilmore has had to grow up in a hurry – his step-father was shot to death while serving in the Army in Georgia and his natural father, who serves in the Marines and has been in Iraq, is now stationed in California.
As a result, Gilmore is helping his mother raise his two younger brothers while the family copes with loss of his step-father, who he had grown close to.
"It has really helped me grow up," Gilmore said. "It really doesn't affect me too much anymore, but it did help me mature because I know I have people that are counting on me. That has made me a stronger person, and I have more respect for the little things in life."
One coping mechanism he uses is football, and he recorded solid numbers this past season – he recorded 79 tackles, two sacks, five forced fumbles, two fumble recoveries, a safety and a blocked field goal.
As a result of his strong play, he now boasts a dozen offers, including Clemson, Ohio St., California and Virginia Tech, and he said he hopes to have his list down to a Top 10 in the near future.
"Clemson will definitely be in the top 10," he said. "I spent a lot of time with Coach [Dan] Brooks and with their new defensive coordinator, Coach [Brent] Venables. First off, Coach Brooks is my best friend. He is the first one that recruited me, and I had a great time talking to him. Coach Venables – he had some good stuff to say. He told me about his track record, and I know he has been very successful in the past. He fits in perfectly with the school. I think they will have a great season next year."
In the meantime, he will continue to rely on his relationship with Brooks.
"He is a real friendly person, and he definitely has a lot of experience," he said. "He knows what he is talking about and we definitely get along. We have good conversations. I know he has a lot of experience in the game, and I feel comfortable with him."
Gilmore said he stays in shape and works on his mental toughness by playing tennis for the school.
"Tennis helps me with my lateral movement, and it really works out the lower back and gives you arm strength," he said. "When you hit the ball consistently, it helps build muscle in your shoulder and it really helps the lateral movement. The other thing I like about tennis is that it helps my mental toughness – it helps my concentration because a match has to be two hours long."