| | |
| --- | --- |
| Tigers high on the list of top 2017 defensive end prospect Yetur Matos | |
---
| | |
| --- | --- |
| Saturday, July 25, 2015 8:01 AM | |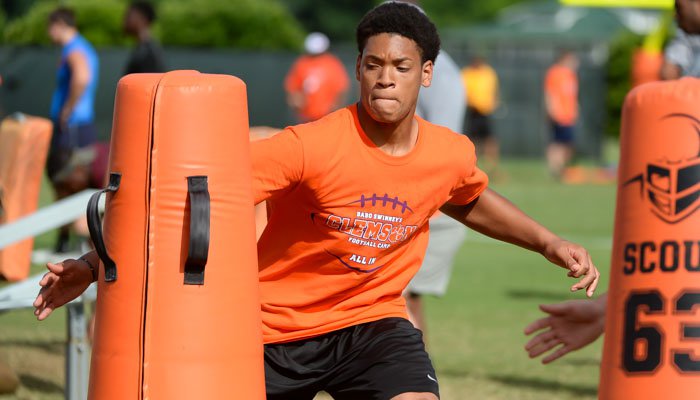 One of the top defensive ends for the 2017 recruiting cycle recently visited Clemson for the second time since June, and the Tigers were able to make a move with the 4-star prospect.
Yetur Matos

Yetur Matos
Defensive End
6-5, 235
Fredericksburg, VA
View Full Profile , a strongside defensive end prospect out of Fredericksburg (VA) Chancellor, currently boasts ten offers, including Clemson, Maryland, Penn St., Virginia, Virginia Tech and West Virginia. Thursday and Friday was a chance for the Tigers to sit down with Matos and his family, and apparently the trip made a good impression.
Matos' father Rob told TigerNet Friday evening that the family spent time with Clemson's coaching staff.
"It was a very, very good visit. We got to spend time with Coach (Marion) Hobby and Coach (Brent) Venables," Rob Matos said. "We spent a good bit of time with Dabo. It was a really good visit. We had been there before. My son had really great things to say about the place, and it just confirmed that. We definitely enjoyed the time spent. We enjoyed the tour and the academic component. We left feeling good about the place."
He said the visit gave the family a "warm and fuzzy feeling."
"We sat with each of those coaches and we had conversations with those coaches and I think what stood out to all of us is what you see in those meetings is what you see when they're out on the field coaching and teaching players," he said. "You really get a nice warm and fuzzy feeling like they genuinely care about you, not only as a football player but as a person. As parents that's really important to us and to Yetur that's something that's very important. He comes from a very close-knit family and there are certain things that he's used to and he expects and we got that type of feeling from the folks that were there - the students, assistants, the coaching staff and even people in the community."
Rob said that the family wanted to get a more thorough look at all things Clemson.
"This was our second trip there. We were there in June, but this time around we definitely got a more thorough look at the campus as a whole," he said. "We actually sat down and looked at the plans and how they expect the plans to improve the situation on campus. The plans looked amazing and the place looked like it would be done just as he was entering if he chose to go to Clemson, so that's definitely exciting. It's already a beautiful place, although there's a lot of construction going on. It certainly seems they're making some improvements."
Yetur told TigerNet what stood out in his mind was the family atmosphere Clemson provides.
"It was a really good visit. I really enjoyed being there and hanging out with the coaches," Yetur said. "The student coaches showed us around. What stood out to me most was the family aspect of Clemson and how close the players and coaches are, as well as the relationship they have with the community."
Hanging out with Brent Venables

Brent Venables
Def. Coordinator / Linebackers
View Full Profile was another plus, along with spending time with Hobby.
"He is intense, but he's also very down to earth," he said. "I really enjoyed talking with him and spending time with him."
Rob said the family plans to make it back for the home game against Florida St. in early November, and that he anticipates his son won't take too long to make a decision on his collegiate choice.
"Honestly, I don't anticipate it taking that long. Obviously, it's been a busy summer, and there's a lot of information to process for both my wife and I, as well as Yetur," Rob said. "He has taken a lot in and had a lot of new experiences. He's not in a position that he has to rush at this point. He's about to get ready for his junior season and probably sometime after that we'll sit down, and we'll evaluate things and see where we are. Depending on how he feels about things, we'll go from there."
In 2014, the 6-5, 230-pound prospect recorded 68 tackles and a fumble recovery in 10 games.