| | |
| --- | --- |
| Tigers hammer Gamecocks 11-4 in series opener | |
---
| | |
| --- | --- |
| Friday, February 27, 2015 9:36 PM | |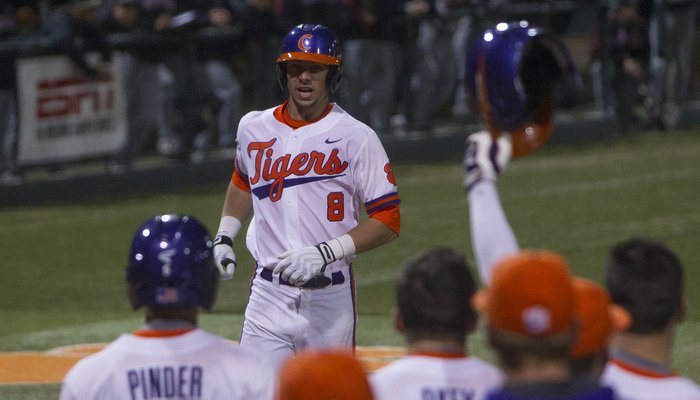 CLEMSON – Weston Wilson

Weston Wilson
So. Infielder
#8 6-3, 195
High Point, NC
View Full Profile , have yourself a night.
Clemson's sophomore third baseman hit two home runs and drove in four in leading the Tigers to an 11-4 victory over No. 10 South Carolina in the opener of the Reedy River Rivalry at Doug Kingsmore Stadium Friday night.
Wilson hit a solo shot in the third and gave the Tigers some insurance with a three-run shot in the bottom of the seventh, his third homer in the last two games. Chris Okey

Chris Okey
So. Catcher
#25 5-11, 195
Mount Dora, FL
View Full Profile added a 3-run homer and also drove in four runs and Tyler Krieger

Tyler Krieger
Jr. Infielder
#3 6-1, 170
Johns Creek, GA
View Full Profile added three hits as the Tigers improved to 6-2.
Clemson hadn't hit a home run against South Carolina over the last six games – the last home run was by Richie Shaffer

Richie Shaffer
3rd Base (2010 - 2012)
#8 6-3, 205
Charlotte, NC
View Full Profile in the 2012 series.
South Carolina fell to 6-2 with the loss. Clemson hit .417 (5-for-12) with runners in scoring position, while South Carolina hit just .200 (2-for-10).
The 11 runs were the most runs Clemson has scored against South Carolina since a 19-6 victory in Columbia in 2010. Neither team has scored as much as 11 in the rivalry since that game.
The Tigers got off to the hot start they needed – Tyler Slaton

Tyler Slaton
Sr. Outfielder
#18 5-8, 200
Cumming, GA
View Full Profile led off the bottom of the first by reaching on a catcher's interference and quickly moved to second on a wild pitch. Slaton moved to third on what amounted to a swinging bunt by Reed Rohlman

Reed Rohlman
RS Fr. Outfielder
#26 6-0, 210
Moore, SC
View Full Profile . Tyler Krieger grounded slowly to first to plate Slaton with the game's first run while also beating the throw. Steven Duggar

Steven Duggar
Jr. Outfielder
#9 6-2, 195
Moore, SC
View Full Profile followed with an opposite-field single to left and Chris Okey plated Krieger with a single up the middle for a 2-0 lead.
Weston Wilson flied out to center for the second out, but Chase Pinder

Chase Pinder
Fr. Infielder
#5 5-10, 175
Poquoson, VA
View Full Profile

Chase Pinder
Infielder
# 6-0, 165
Poquoson, VA
View Full Profile lofted a fly ball down the right field line that landed just inside the chalk for a two-run triple and a 4-0 lead.
"I feel like we played really well tonight. We had a great approach going into the ball game and the kids were really focused," head coach Jack Leggett said after the win. "I could tell when they showed up today that they had a purpose in mind. They were well prepared and we played really well in a game where two good teams squared up. We got some punches in early which was big. I thought one of the keys was the first inning when we walked a couple of guys and Crownover got tough and got out of the inning. Then we scored four which really got the momentum on our side. We had a good third inning and then had another good inning in the seventh when we scored three more runs."
The Tigers then broke it open with the long ball in the bottom of the third. Krieger started the inning with a single and moved to second on Duggar's walk. Okey then picked a perfect time to blast his first homer of the year, hitting a moon shot to left-center for a 7-0 lead. One batter later, Wilson hit a blast to right-center for his second homer of the season and 8-0 lead.
The Gamecocks struck back in the top of the fourth – two singles prefaced a three-run homer by Connor Bright and the Tigers lead was trimmed to 8-3. The Gamecocks added another run in the fourth, and Crownover was forced to leave after five tough innings.
Crownover gave up four earned runs on six hits while striking out seven and walking four. Crownover entered Friday's start having not given up a walk in his first two starts. He threw 106 pitches, 65 for strikes.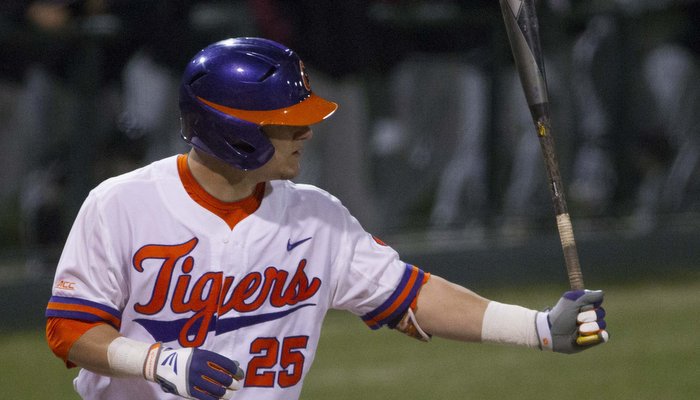 The Gamecocks loaded the bases in the top of the sixth against reliever Alex Schnell

Alex Schnell
Fr. LH Pitcher
#47 5-10, 175
Milton, GA
View Full Profile with two outs, and Kyle Martin stroked what appeared to be a two-run single into right field. However, the Tigers and Schnell got a huge break when the ball hit runner Max Schrock in the back for the final out of the inning. Schrock tried to turn out of the way of the bounder, but couldn't get out of the way in time.
Wilson then added his second homer of the night in the bottom of the seventh, a towering drive to left-center that followed a Krieger single and Duggar walk.
"It was good. We got some big hits," Leggett said. "Okey's three-run homer was big. We had guys on first and second base and we were trying to figure out how we were going to get them over to third. He got a fastball and did something with hit. Weston had two big hits for us - two big home runs. The ball is a little bit different which helps both teams. They hit that ball pretty good, too. It gives us a chance now. I thought their kid battled. Alex Schnell really did a good job and battled for us as a freshman. You'd never know he's a freshman. He just loves to compete."
Schnell pitched the final four innings, earning the first save of his Clemson career.
Game two of the series will be played Saturday at 2:30 p.m. at the Greenville Drive's Fluor Field in downtown Greenville. Clemson lefty Zack Erwin

Zack Erwin
Jr. LH Pitcher
#33 6-5, 195
Duluth, GA
View Full Profile (1-0, 0.66) will face South Carolina lefty Jack Wynkoop (1-1, 3.46).

Tags:
Richie Shaffer
,
Tyler Slaton
,
,
Tyler Krieger
,
Zack Erwin
,
Steven Duggar
,
Weston Wilson
,
Chris Okey
,
Reed Rohlman
,
Chase Pinder
,
Alex Schnell