| | |
| --- | --- |
| Tigers face another trip to the "Oakland Zoo" | |
---
| | |
| --- | --- |
| Friday, January 9, 2015 9:01 PM | |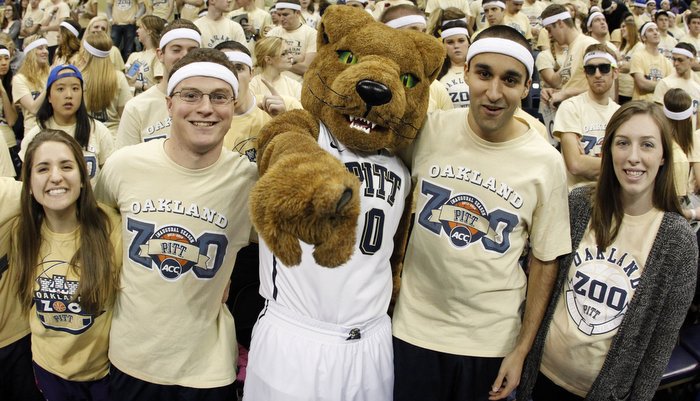 CLEMSON – Clemson's basketball team will make the trek to Pittsburgh Saturday afternoon to get yet another look at the Oakland Zoo.
Pitt (11-4, 1-1 ACC) plays its ACC home opener when it hosts Clemson (8-6, 0-2 ACC) Saturday. Tipoff is at Noon ET in the Petersen Events Center, where the student section is affectionately known as "The Oakland Zoo."
GAME SETUP
CLEMSON vs. PITTSBURGH
Tipoff: 12 p.m. ET Arena: Petersen Events Center (12,508)
Radio: CTSN (Tony Castricone-pbp; Tim Bourret-color)
TV: ACC Network (Tom Werme-pbp; Dan Bonner-color)
The Tigers will be looking for their first ACC win in their third try, while the Panthers earned their first conference win of the season with an overtime victory over Boston College Tuesday night. Pitt is 7-0 this season at the Petersen Events Center, owns a 200-27 all-time record and is 79-24 all-time vs. regular season league foes in the arena. That includes a recent stretch that has seen the Panthers win 138 of their last 142 contests with The Oakland Zoo looking on.
Pitt's recent success isn't just at home, however. Pitt has won 129 of its last 181 overall games, 134 of its last 185, 278 of its last 372 contests, 119 of its last 181 league regular season games and 163 of its last 179 non-conference games and Clemson head coach Brad Brownell

Brad Brownell
Head Coach
View Full Profile says the Panthers don't get enough respect for being a good basketball school.
Clemson seeks to avoid its first 0-3 start in the ACC since 1999-2000. In five seasons since the turn of the century, the Tigers have started 0-2 in league play. In all five of those seasons, Clemson won its third game.
Pitt and Clemson meet for the fourth time in series history. Pitt is 3-0 all-time vs. Clemson including two victories last season: a 76-43 win on Jan. 21, 2014 at the Petersen Events Center and an 83-78 overtime win on March 8, 2014 at Clemson. Pitt and Clemson also met on Dec. 29, 1958 in the Carrousel Tournament in Charlotte, N.C., a 60-50 Pitt win.
Clemson enters Saturday's game after dropping back-to-back games to North Carolina (74-50) and at Louisville (58-52). The Tigers are led by Jaron Blossomgame

Jaron Blossomgame
RS So. Forward
#5 6-7, 215
Alpharetta, GA
View Full Profile (13.7 ppg.), Damarcus Harrison

Damarcus Harrison
Sr. Guard
#21 6-4, 205
Greenwood, SC
View Full Profile (11.1 ppg.) and Donte Grantham

Donte Grantham
Fr. Forward
#15 6-8, 205
Martinsburg, WV
View Full Profile (10.1 ppg.). Pitt is led in scoring by forward Michael Young (13.7 ppg) and guard James Robinson (11.1 ppg).
Brownell says Pitt is a well-kept secret.
"Most people just don't understand how good Pitt basketball is. Pitt is a good basketball school in a lot of ways," Brownell told the media Friday. "They go to the NCAA almost every year, and Jamie has done a phenomenal job there. They have record attendance, they've sold out games and have waiting lists for season tickets. It's a rabid environment and their students are right on top of you. It's one of the best kept secrets outside of that area. People in the Northeast know about Pitt basketball and they recruit a lot of good players up there and have a lot to sell and it works for them. But I don't think people down here and back from where I am from in Indiana in the Midwest really understand how good of a program they have, the facilities they have and the commitment they have made to their basketball program and the kind of job Jamie has done year in and year out."
Pitt head coach Jamie Dixon will be looking to earn his 300th career win Saturday, and Brownell said Dixon has his team playing its usual brand of basketball.
"We are similar in styles. Both teams play primarily man-to-man and try to mix in a little zone," he said. "Jamie Dixon has his guys playing hard and has them organized. The game up there last year, we just didn't play very well. I subbed a lot of guys into the game and played a lot of different people that probably didn't get as many minutes in other games.
"They are just a very good team, they don't make many mistakes and they don't beat themselves. Their arena is fantastic, and they have a terrific crowd and atmosphere and it is a great venue and a great place to play. We have to have a good performance in order to beat a good basketball team."
Brownell said it will be another "bump and grind" game against a physical team.
"They have big, strong guards. They are not the tallest team by any stretch, but Young is big and strong and will be a terrific player," he said. "He's already a really good player. And then they play a physical style. They bump and grind you."