| | |
| --- | --- |
| Tigers earn 10th ACC victory for just fourth time in win over Hurricanes | |
---
| | |
| --- | --- |
| Tuesday, March 4, 2014, 10:57 PM | |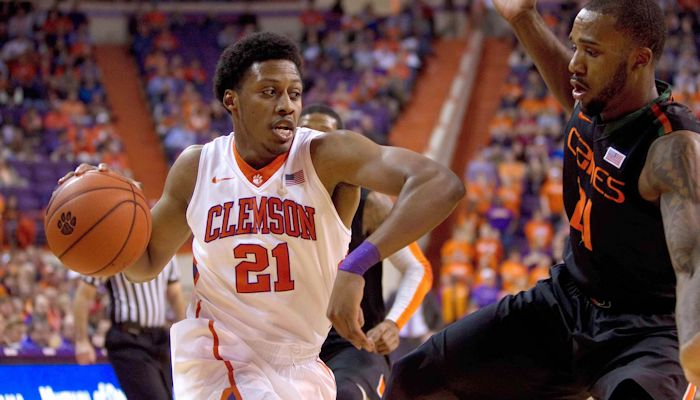 Damarcus Harrison

Damarcus Harrison
Jr. Guard
#21 6-4, 200
Greenwood, SC
View Full Profile and Rod Hall

Rod Hall
Jr. Guard
#4 6-1, 210
Augusta, GA
View Full Profile and hit enough free throws down the stretch in beating Miami 58-54 at Littlejohn Coliseum, Clemson's 19th win of the season. The Tigers also improved to 10-7 in the Atlantic Coast Conference, just the fourth time in Clemson history a Tiger team has finished with 10 or more conference wins.

With the win, the Tigers (19-10, 10-7 ACC) can clinch the fifth seed in the ACC tournament with a win Saturday over Pittsburgh. The Tigers can also win 11 league games for the first time in 61 ACC seasons.

The Tigers were led by Hall's 14 points, while Harrison and K.J. McDaniels

K.J. McDaniels
Jr. Forward
#32 6-6, 200
Birmingham, AL
View Full Profile chipped in 12 points apiece. McDaniels led the Tigers with nine rebounds, while Jaron Blossomgame

Jaron Blossomgame
RS Fr. Forward
#5 6-7, 215
Alpharetta, GA
View Full Profile added eight. The win snapped Miami's three-game winning streak over the Tigers.
It was the type of game that Clemson would have lost last season, when the Tigers won just 13 games.
"I think this is the kind of game we would have lost last season. I don't doubt that," Harrison said. "But we are older, and we are gaining confidence. Last year, we kind of gave up in February, but coach has been telling us we have a lot to play for. We got win number 19 tonight, and that is big."
Miami head coach Jim Larranaga agreed with Harrison, and said a year has made a big difference in the Clemson program.
"You see, guys get older, they mature, they get bigger," he said. "They also gain confidence, they understand how to play, where to go. It makes a big difference. What you see is a group of players that is maturing."
Clemson head coach Brad Brownell

Brad Brownell
Head Coach
View Full Profile said he was proud of his team's effort.
"This is a great win by our team. We had trouble early stopping them," Brownell said. "They did a good job of getting in the paint and making plays, and we had a hard time handling that. We then went to the zone, and that slowed them down. We then made adjustments at halftime, and I thought Rod and K.J. were very good, and Damarcus gave us some good minutes."
Brownell said that an expanded ACC was a big reason for earning the 10th win, but didn't downplay the accomplishment.
"It helps to have a couple of extra games. I won't lie to you," he said. "When they played 14 or 16 conference games it was a little harder, but I am proud of our team and what they have been able to accomplish. We have found ways to get it done, and I think that says something about the character of our team. We have had a nice year so far, but we need to find a way to keep it going."
The teams were tied at eight barely five minutes into the first half, but the Canes established an inside presence and went on an 11-4 run over the next four minutes and led 19-12 after a 3-pointer by Davon Reed.
However, the Tigers used a couple of stellar defensive plays from McDaniels to make it 19-16, and another steal by the Tigers led to a fast-break opportunity. Damarcus Harrison was fouled on his shooting attempt, and after a review the officials called it a flagrant foul. Harrison hit both free throws, then calmly drained a 3-pointer from the left wing to give Clemson a 21-19 lead at the 7:10 mark.
The teams traded baskets for the rest of the half, which ended in 27-27 tie.
In the second half, the Tigers looked like they would put the game away, taking a nine-point lead at 49-40 on a 3-pointer by Adonis Filer

Adonis Filer
So. Guard
#3 6-2, 190
Chicago, IL
View Full Profile with just over five minutes remaining in the game.
Miami wouldn't go away, however, and a layup by Erik Swope with 54 seconds remaining made it 54-50 Clemson with 51 seconds left on the game clock.
The Tigers managed to hit four free throws in the final 27 seconds and escaped with another hard-fought win, something that Brownell said he can appreciate.
"It feels good. You see how hard players work and how much time they put into it," he said. "You have the walk-throughs late at night, and then the meetings. Then you go out and play your tail off against a team that is probably more talented, and you take it to the wire and lose by a couple, that is hard. There really isn't a lot of difference between 6-10 and 10-6, and the momentum you get from winning these close games really helps you build positive momentum."
The Tigers return to action Saturday in the regular season finale, hosting Pitt at 4 p.m.
If you can't see the PDF below, click here to open it.