| | |
| --- | --- |
| TigerNet's 2015 Football Awards | |
---
| | |
| --- | --- |
| Sunday, December 27, 2015 12:16 AM | |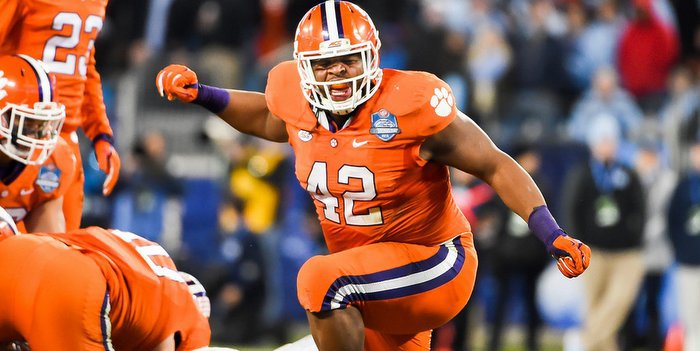 CLEMSON – Clemson has at least one and hopefully two games left to play this season, and it all starts with the Orange Bowl on Thursday.
However, the bulk of the season is over so TigerNet wants to hand out our own awards for the football season. Sure, the coaching staff will hand out the Clemmy's at the end of season banquet, but sometimes those of us in the media have a slightly different take on things.
So, without further ado, here are our first annual TigerNet Awards, and I will call them the Hoody's.
Offensive Player of the Year
It has to be Deshaun Watson. Watson was a finalist for the Heisman Trophy and a first-team All-American. The ACC Player of the Year has completed 287 of 413 passes for 3,512 yards and 30 touchdowns. He added 887 yards on the ground and scored 11 times. His 41 total touchdowns ranked second in the nation among Power Five conference schools. His 338.4 yards of total offense per game rank ninth in the nation. He needs just 12 yards in the bowl game to break Tajh Boyd's since season record of 4,410. Watson is the only player in the nation with at least 800 yards rushing and 3,500 passing and if he gets 113 yards rushing in the bowl game he will become just the third player in FBS history to post a 1,000 yards rushing and 3500 passing. Watson has a 17-1 career record as Clemson's starter, including 16-0 when he starts and finishes a game in a healthy state.
Honorable Mention: Wayne Gallman. Gallman is the team's leading rusher - the red-shirt sophomore has 1332 yards on the ground and needs just 14 yards in the bowl game to break Raymond Priester's single season mark of 1345 set in 1996. Gallman has already broken Priester's record for 100-yard rushing games in a season with eight. The native of Loganville, Ga. finished the season strong for the second year in a row. He had 19-102 in the win over South Carolina, then had 28-187 and a touchdown in the ACC Championship game against North Carolina. His 187 yards were the second most in ACC Championship game history, trailing only the 233 by C.J. Spiller vs. Georgia Tech in 2009. He had 165 of those yards in the second half, a championship game record.
Defensive Player of the Year
Defensive end Shaq Lawson. Lawson has exceeded Beasley's numbers as he had 22.5 tackles for loss and 78 tackles. He added 9.5 sacks and had 15 quarterback pressures that disrupted opposing offenses all year. Lawson, who grew up just five miles from the Clemson campus, was a finalist for the Lombardi Award, the Hendricks and the Nagurski. He was the leading vote getter on the All-ACC defense. Lawson and former All-American Anthony Simmons are the only defensive players in Clemson history to record at least 10 tackles for loss as a freshman, sophomore and Junior.
Honorable Mention: Kevin Dodd. Dodd ranks second on the Clemson team and in the top 10 in the ACC in sacks with 8.5, and in tackles for loss with 15. He has 74 tackles for the season, including 58 first hits, the same total Lawson has accumulated.
Offensive Rookie of the Year
Left tackle Mitch Hyatt. Hyatt started every game at left tackle as a true freshman. He was the first true freshman to start the first game of the year since 1944 and started all 13 games, the first true freshman in Clemson history to do that as a lineman. He played 885 plays for the season and was named a first-team Freshman All-America team by USA Today. Hyatt was named third-team All-ACC by the coaches and the media and the ACC Rookie of the Year by ESPN.com.
Honorable Mention: Wide receiver Deon Cain. Cain caught at least one touchdown pass in each of his last five regular season games, a record for a Clemson freshman. Sammy Watkins held the previous record with four in a row. The overall mark is 10 in a row by DeAndre Hopkins in 2012. Hopkins is currently third in the NFL in receiving yards and tied for second in touchdown receptions. Cain has come on strong this season and has 34 catches for 582 yards and those five touchdowns. He averages 17.1 yards a catch, best on the team, and 48.5 yards per game, second best on the team. Cain had a season-best five catches for 96 yards and a touchdown at South Carolina. The TD catch went for a 55-yard score from Deshaun Watson, his fourth touchdown catch of at least 30 yards this year and his sixth reception of at least 38 yards.
Defensive Rookie of the Year
Defensive tackle Christian Wilkins. Wilkins actually leads all defensive tackles in tackles with 72 even though he has started just one game. His tackle total is a Clemson record for a non-starting freshman defensive lineman and he was named a first-team freshman All-American by Sporting News. He has averaged a tackle every 5.3 snaps.
Honorable Mention: Defensive end Austin Bryant had 25 tackles in 11 games.
Special Teams Player of the Year
Kicker Greg Huegel. Huegel made 22-25 field goals this year, including a perfect 17-17 on attempts in ACC games, best in the nation in conference games. He had a streak of 16 straight made field goals, the second longest streak in Clemson history. The freshman who joined the team in August was named a second-team All-American by Si.com, the first player in Clemson history to earn All-America honors in a semester he was not on scholarship.
Honorable Mention: Kicker Ammon Lakip, who responded to his early suspension and came back to not only handle kickoffs and eventually extra points, but he made some touchdown-saving tackles on special teams.
Offensive Comeback Player of the Year
Tie between center Jay Guillermo and wide receiver Charone Peake. Guillermo stepped away from football in the second semester, but returned in the summer and took over when starter Ryan Norton was injured early in the season. All Guillermo did was earn ACC Offensive Lineman of the Week honors three times, tying the school record for offensive line selections. He was named second-team All-ACC center by both the media and the coaches.
Peake has battle injuries all throughout his Clemson career, but has had a strong senior year and has 50 receptions for 563 yards and five scores. He has started all 13 games after fighting through injury his first four years. The only active Tiger player to play in the 2011 Orange Bowl, Peake has had at least one catch in 12 of the 13 games, including a season high 7-120 at Syracuse.
Defensive Comeback Player of the Year
Defensive tackle D.J. Reader. Reader actually stepped away from the game during fall camp with what Dabo Swinney said were personal issues. Once he came back on campus, Reader played seven games, four as a starter, and had 29 tackles.
Offensive Breakout Player
I have a tie here with Gallman and Guillermo. Gallman came on strong at the end of last season, but what he's done this season has been remarkable. His physical running style and ability to make yards after contact have fueled Clemson's offensive success. Guillermo brought stability to the interior of the offensive line and his physical presence in the running game has helped open up some of those holes for Gallman. Both players have put themselves squarely in the conversation for the 2017 NFL Draft.
Defensive Breakout Player
Cornerback Cordrea Tankersley. Tankersley ranks 17th in the nation in interceptions with five and he has 14 total passes defended to go with 49 tackles in starting all 13 games. He was another defender who had to step up for the Tigers in the secondary. Tankersley knew going into the season that he would be targeted because teams would throw away from fellow corner Mackensie Alexander. Tankersley has responded in a big way, and is another player who is putting himself into NFL conversations.
Leadership Award
Left guard Eric Mac Lain. Sure, the offense revolves around Watson, but Mac Lain is the vocal leader of this group. In many ways he's become the face of the offense when it comes to dealing with the media, and he isn't afraid to step in and do interviews when asked. Mac Lain is a delight to cover and he's a quote machine, but it's also easy to see how the younger offensive linemen and many of the younger players look up to him. Hyatt was in awe when talking about Mac Lain last week, and even said he wanted to shave his beard but was afraid of what Mac Lain would say or do.
One of the most respected student leaders on campus, Mac Lain introduced Vice President Joe Biden at a function on Clemson's campus on November 10. With Mac Lain the only player to participate in every game over the last four years, he now has the title of winningest player in Clemson history. His now 45 victories rank first. Prior to this year, Adam Humphries, Robert Smith and DeShawn Williams had played in 42 victories.

Tags:
Tajh Boyd
,
C.J. Spiller
,
DeAndre Hopkins
,
Adam Humphries
,
Eric Mac Lain
,
Ryan Norton
,
Charone Peake
,
Robert Smith
,
DeShawn Williams
,
Ammon Lakip
,
Jay Guillermo
,
Kevin Dodd
,
Shaq Lawson
,
Cordrea Tankersley
,
D.J. Reader
,
Sammy Watkins
,
Wayne Gallman
,
Mackensie Alexander
,
Deshaun Watson
,
Mitch Hyatt
,
Austin Bryant
,
Deon Cain
,
Christian Wilkins
,
Greg Huegel