| | |
| --- | --- |
| Tiger Tidbits - Virginia Tech Edition | |
---
| | |
| --- | --- |
| Wednesday, October 17, 2012, 10:49 AM | |
CLEMSON – There is a lot to cover in this week's edition of Tiger Tidbits, and I honestly don't know where to start.
As a result, I am just going to start with last week's articles that covered the state of the ACC and the recruiting rankings over the last five seasons. I received a ton of emails about the subject – some saying that the articles didn't need to run on a Clemson site, some giving their own reasons for the struggles of the conference, and others wanted to know how much academic standards had to do with the conference not being able to recruit great players.
That is actually an interesting topic, and I think we need to have an interview with someone in Clemson's admissions department to see exactly what Clemson's standards are and to see what the issue is with not being able to sign JUCO players. Also, I have sent out a request to the ACC to see if we can get some clarification on what the standards are for ACC schools vs. SEC schools. Hopefully that is something we can follow up with, maybe after football season is over or in the weeks in between the end of the regular season and the bowl game.
*Another big issue last week and this week has been the ongoing saga of Robert Nkemdiche, the nation's No. 1 recruit and Clemson commit who has every reporter in the nation seemingly calling his phone, month-old quotes from his mother are regurgitated each week, and college coaches are making sure he knows they still have interest.
All of that has to be a little overwhelming for a young man who wants to finish his senior season and his final year of high school in peace.
It seems like everyone has a differing opinion on what is going on – some want him to de-commit and save Clemson fans the anguish; some want him to just come out and say he is 'All In' with Clemson and end the speculation; and others want to keep stirring the pot and causing drama.
I actually had one acquaintance text me last week and say that he "just couldn't take it anymore" and wished everything would just settle down.
Seriously? You're letting the thoughts and actions of a high school player affect your happiness?
We said from the beginning that with a recruit of Nkemdiche's caliber, the recruiting wouldn't stop with his June commitment. There has been way too much made of his flirtation with Ole Miss and the comments that he has made, and here is what I have to say about the whole deal….Stay patient and don't let the media affect you on this.
My hunch – a hunch I get from talking to the people who are closer to the situation than I am – is that he will be a Clemson Tiger officially on National Signing Day. Sure, his mother felt left out of the decision. Yes, his brother goes to Ole Miss and he wants to go and see big brother play. And yes, every coach is still after him. And yes, the media hounds him, looking for the next sound bite that gets the masses stirred up.
All I can tell you is that his two buddies – David Kamara and Wayne Gallman – will sign with the Tigers. Quarterback Nick Schuessler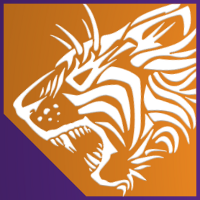 Nick Schuessler
Fr. Quarterback
#17 6-3, 185
Grayson, GA
View Full Profile , whose family Nkemdiche has stayed with at different times, is already on campus and practicing with the Tigers. And Nkemdiche knows that he can start right away at Clemson.
I know it is frustrating to see so much written and talked about when it comes to his recruiting, but this is where you have to either just let it play out – and I think it plays out in Clemson's favor – or spend a lot of precious time worrying about something you can't control.
*Did you see the update we posted on Tuesday that linked an article from Oklahoma talking about Brent Venables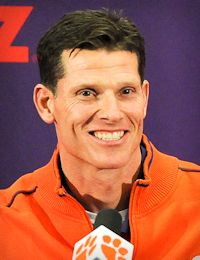 Brent Venables
Defensive Coordinator / Linebackers
View Full Profile and his defense? If not, you can read it here…http://www.tigernet.com/view/clemson_update.do?id=7704
The gist of the article was that Venables' defense was too complicated for Oklahoma players last season, and intimated that much of their success this season comes from a less complicated scheme. I know that raised a few eyebrows on Clemson boards as Tiger fans – who complained that former defensive coordinator Kevin Steele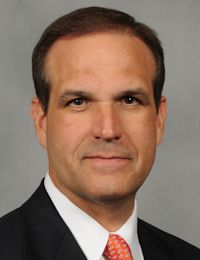 Kevin Steele
Defensive Coordinator/Linebackers
View Full Profile 's defense was too complicated – pondered whether the struggles this season once again had to do with a defense being too hard to pick up.
I got a chance to speak with Venables – 1-on-1 – Tuesday afternoon in the WestZone and we talked about the article.
Venables said he didn't want to comment on the article itself, saying, "I really don't want to comment on what one or two people have to say."
Then he said that he doesn't think his defense is too complicated for Clemson's defenders.
"I don't know. I don't think our guys are confused out on the field," he said. "I don't think it's complicated. "
Venables said he thinks his group will continue to improve as they get more comfortable in the system.
"I think they will continue to grow within the system," he said. "It's not like they are a year or two years in it. They're not. The surer of yourself you are, the faster you play."
I asked a couple of the defensive players if they thought Venables' scheme was complicated, and they laughed and said no. From what I understand, it is far simpler to execute and understand that Steele's scheme.
*Transfer linebacker Kellen Jones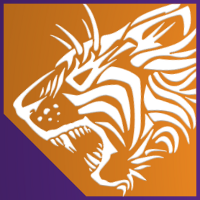 Kellen Jones
So. Linebacker
#52 6-1, 215
Houston, TX
View Full Profile – who played at Oklahoma last season – is out of his boot and looks like he is walking around pretty good. No word on when he can resume practicing.
*I also saw defensive back Martin Jenkins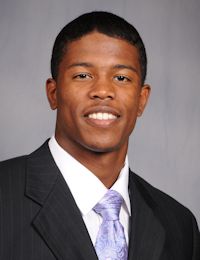 Martin Jenkins
Jr. Cornerback
#14 5-10, 180
Roswell, GA
View Full Profile this week – he had groin surgery during fall camp – and he looks like he is walking without a limp and should be able to start practicing soon.
*As reporters, I think we've all asked a question that others think is stupid. Heck, I think all of the questions that the TV guys ask are kinda silly. They are looking for that quick five second sound clip they can run, and we are looking for stories. Sometimes, the writers get a little irritated at the TV guys, who want to talk first and loudly and get their little piece and then turn the camera off.
Tuesday, however, things were taken to another level.
First, there was the writer who asked
Dabo Swinney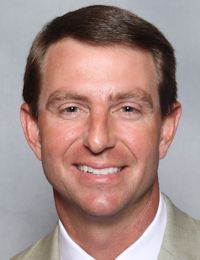 Dabo Swinney
Head Coach
View Full Profile
if the Tigers were using wide receiver
Sammy Watkins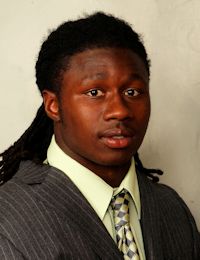 Sammy Watkins
So. Wide Receiver
#2 6-1, 205
Fort Myers, FL
View Full Profile
as a decoy, and Swinney laughed and said, "You guys crack me up." Then Swinney was asked a question by Bart Wright of the Greenville News, and Swinney admitted that for the first time –ever – Swinney agreed with what Wright had to say.
It continued when we talked to Venables – one person asked Venables a question that drew a laugh from Venables. The guy asked Venables that, considering Clemson has to play at Wake Forest just five days after playing Virginia Tech, if Venables would consider "resting" some of his players against the Hokies so they would be fresh against Wake Forest.
I am sure that what he meant to ask was what if Clemson got up big on the Hokies, but Venables jumped in pretty quick and said, "A rest? I need a rest."
The gentleman then said, "I just meant if the game is under control" but Venables cut him off again.
"We are getting ready to play Virginia Tech," he said. "My perception of Virginia Tech is all of those 10-win seasons and the model of consistency in college football the last 15, 16 or 17 years. We will get their A-game and then some. I wish we had that kind of luxury but most teams that go in to play Virginia Tech don't. We have taken advantage of our off week to prepare for that short week, but right now we can't put the cart before the horse."