| | |
| --- | --- |
| Tiger Tidbits - Christmas Edition | |
---
| | |
| --- | --- |
| Tuesday, December 25, 2012 2:49 PM | |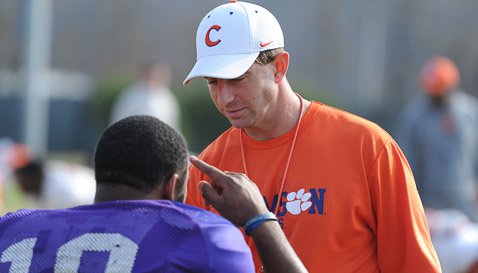 Happy holidays to everyone. We here at TigerNet hope all of you have the best of the holiday season, and that includes a bowl win over LSU at the end of the month.
I thought this might be a good time to throw a few little nuggets together, and I wanted to start with Clemson's bowl practices. There has been a lot of talk on the board and with fans and even in our interview sessions with the coaches about how Clemson head coach Dabo Swinney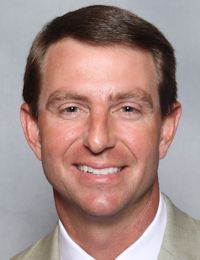 Dabo Swinney
Head Coach
View Full Profile has conducted physical practices in preparing for LSU.
The practices have been physical, and I've had players tell me that they have been among the most physical ever seen at Clemson. One linebacker told me he loved them, but they weren't the type of practices that could be held during the season. He said players would get too beat up and not have any legs left on game day, and I can see that.
We also had a couple of players tell us that Swinney went a little crazy at the first Saturday practice 10 days ago. We in the media noticed something was different when the team was an hour late coming off the field, and players could be seen exiting the new indoor practice facility and doing up-downs and sprints outside.
Apparently, that practice wasn't going like Swinney wanted, and he "lost it" according to one player. Another player agreed that it was a meltdown to see, but said he had seen Swinney worse one other time. No matter how bad it was, it appears Swinney had a head coaching/teaching moment for the ages, and the word is that the team had some pretty focused practices after that Saturday.
Now, does that mean they are going to win the bowl game? Of course not. This team prepared for a physical bowl game last year, and we understand that some of the practices in preparing for the Orange Bowl were a little rough. Some players said last year's bowl practices beat the team up. Others will say that once the team arrived in Florida, all focus was lost in the pomp and ceremony of a BCS bowl.
It really all boils down to this – no matter what kind of practices are held, the fans aren't going to be happy. There will be fans that will say the coaches erred in not having live tackling and physical play in practice all season. There will be those that say it is too late. There will those that say live tackling in practice is harmful. There will be players that also have their own opinions.
And of course, there will always be the certain section of the fan base that will measure everything done against the legend – real or perceived – of Danny Ford, and that group will almost never be satisfied
I guess we will see how this works out when Clemson takes the field against LSU in less than a week.
*I spoke with someone in the Clemson ticket office late last week, and there were around 9,000 unsold tickets out of the 18,000 that were given to Clemson to sell. I have a lot of friends and know a lot of Clemson fans that are going, and they almost all bought their tickets through a ticket reseller or a broker. As one told me, why pay $90 for a ticket you can get for $45 online?
I went to Atlanta last week for the first official bowl interview session – with Swinney and Les Miles of LSU – and the Chick-fil-A Bowl staff made a grand announcement about how the game was a sellout.
The Chick-fil-A Bowl's string of 16 consecutive sellouts is the second-longest among all bowls in the country, trailing only the Rose Bowl. Over that span, the Chick-fil-A Bowl is among the highest-attended non-BCS games in the nation with an average attendance of 72,126 in its previous 15 games.
However, both Clemson and LSU have unsold tickets, and the ones that aren't sold out of that allotment have to be purchased by the schools, meaning Clemson is going to eat somewhere around three quarters of a million dollars in unsold tickets. The last report I saw said that LSU had sold somewhere around 10,000 tickets for the game.
It will be interesting to see how many seats are actually filled in the "sellout."
*I spoke with running back Rod McDowell late last week, and the junior out of Sumter believes he has done enough to be considered as a front-runner for the starting job next season. This year, he has carried the ball 76 times for 424 yards and is averaging 5.6 yards per carry. I asked him if he thought he could be an every-down back and carry it 20 times per game, and he said yes. D.J. Howard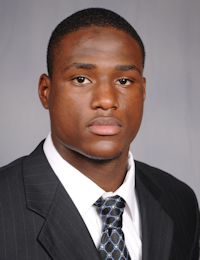 D.J. Howard
RS So. Running Back
#22 5-11, 195
Lincoln, AL
View Full Profile bas battled injuries and Zac Brooks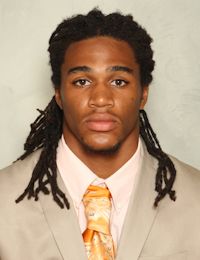 Zac Brooks
Fr. Running Back
#24 6-1, 185
Jonesboro, AR
View Full Profile is still learning, so McDowell has to be considered the starter heading into the spring, and it's up to the others to take the job away from him.
*The last time Clemson defeated a Top 25 team in a bowl game? The 2003 Peach Bowl, when Clemson defeated Tennessee 27-14. The Volunteers were ranked 6th heading into that game.
*This would be a huge win for Swinney personally. We all know that the Tigers haven't fared well recently with out-of-conference BCS opponents, and I didn't realize until recently how bad it was. Swinney has a 4-9 record against non-conference foes. He has two wins against Auburn, one against Kentucky and one against South Carolina in his first season. He has four losses to South Carolina and one each to South Florida, TCU, West Virginia and Nebraska. Considering the perception of how weak the ACC is – and it is – the only way to change that perception is with strong out-of-conference wins. The Tigers have a chance next week, and the first game next season is against Georgia, providing yet another opportunity.
*Many people know that former Clemson AD Terry Don Phillips gave LSU head coach LSU Miles his first head coaching job, and we asked Miles last week if he stays in contact with Phillips. He told us that he has a brother he doesn't keep in regular contact with and that he needs to call for the holidays, and said he has priorities, which drew a big laugh.
*Here are some surprising stats from this season, courtesy of Clemson SID Tim Bourret.
• Clemson has forced 44 three-and-outs on defense this season, which is just four less than No. 1 Notre Dame has forced (48).
• Clemson's defense has given up 24.9 point per game this season, or just 0.8 more per game (24.1) than Auburn gave up during its National Championship run in 2010.
• Tajh Boyd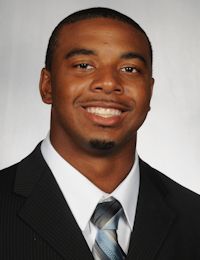 Tajh Boyd
RS Jr. Quarterback
#10 6-1, 225
Hampton, VA
View Full Profile has passed for 34 touchdowns in 2012 – 10 more than Heisman winner Johnny Manziel of Texas A&M and 20 more than runner-up Collin Klein of Kansas St.
*Speaking of Boyd, he is a 20-game winner at Clemson, fashioning a 20-6 record as a starter. A win in the bowl game would leave him just 11 wins shy of the school-record 32 wins earned by Rodney Williams from 1985-88. Steve Fuller and Mike Eppley each have 21 wins, Homer Jordan has 22 wins, Nealon Greene has 24 wins and Charlie Whitehurst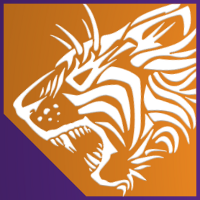 Charlie Whitehurst
Quarterback
#6 6-4, 225
Duluth, GA
View Full Profile has 25 wins. Each of those records should fall to Boyd next season, if he returns, with an outside shot at getting Williams' record.