| | |
| --- | --- |
| Thoughts from the WestZone: A perfect day, defense and who would you hire? | |
---
| | |
| --- | --- |
| Thursday, October 23, 2014 1:52 PM | |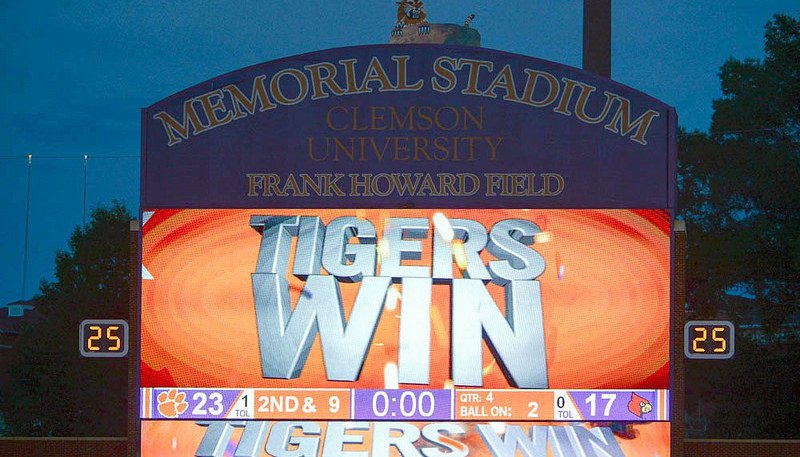 CLEMSON – Saturday is supposed to be one of those perfect, sun splashed afternoons that are perfect for tailgating. The evening hours are forecast to be crisp and clear, the perfect conditions for a Clemson football game in Death Valley.
Not only that, it's Homecoming and Clemson's defense will try and give the Homecoming treatment to the Syracuse Orange in the first-ever visit to Death Valley for a Syracuse football team.
The only thing that would make what should be a perfect afternoon and evening is a Clemson win, improving the Tigers to 6-2 and making them bowl eligible.
I did a radio show earlier this week with a Syracuse sports talk show, and the host mentioned that he was making the trip down for the game and asked what he should try and see and what he should expect.
My honest answer was that it was hard to explain over a phone call….How do you explain 82,500 (give or take a couple of hundred) fans screaming at the top of their lungs as the buses round the stadium? How do you explain acres and acres of tailgates and tents and televisions and satellite dishes, a sea of orange and purple covering every parking space on the entire campus? How can you make 20,000 staying outside of the stadium during the game – just watching from their tailgate – seem real to someone whose idea of a tailgate is a couple of brats on a side street next to an old dome?
How do you explain RV's and campers showing up on Wednesday and continuing to filter in throughout the rest of the week? How can you explain what it's like to stand on Bowman watching the floats being prepared? Can you explain Tiger Rag and why that rock is so important?
It's impossible. I told him he would just have to come down and experience it first-hand. Louisville fans learned earlier this season and went back to Kentucky with rave reviews. Welcome Syracuse. Sit back and enjoy it.
*Clemson's defense has been getting a lot of rave reviews lately, but I wanted to ask a couple of players about what it's like to stand on the field with the game on the line. The Tigers had to do it against Louisville and Boston College, and I wondered what player was "the guy" when the game was tight. Who is the leader?
My thought would have been Grady Jarrett

Grady Jarrett
Sr. Defensive Tackle
#50 6-1, 290
Conyers, GA
View Full Profile , who has been a vocal leader on and off the field and has been very demonstrative this season. But most of the players I asked all said the same person – linebacker Stephone Anthony

Stephone Anthony
Sr. Linebacker
#42 6-2, 244
Polkton, NC
View Full Profile . Anthony is quietly putting together a solid season and has rebounded from the rough start at Georgia.
*Safety Jayron Kearse

Jayron Kearse
So. Safety
#20 6-4, 215
Fort Myers, FL
View Full Profile was funny this week…..If you remember, we reported that he was actually out of position on the play in which he chased down the Louisville receiver at the end of the game. He was supposed to be in Cover 2 but instead stayed inside the hash and was able to make the play. Secondary coach Mike Reed

Mike Reed
Assist. Coach / Defensive Backs
View Full Profile gave him a "minus" on the play. This week, he told us that one of his great plays at Syracuse last year was again because he was out of position. He laughed when it was suggested that the key for him is to simply miss assignments. But then he got serious and started talking about his film study and how much he puts into preparing for a game.
Clemson looses a lot on defense after this season, but having guys like Kearse and Ben Boulware

Ben Boulware
So. Outside Linebacker
#10 5-11, 235
Anderson, SC
View Full Profile and Kellen Jones

Kellen Jones
RS Jr. Linebacker
#52 6-1, 233
Houston, TX
View Full Profile and B.J. Goodson

B.J. Goodson
RS Jr. Linebacker
#44 6-1, 240
Lamar, SC
View Full Profile and D.J. Reader
D.J. Reader
Jr. Defensive Tackle
#48 6-2, 322
Greensboro, NC
View Full Profile and Shaq Lawson

Shaq Lawson
So. Defensive End
#90 6-3, 269
Central, SC
View Full Profile all getting significant snaps and learning from the great seniors ahead of them is a big positive. Kearse said he learns something new from Robert Smith

Robert Smith
Sr. Safety
#27 5-11, 211
St. George, SC
View Full Profile each day. If – and it's a big if – he keeps on this track he has the potential to be an All-American at some point over the next two years.
* Isaiah Battle

Isaiah Battle
Jr. Offensive Tackle
#79 6-7, 285
Brooklyn, NY
View Full Profile ….I saw a lot of message board chatter about left tackle Isaiah Battle and how some people were hearing he was going to leave after this season and had already told the coaches. I grabbed Coach Swinney after Wednesday's practice, and he was genuinely surprised to hear that.
Swinney said that Battle doesn't always toe the line, but that it was pretty typical of trying to deal with young football players. Swinney said that Battle hasn't informed anyone of his plans, but that if he does decide to leave it would be comparable to Bashaud Breeland

Bashaud Breeland
(2010 - 2013)
#17 6-0, 195
Allendale, SC
View Full Profile or Martavis Bryant

Martavis Bryant
Wide Receiver (2011 - 2013)
#1 6-5, 200
Calhoun Falls, SC
View Full Profile – he would be a third or fourth round pick. If he comes back he could be a first round pick.
I watch Battle a lot during the games, and he's missed on some pretty key blocks this season. He could use another year.
*NFL scouts….There are always a good number of NFL scouts hanging around the WestZone early in the week, but it seemed like there were more than usual this week. We were there on Tuesday, and there were NFL logos all over the place, watching film and talking to the Clemson coaching staff. My guess is that it all comes back to that Clemson defense – Corey Crawford

Corey Crawford
Sr. Defensive End
#93 6-5, 276
Columbus, GA
View Full Profile , Vic Beasley

Vic Beasley
RS Sr. Defensive End
#3 6-2, 236
Adairsville, GA
View Full Profile , Grady Jarrett, DeShawn Williams

DeShawn Williams
Sr. Defensive Tackle
#99 6-1, 292
Central, SC
View Full Profile , Josh Watson

Josh Watson
RS Sr. Defensive Tackle
#91 6-4, 292
Wilmington, DE
View Full Profile , Stephone Anthony, Tony Steward

Tony Steward
Sr. Linebacker
#7 6-1, 236
Hastings, FL
View Full Profile , Garry Peters

Garry Peters
RS Sr. Cornerback
#26 6-0, 194
Conyers, GA
View Full Profile , Tavaris Barnes

Tavaris Barnes
RS Sr. Defensive End
#9 6-4, 273
Jacksonville, FL
View Full Profile , Robert Smith….the list goes on and on of players that will draw interest from the NFL. This year's Clemson Pro Day should be fun to watch.
* Brent Venables

Brent Venables
Def. Coordinator / Linebackers
View Full Profile …..Saw a USA Today article earlier this week that listed the ten hottest college football head coaching candidates and Venables was on that list. IF he were to take another job (and no, I haven't heard anything) who would Swinney go after? Would you go after Will Muschamp, who now seems like a lame duck at Florida? Would Swinney have to try and outbid Steve Spurrier for Muschamp's services?
Because of everything that is going on at places like Florida – which could make a run at Dan Mullen or even Steve Addazio at Boston College – once the first domino falls it should be fun to watch. Michigan will likely have an opening, and there are a few other big-time schools that will have to make some hard decisions. And that doesn't even include Florida St. and that mess down in Tallahassee, which could see all kinds of fallout from the Jameis Winston investigation and all of the other allegations surrounding that program.
The off-season is usually boring, but this one might be fun to watch.
But back to my original point…if something was to happen with Venables, who would be YOUR top target?

Tags:
Tavaris Barnes
,
Vic Beasley
,
Bashaud Breeland
,
Garry Peters
,
Josh Watson
,
Grady Jarrett
,
Robert Smith
,
DeShawn Williams
,
Tony Steward
,
Stephone Anthony
,
B.J. Goodson
,
Martavis Bryant
,
Corey Crawford
,
Isaiah Battle
,
Shaq Lawson
,
D.J. Reader
,
Kellen Jones
,
Ben Boulware
,
Jayron Kearse
,
Brent Venables
,
Mike Reed