| | |
| --- | --- |
| The future arrives: Clemson welcomes midyear enrollees to campus | |
---
| | |
| --- | --- |
| Monday, January 5, 2015 9:01 AM | |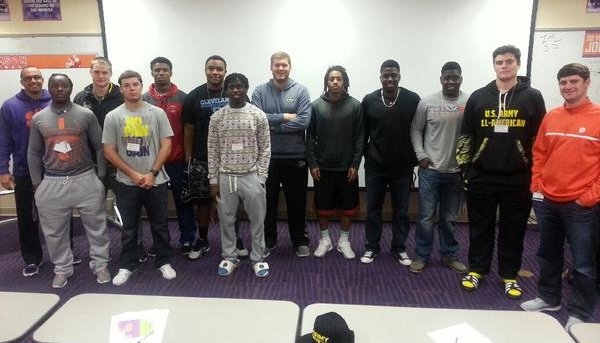 CLEMSON – The next wave of Clemson football players is already on campus.
A substantial portion of the Tigers' nationally-ranked 2015 class of commitments signed non-binding 'financial aid agreements' back in August, the first step toward January enrollment. Thirteen players signed those agreements back in August, and while there have been a few changes along the way the majority of the early enrollees have either arrived on campus or will arrive on Monday.
The group includes quarterback Kelly Bryant

Kelly Bryant
Quarterback
6-4, 205
Piedmont, SC
ESPN:


View Full Profile of Wren High in Piedmont, South Carolina; linebacker Chad Smith

Chad Smith
Outside Linebacker
6-4, 215
Sterling, VA
ESPN:


View Full Profile of Sterling, Virginia; offensive linemen Noah Green

Noah Green
Offensive Tackle
6-5, 275
Boiling Springs, SC
ESPN:


View Full Profile of Boiling Springs, South Carolina; Jake Fruhmorgen

Jake Fruhmorgen
Offensive Tackle
6-5, 280
Tampa, FL
ESPN:


View Full Profile from Tampa, Florida; wide receiver Shadell Bell

Shadell Bell
Wide Receiver
6-3, 190
Decatur, GA
ESPN:


View Full Profile of Decatur, Georgia; defensive back Van Smith

Van Smith
Athlete
6-0, 170
Charlotte, NC
ESPN:


View Full Profile of Charlotte, North Carolina; offensive tackle Mitch Hyatt

Mitch Hyatt
Offensive Tackle
6-6, 270
Suwannee, GA
ESPN:


View Full Profile of Suwanee, Georgia; offensive lineman Zach Giella

Zach Giella
Offensive Tackle
6-6, 285
Augusta, GA
ESPN:


View Full Profile of Martinez, Georgia; quarterback Tucker Israel

Tucker Israel
Quarterback
6-0, 195
Orlando, FL
ESPN:


View Full Profile of Orlando, Florida; and defensive back Kaleb Chalmers

Kaleb Chalmers
Cornerback
5-11, 170
Greenwood, SC
ESPN:


View Full Profile of Greenwood, South Carolina.
Three members that signed those agreements back in August decided against early enrollment. Running back Ray Ray McCloud

Ray Ray McCloud
Wide Receiver
5-10, 170
Tampa, FL
ESPN:


View Full Profile III of Tampa, Florida, decided to spend his senior season closer to his family in Florida; linebacker Tanner Muse

Tanner Muse
Linebacker
6-4, 205
Belmont, NC
ESPN:


View Full Profile of Belmont, North Carolina, also plays baseball and is trying to play his way into the top rounds of June's MLB Amateur draft; and tight end Garrett Williams

Garrett Williams
Tight End
6-4, 215
Orlando, FL
ESPN:


View Full Profile of Orlando, Florida, decided to spend the final semester of his senior season closer to home as well.
Joining the 10 who signed the financial aid agreements are twins Judah Davis and J.D. Davis out of Daniel High School. Clemson offered a greyshirt offer to the Davis twins back in June of 2013, and they committed. They are the sons of former Clemson great, Jeff Davis. Another greyshirt who is enrolling is linebacker Jalen Williams of Blythewood, South Carolina.
Four-star defensive end Albert Huggins

Albert Huggins
Defensive End
6-3, 280
Orangeburg, SC
ESPN:


View Full Profile of Orangeburg, South Carolina committed to Clemson last month and will also be enrolling for the spring semester.
Earlier this season, TigerNet spoke with Clemson head coach Dabo Swinney

Dabo Swinney
Head Coach
View Full Profile about the midyear enrollees, and he had this to say:
On filling the need on offensive line
"We signed four offensive linemen – Jake Fruhmorgen, Mitch Hyatt, Noah Green and Zach Giella. That was a big focus for us and a critical need for our team. Having four outstanding offensive line prospects arriving on campus in January is tremendous. We've got guys moving on after this year – three or four seniors this year – and these guys are all made of the right stuff.
"They love to play. They're big, strong, and athletic. I kid with them all of the time and tell them that I have picture of them and that I'm going to bring it to their senior banquet and show them where they came from because I know what they are capable of accomplishing."
On the wide receivers
"Shadell Bell is a big, long wide receiver – the kind of guys that we like to bring in here. He's another guy that I'm excited about because he knew what he wanted to do. He tracked me down at a ball game and said, 'Hey coach, I want to be a Clemson Tigers. I've always wanted to be a Clemson Tiger.' "
Quarterback duo
"Quarterback was another big need for us. We lose Cole Stoudt and David Olson. We needed to address that and we did that. I'm real excited about Tucker Israel. He just jumped out us. Chad Morris

Chad Morris
Offensive Coordinator / QBs
View Full Profile was the first to get on him and it paid off. And Kelly Bryant is a big physical guy – 6-3 or 6-4 and 200-plus pounds. We more than addressed our need."
Defensive signees
"Van Smith is what we're looking for at the safety position. A kid that I'm very excited about is Kaleb Chalmers. He's one of the best young corners that I've seen come through our camp. To watch him up close, he is put together. He is physically blessed. Chad Smith is a guy that not a lot of people knew about. Brent Venables

Brent Venables
Def. Coordinator / Linebackers
View Full Profile did a great job recruiting him and evaluating him. He's got what you're looking for in a linebacker – size, toughness, smart, and he loves football. We've all learned what a dynamic personality he has. It didn't surprise any of us how he competed at The Opening. He's another one that knew what he wanted to do and he will be an excellent leader in the 2015 class."
Albert Huggins
"Really, really excited to get this guy. Albert is a guy we see as a difference-maker that's going to come in here mid-year. That's huge for us. Albert is a guy that's going to impact us right away. Clemson people are going to love Albert Huggins. He's not just a great football player, he's a dynamic, big personality that comes from a great Momma and Daddy. Just gets it.
"He will embrace the Clemson experience, and I don't have any doubt when it's all said and done he'll be one of those guys that will become a face of our program as he grows and matures into what we know he can be. He's physically ready. Mentally you got to get him and coach him up. Losing six seniors, he's going to have a lot of opportunity coming up."
Midyear list
QB Kelly Bryant, Piedmont (SC) Wren
LB Chad Smith, Sterling (VA) Dominion
OL Noah Green, Boiling Springs (SC)
OL Jake Fruhmorgen, Tampa (FL) Plant
WR Shadell Bell, Decatur (GA) Columbia
DB Van Smith, Charlotte (NC) Hough
OT Mitch Hyatt, Suwanee (GA) North Gwinnett
OL Zach Giela, Augusta (GA) Augusta Christian
QB Tucker Israel, Orlando (FL) Lake Nona
DB Kaleb Chalmers, Greenwood (SC)
LB Judah Davis, Central (SC) Daniel
LB Jedediah Davis, Central (SC) Daniel
LB Jalen Williams, Blythewood (SC)
DE Albert Huggins, Orangeburg (SC) Orangeburg-Wilkinson

Tags:
Tanner Muse
,
Albert Huggins
,
Garrett Williams
,
Kelly Bryant
,
Kaleb Chalmers
,
Mitch Hyatt
,
Noah Green
,
Ray-Ray McCloud
,
Van Smith
,
Shadell Bell
,
Chad Smith
,
Tucker Israel
,
Jake Fruhmorgen
,
Zach Giella
,
Chad Morris
,
Brent Venables