| | |
| --- | --- |
| The Tiger Ten - Ball State Edition | |
---
| | |
| --- | --- |
| Tuesday, September 11, 2012 3:38 PM | |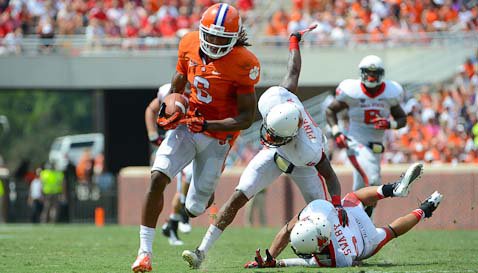 10.) Clemson is averaging 237 yards on the ground. That is good enough for 2nd in the ACC (behind GT) and 25th nationally. Those numbers are against the 78th (Ball State) and 109th (Auburn) ranked rush defenses.
9.) On the flip side, Clemson's Rush Defense is allowing 216 yards on the ground. That puts them at 12th in the ACC and 98th nationally. Those numbers are against the 8th (Ball State) and 80th (Auburn) ranked rushing offenses.
8.) So far this season, Clemson has ZERO punt returns. Last season Clemson had 13 punt returns for 90 yards (6.9 yds/ret and 0.9 returns/game). This is compared to 2007-2010 where Clemson averaged 10.6 yds/ret and 2.3 returns/game. That's a difference of 18.6 yards/game.
7.) Ball State's first touchdown was on a 54 yard run. Auburn's first touchdown was on a 54 yard pass. Clemson's Defense gave up its first Red Zone touchdown of the season against Ball State (2 yd TD late in the 4th quarter). The Tiger defense is allowing touchdowns to be scored (on average) from just under 33 yards out. Right now, the big play is killing the Tiger scoring defense, not the grind- it- out drives.
6.) Clemson's 2nd down defense is what is giving them problems. Clemson's Rushing Defense is giving up 8.0 ypc on 2nd down (compared to 4.6 ypc on 1st, 3.2 ypc on 3rd, and 1 ypc on 4th down). The Passing Defense is giving up 25.2 ypc on 2nd down (compared to 9.4 ypc on 1st, 6.4 ypc on 3rd, and 0 ypc on 4th down). Both of the 54 yard touchdowns mentioned above were given up on 2nd down. Clemson's defense is great on 3rd down, only allowing 26% of 3rd downs to be converted (which is good for 14th nationally). If they don't give up the touchdowns on 2nd down that brings Clemson's over all scoring defense down to 16 pts/gm (which is good enough for 21st nationally).
5.) Cole Stoudt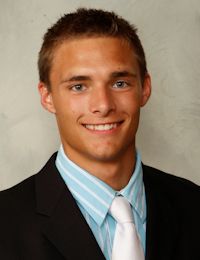 Cole Stoudt
So. Quarterback
#8 6-5, 205
Dublin, OH
View Full Profile threw his first touchdown as a Tiger and went 12 of 18 for 123 yards in just under 22 minutes of play. In all of last season, Stoudt only went 12 of 21 for 115 yards. Stoudt is gaining valuable experience if Boyd has to come out of the game.
4.) After 2 games,
Andre Ellington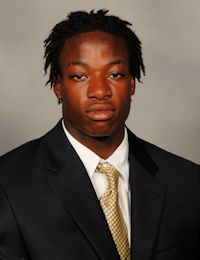 Andre Ellington
RS Sr. Running Back
#23 5-10, 195
Moncks Corner, SC
View Full Profile
leads the ACC in rushing yds/gm with 134.5 yds/gm and is ranked 10th nationally. Hopkins is currently T-7th nationally with 9.5 rec/gm and T-11th nationally averaging 112 receiving yds/gm.
3.) DeAndre Hopkins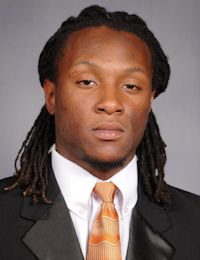 DeAndre Hopkins
Jr. Wide Receiver
#6 6-2, 205
Central, SC
View Full Profile had another career day. His 3 receiving touchdowns were not only his career best for receiving touchdowns in a game but it ties the Clemson record for receiving touchdowns in a game (Dreher Gaskin '53, Tony Horne '97, Rod Gardner '00). Hopkins only had 5 receiving touchdowns all last year.
2.) DeAndre Hopkins had his 2nd consecutive 100+ receiving yard game. He has only averaged three 100+ receiving yard games over the last 2 years. We'll see if he can keep this streak alive once Watkins returns.
1.) Spencer Benton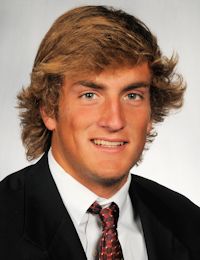 Spencer Benton
RS Sr. Punter / Kicker
#13 6-1, 195
Myrtle Beach, SC
View Full Profile 's 61 yard field goal just before half time was the longest in ACC and Clemson history. The previous ACC record was 60 yards by Gary Cismesia (FSU-2007). The previous Clemson record was 57 yards by Obed Ariri (1976) and Chris Gardocki (1990). The longest FG in NCAA (FBS) history is 67 yards.
Bonus stat: After 1 week the NFL and NCAA leading rushers were from the same school. Clemson (Ellington and Spiller)