| | |
| --- | --- |
| The Perfect Storm: Tigers down Irish 24-22 | |
---
| | |
| --- | --- |
| Saturday, October 3, 2015 11:55 PM | |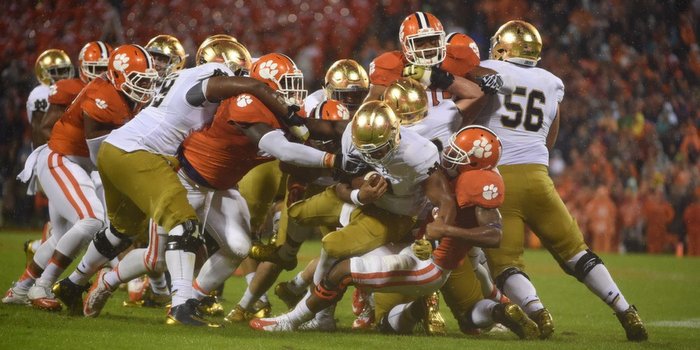 CLEMSON – Saturday night in Death Valley saw The Perfect Storm.
A never-say-die defense, an orange-clad crowd that rallied behind the defense time and time again in a driving rainstorm and a gutsy stop on a two-point conversion with seven seconds to play all helped lead No. 11 Clemson to a 24-22 victory over No. 6 Notre Dame in front of 82,415 soaked fans in Death Vallley.
Notre Dame got a touchown with seven seconds left on the clock to pull within 24-22, but quarterback Deshone Kizer was stopped on a quarterback keeper on the two-point conversion. Clemson recovered the onside kick, and thrust itself frimly into the picture for the College Football Playoff.
Clemson improved to 4-0 on the season, while Notre Dame dropped to 4-1.
Wayne Gallman

Wayne Gallman
RS So. Running Back
#9 6-1, 210
Loganville, GA
View Full Profile had 22 carries for 98 yards and Deshaun Watson

Deshaun Watson
So. Quarterback
#4 6-2, 207
Gainesville, GA
View Full Profile had 16 carries for 93 yards on another tough night for the offense – Notre Dame outgained Clemson 437-296 but had four turnovers to Clemson's one. Clemson's defense held running back C.J. Prosise in check – 15 carries for 50 yards – but Kizer was 19-of-34 for 321 yards and two touchowns.
Watson was 11-for-22 for just 97 yards.
Clemson will host Georgia Tech next Saturday in Death Valley. The Yellow Jackets have lost three in a row after a 38-31 loss to North Carolina earlier Saturday.
Death Valley was loud and electric at kickoff, and the Irish won the toss and elected to kick. It cost them a score as Clemson marched down the field. Artavis Scott

Artavis Scott
So. Wide Receiver
#3 5-10, 191
Oldsmar, FL
View Full Profile returned the opening kickoff 32 yards to the Clemson 36, and the Tigers came out in a 5-wide look. Watson took the snap and sliced up the left sideline for 38 yards, and six plays later hit Jordan Leggett

Jordan Leggett
Jr. Tight End
#16 6-5, 252
Navarre, FL
View Full Profile from six yards out for the 7-0 lead just over two minutes into the game.
Notre Dame failed to gain any yards on its opening possession, and a 15-yard punt set up Clemson on the Irish side of the field at the 40-yard line. Four plays into the drive, Watson hit Scott on a quick slant and Scott bounced off of two Irish defenders – who both fell to the ground – to complete a 13-yard scoring toss and Clemson had a 14-0 lead with 8:43 remaining in the first quarter.
A long kickoff return and a pass interference penalty helped Notre Dame cut into the lead with a 46-yard field goal by Justin Yoon. Clemson led 14-3 with 5:32 remaining in the quarter.
That was it as far as offense in the first half as both teams struggled to not only move the ball but to get first downs. The Tigers and Irish went to intermission with Clemson clinging to the 14-3 lead, needing a break to create some separation in the second half.
That break came on the opening kickoff of the second half. Ammon Lakip

Ammon Lakip
RS Sr. Punter / Kicker
#36 5-11, 200
Alpharetta, GA
View Full Profile kicked off and Irish returner C.J. Sanders fumbled it to begin with before heading upfield. Upfield is where he ran into Lakip, who caused a fumble that was recoverd by C.J. Fuller

C.J. Fuller
RS Fr. Running Back
#27 5-9, 211
Easley, SC
View Full Profile at the Irish 29-yard line. Three plays later, Watson sprinted untouched up the middle for a touchown and a 21-3 Clemson lead.
Clemson had a couple of opportunities to increase the lead, but a dropped pass in the endzone by Scott and an interception thrown by Watson – again into the endzone – kept the Irish within hailing distance heading into the fourth quarter.
The Irish finally got in the endzone early in the fourth quarter. Kizer dropped back to pass and hit a wide open C.J. Prosise on a wheel route to complete a 56-yard scoring play. The Irish went for the two-point conversion and failed an Clemson held a 21-9 lead with 14:13 remaining in the contest.
The Tigers managed to put a short drive together, and Greg Huegel

Greg Huegel
Fr. Punter / Kicker
#92 5-11, 180
Blythewood, SC
View Full Profile ended the six-play, 54-yard drive with a 35-yard field goal in rainy and windy conditions to put Clemson up 24-9 with 10:56 to play.
The Tigers did the Irish a favor on the kickoff, however, pooching a short kick that gave Notre Dame excellent field position and the Irish took advantage. It took Notre Dame just four plays to go 64 yards with Kizer rumbling in from the three, and it was 24-16 Clemson with 9:03 to play.
The Tigers couldn't muster a drive – even after a 42-yard return by Artavis Scott – and a punt put the Irish on their 18-yard line. Kizer dropped back to pass on the first play from scrimmage, and senior linebacker B.J. Goodson

B.J. Goodson
RS Sr. Linebacker
#44 6-0, 245
Lamar, SC
View Full Profile stepped into the passing lane for the interception as Clemson took over on the Irish 35-yard line.
However, the Tigers had another three-and-out and Huegel's 45-yard attempt went wide left, giving Notre Dame life at their own 28 with just over four minutes to play.The Irish offense once again began to gash the Clemson defense, and Kizer completed a pass to Chris Brown for a first down, but Brown attempted to get into the end zone and Jayron Kearse

Jayron Kearse
Jr. Safety
#1 6-4, 224
Fort Myers, FL
View Full Profile knocked the ball loose. Goodson recovered the fumble at the Clemson four, averting disaster for the moment.
The Tigers took over with 2:09 left to play, and two running plays netted five yards and left Notre Dame with just one timeout remaining. On third-and-five from the nine, Watson's number was called but he didn't get any yards and Notre Dame called its last timeout with 1:13 to play. Andy Teasdall

Andy Teasdall
RS Jr. Punter
#32 5-11, 188
Winston-Salem, NC
View Full Profile 's punt was short – into the wind – and Notre Dame took over at the Clemson 32-yard line with 1:05 to play.
Kizer fumbled on the first play from scrimmage – losing five yards – and the second down pass was incomplete with 37 seconds remaining. However, Kizer hit a long pass to the Clemson 18 and the Irish had a final flurry with time running out. The Irish then got a first down at the two with 15 seconds left to play, and an illegal substitution penalty put the ball inside the one.
Kizer then threw an easy one-yard lob to Torii Hunter to make it 24-22 with seven seconds left on the clock, and the Irish needed the two-point conversion for the tie. Notre Dame called Kizer's number on the keeper, but he was swarmed by the Clemson defense short of the goal line as Death Valley erupted.
However, there was still the matter of the kickoff – Notre Dame would try the onside kick – but Clemson recovered to seal the victory.