| | |
| --- | --- |
| The Chase is Over: Tigers add another elite 2017 QB | |
---
| | |
| --- | --- |
| Wednesday, December 16, 2015, 11:55 PM | |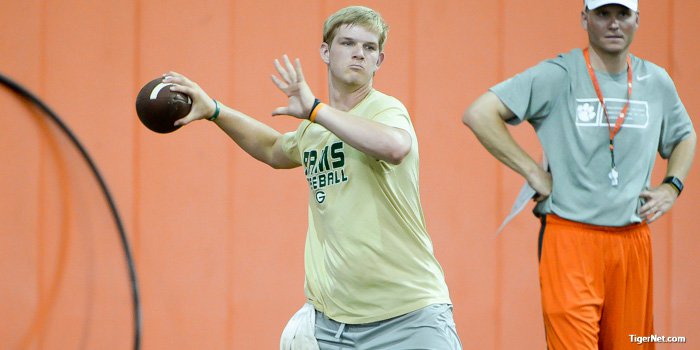 When you know, you know, and Chase Brice knew Clemson was where his he needs to be.
The 4-star quarterback prospect out of Loganville (GA) Grayson became the fourth commitment of the 2017 recruiting cycle for the Tigers and the second quarterback in three days to commit when he called Clemson head coach Dabo Swinney late Wednesday with a verbal.
Brice joins offensive lineman Noah DeHond, defensive back Baylor Spector and quarterback Hunter Johnson as commits for the cycle. Johnson, a 5-star signal caller out of Indiana, committed to the Tigers Monday.
Brice, the No. 10 QB and No. 223 overall player in the ESPN Junior 300 told TigerNet he has known Clemson was his choice for a while and couldn't wait any longer.
"I think it was just weighing on my heart heavy, and I've probably known for a while now," Brice said. "I've really known since a little before the Notre Dame game when I visited. It was just the right place for me to be and the right people for me to be around and the offense just fit me well. I didn't want to wait any longer."
Brice called Swinney and then quarterbacks coach Brandon Streeter.
"I called Coach Swinney, and then I called Coach Streeter. He was excited," Brice said. "He was pumped. They've told me from the beginning that they were taking two quarterbacks in the 2017 class. They really wanted me, and they recruited me harder than any other school did. He was just really excited. He just got out of his son's banquet. He was really happy and proud of my decision and excited for me.
"I've had a great relationship with him (Streeter), even during the summer. He and Coach Swinney came by and took a look at my sophomore film, and they liked how I did things and played. Ever since then, I've always kept in contact with them. We talk on the phone a lot, and we developed a strong, good relationship pretty quickly and started to understand one another."
Brice boasts 18 offers, including Miami (FL), Louisville, Michigan St. and Virginia Tech, but he says his recruiting is finished.
"I can say that I'm done unless something random shakes up in the future, which I hope doesn't happen," he said. "I'm done right now, and I'm all in with Clemson."
The Tigers have true freshmen Kelly Bryant and Tucker Israel already on the roster, 2016 commit Zerrick Cooper will be in next year and they've now added Johnson and Brice to the mix. Brice said he isn't afraid of a little competition.
"No, I'm not. I've been around competition basically my whole life with the league we play in - 6A and about to go to 7A in Georgia," he said. "Coming up through baseball competition and trying to win a spot. It all started with eighth grade D1 and D2, who's going to compete and who's going to win it out. I had an all-star team and competed there, so I've been around it for a while, since I was a freshman trying to compete for a job, so I'm used to it."
So what set Clemson apart from the other schools?
"It's just different. Someone can only say that when they've visited because they can feel it. When you go there, it is family oriented," he said. "Everyone gives off a great feeling. You walk in, and they know your name even though you might not even know them. They know more about you than you know about yourself. It's crazy, and you feel it instantly."
In six games as a freshman, Brice threw for 477 yards, six touchdowns and two interceptions.
As a sophomore, Brice completed 126-of-202 passes for 1,759 yards, 19 touchdowns and six interceptions.
During his junior campaign, Brice threw for 2,057 yards and 23 touchdowns, a Grayson record.
I'm #ALLIN pic.twitter.com/TVEMsT5ecm

— Chase Brice (@CBrice_2) December 17, 2015
#Clemson fans, #ESPNJr300 QB @CBrice_2 was MVP at Deion Sanders Prime21 in July. Jeff Blake is a fan pic.twitter.com/A6ogily7Ol

— Gerry Hamilton (@HamiltonESPN) December 17, 2015