| | |
| --- | --- |
| The Big Secret pays off for DeStefano | |
---
| | |
| --- | --- |
| Wednesday, September 4, 2013 12:38 AM | |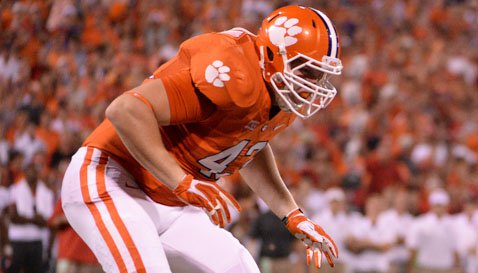 CLEMSON – Clemson redshirt freshman Patrick DeStefano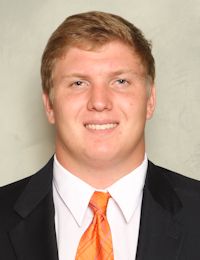 Patrick DeStefano
RS Fr. Offensive Line
#71 6-5, 275
Spartanburg, SC
View Full Profile is majoring in both computer science and political science, and hopes he might parlay his education into a military career or even the FBI if playing in the National Football League doesn't work out.
I certainly wouldn't mind DeStefano safeguarding our country's secrets – he managed to keep the fact that he was a part of last Saturday's gameplan and would be playing tight end away from his parents for over two weeks.
DeStefano – who hails from Spartanburg's Dorman High School – has worked all along the offensive line while at Clemson, but didn't see any snaps last season during a redshirt year. This year, both DeStefano and his parents – Frank and Sandy – were thinking that Patrick would finally see the field as an offensive lineman.
Imagine their surprise when Clemson released the depth charts last week prior to the game against then-No. 5 Georgia, and their son's name was nowhere to be found. Being parents, they wondered exactly why their son wasn't listed anywhere.
But Patrick kept the secret that he was trading in his familiar No. 71 jersey for a No. 43 jersey, and he would be seeing snaps as a blocking tight end. The surprise was complete when the DeStefano's saw their son in pre-game warm-ups. Their night was made even better when Patrick played 13 snaps against the Bulldogs.
"I did hint them in, but I wanted to keep it a little bit of secret," DeStefano told the media earlier this week. "It was a secret. I don't think I was even on the depth chart for the game. We like to play little games like that. Needless to say, they were happy. It was a good secret."
DeStefano said that he never once dreamed that his first time stepping on the field as a Tiger would be as a tight end, but on his very first play in a Clemson uniform DeStefano threw a perfect seal block on a Georgia defensive end, springing quarterback Tajh Boyd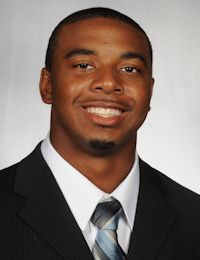 Tajh Boyd
RS Sr. Quarterback
#10 6-1, 225
Hampton, VA
View Full Profile for a touchdown. His second time on the field, another one of his blocks sprung Boyd for yet another touchdown.
"I didn't think it would be No. 43, and I definitely didn't think it would be against the number five team in America," DeStefano said of his first time on the field. "Needless to say, I will always remember that, running out on the field for the first time. Both of those blocks, I was sitting there (saying), 'Don't screw up. Just don't screw up.' "
He then said that making an impact in such a big way made all of the hard work pay off.
"It is a little bit of gratification. Having a redshirt year is tough," he said. "It was definitely 100 percent worth it – I don't think there is anything better I could have done my redshirt year, but it was a grind. And especially since I came in here early, so it's been almost two years since I have seen a snap of football. It was gratifying that the progress is there, but I also know there are still mountains to climb and I still need to be so much better."
DeStefano said that he doesn't care where he plays, as long as he can see the field and help his team win.
"My point is, I want to be somewhere where I can play. We have five tremendous offensive linemen that are starting, and we have great backups behind them, including me," he said. "I am happy enough just being able to see the field. That has always been my thought. Coach Swinney came to me the day after Jordan Leggett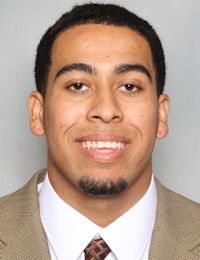 Jordan Leggett
Fr. Tight End
#16 6-6, 235
Navarre, FL
View Full Profile injured his knee. He was like, 'Hey, we are going to bring you over and see how you do at tight end.' I was ecstatic because I finally had a chance, and it was up to me to do what I could with that chance."
He then went out and made the most of that chance, and will continue to do whatever it takes.
"It just felt good to be a part of the gameplan.," DeStefano said. "That is a true statement that everybody in the program makes an impact, but it makes it better when your impact is on the playing field. I can kick. I am not saying I would kick well. But really just anything to get in the gameplan is enough for me. I actually know all five positions on the line, which is something I set out to do as a freshman. I knew that learning the whole offense would help me in times like this, when someone went down and I could step in."
Will he lobby to catch a pass or two somewhere down the road?
"Definitely lobbying to catch passes, but let's see if it happens. I caught two in middle school," he said with a laugh.
Chances are, even if offensive coordinator Chad Morris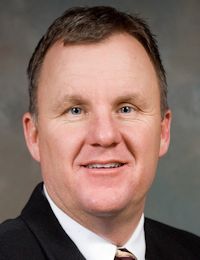 Chad Morris
Offensive Coordinator / QBs
View Full Profile puts in a receiving package for DeStefano, no one will know it until the game begins, because he can keep a secret.