| | |
| --- | --- |
| Texas LB surprised at Clemson offer, but wants to take a closer look at Tigers | |
---
| | |
| --- | --- |
| Wednesday, January 25, 2012 8:23 PM | |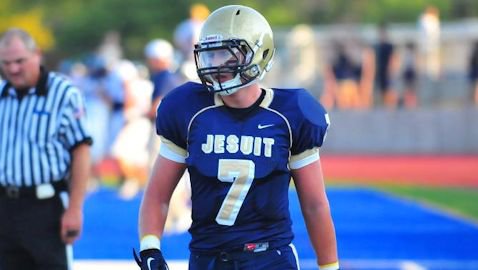 Jordan Mastrogiovanni had no idea when he arrived at school on Tuesday just how his day would unfold, but he sure didn't expect to receive an offer from Clemson University by mid-morning.
The Dallas (Jesuit) Texas inside linebacker prospect for the 2013 class has been drawing the attention of college coaches around the country since putting together a solid junior campaign for the Rangers, and has received interest from not only the in-state schools but also from Oregon St., Stanford and Purdue with the Boilermakers already making a verbal offer.
The 6-3, 225-pounder arrived at Jesuit Tuesday morning, and the Rangers' recruiting coordinator let him and teammates Jake Oliver and J.J. Gustafson know that they would be getting good news later in the day.
The good news was that Clemson wanted to offer him and two of his teammates, and that offensive coordinator Chad Morris was the one making the offer.
Mastrogiovanni said he already had a working knowledge of the Clemson program.
"I knew they had won the ACC Championship this year, and I have always kind of followed Clemson," he said. "But to get to talk to Clemson, that was kind of unexpected. We weren't really expecting that, and to be given that chance is an honor and it would be a privilege to play at such a prestigious program."
An offer, however, still came as a surprise, and he found out the reasons why when he called Morris later in the day.
"It was kind of startling, to be honest with you," he said. "He told us that he and Coach [Brent] Venables were fans of recruiting down in Texas. He told us he wanted us to come up and check out the campus - come up on a visit. Then he told us he couldn't have us up until we had offers, and then he said, 'So if you are wondering, yes you have offers.' And then it kind of took off from there. I immediately texted my dad and he was surprised and shocked, too. It got around the school pretty quick."
When he arrived at home that afternoon, he immediately did more research on the Clemson program.
"As soon as I got home, I looked up Clemson stuff and looked around at a lot of the videos on YouTube," he said. "I really like a lot of their traditions – I like how they touch the rock, and how Coach Swinney runs down the hill and the team follows him down. That is pretty cool – it is definitely a place I would want to take a look at and visit."
Mastrogiovanni also said he likes the fact that Clemson has Venables on board.
"He [Venables] came by once during spring football, and he invited me to the OU camp," he said. "At the camp, we talked, and I like him a lot. During the season, we didn't keep up a bunch, but he seems like a good guy and he is definitely a great coach. He is the kind of coach I would like to play for some day."