| | |
| --- | --- |
| Tempo: No Morris, but offense moving at breakneck pace | |
---
| | |
| --- | --- |
| Sunday, August 9, 2015 7:59 AM | |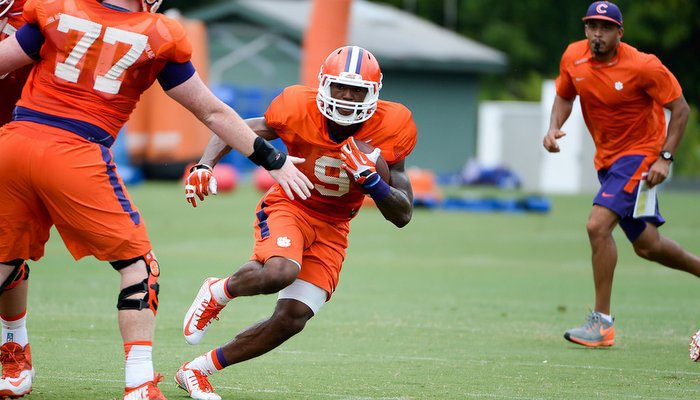 CLEMSON - The Clemson Tigers have only been on the field for five days, but it's already evident that the players on offense put in a lot of work over the summer to prepare them for the 2015 season.
With every new season there's always a learning curve, but offensive coordinator Tony Elliott

Tony Elliott
Co-OC / Running Backs
View Full Profile told the media after Friday afternoon's practice that he has seen very few breakdowns as far as his players knowing where they're supposed to be and what they're supposed to be doing.
"There's a lot of retention. You can tell they put in a lot of work over the summer in the playbook, and as we continue to go through our installation you're expecting to see a few mistakes but they're executing at a high level," Elliott said Friday evening outside of the indoor practice facility. "The procedure part has been pretty good as well. We've had a couple of things we can improve on. Overall, it's a fun group. They're enthusiastic. They want to. Now it's just going back to work every day and focusing on getting better from a technique standpoint."
As a result, Clemson's offense is moving at a breakneck pace.
"It's good so far. It's a fun group to coach. They've got a lot of enthusiasm and tempo," Elliott said. "As you can see we're going faster than we've ever gone. The coaches are doing a good job of mixing it up and giving them some obstacles throughout the course of practice to challenge our tempo, and the guys have done a phenomenal job."
Other notes and nuggets
Running back progress
*" Adam Choice

Adam Choice
So. Running Back
#26 5-9, 215
Thomasville, GA
View Full Profile has looked good coming back off of that knee. The first day he might have been a little tentative or hesitant to make some cuts, but after that first day he's been cutting it loose. I've seen him make some cuts that you're like, 'Wow, coming back off the knee you might think he wouldn't be able to make those,' but it's just natural to him. He's been doing well."
*" Zac Brooks

Zac Brooks
Running Back (2012 - 2015)
#24 6-0, 200
Jonesboro, AR
View Full Profile has been down a little bit with the [bruised] heel, but we expect to get him back. Prior to practice, he was looking great and moving around well."
*"He's still in the lead, but Wayne is the type of guy that he wants to do everything right so the first couple of days he was a little bit jittery and making sure he was perfect on everything. Now he's gotten back into his groove. He feels good, and he's letting it loose. C.J. Davidson

C.J. Davidson
RS Sr. Running Back
#21 5-10, 200
Clemson, SC
View Full Profile has a look in his eye. He's playing fast. He's playing quick. He's doing a lot of positive things, so he's pushing Wayne every day. I'm letting Wayne know that it's not a done deal. He has to go out and keep these guys behind him if he wants to be the lead bird.
Offensive attention getters
*"Just starting with the freshmen, I think everyone had high expectations of Deon Cain

Deon Cain
Fr. Wide Receiver
#8 6-1, 190
Tampa, FL
View Full Profile and Ray-Ray McCloud

Ray-Ray McCloud
Fr. Wide Receiver
#34 5-9, 175
Land O' Lakes, FL
View Full Profile , and I believe they are as good as advertised. They've still got a lot of opportunities to grow and learn, but the talent is definitely there. Garrett Williams

Garrett Williams
Fr. Tight End
#44 6-4, 225
Orlando, FL
View Full Profile has been very impressive."
*"I like what I see out of the entire offensive line. It's a blue-collar mentality. They come to work every day. There're not a lot of mental errors. Sometimes there is a technical breakdown but that's part of football. That's why we practice every day, to build that muscle memory and to create that technique we need to be successful."
*" Trevion Thompson

Trevion Thompson
RS Fr. Wide Receiver
#1 6-2, 195
Durham, NC
View Full Profile has quietly probably been the best wideout so far. We had high expectations for him coming out. He's a red-shirt freshman, and he's starting to find his groove. He has a lot of confidence."
Jay Guillermo

Jay Guillermo
RS Jr. Center
#57 6-3, 310
Maryville, TN
View Full Profile
"You have to take into consideration that he didn't go through spring ball, so he hasn't played football in a long time. He's getting himself back into shape, but mentally he's prepared. He's just now conditioning his body to get back into playing shape, but I've been pleased with what I've seen so far."
Mitch Hyatt

Mitch Hyatt
Fr. Offensive Line
#75 6-6, 270
Sugar Hill, GA
View Full Profile
"With Mitch it's just confidence because he's a very conscientious young man. He wants to do everything right. He's probably his biggest critic, so he's very, very hard on himself. He's working on his punch and his speed off the line because he's not going to face a better one than Shaq Lawson

Shaq Lawson
Jr. Defensive End
#90 6-3, 269
Central, SC
View Full Profile in pretty much any game we play, so he's getting sharpened every day on that practice field. It's tough going through it, but in the end he's going to be very special because of the preparation he's getting going against Shaq Lawson every day."

Tags:
Jay Guillermo
,
Zac Brooks
,
Shaq Lawson
,
C.J. Davidson
,
Trevion Thompson
,
Adam Choice
,
Garrett Williams
,
Mitch Hyatt
,
Ray-Ray McCloud
,
Deon Cain
,
Tony Elliott