| | |
| --- | --- |
| Swinney talks about Deshaun Watson | |
---
| | |
| --- | --- |
| Tuesday, November 19, 2013 3:21 PM | |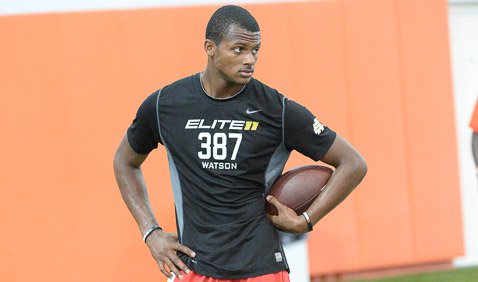 CLEMSON – The new NCAA rule regarding an early signing period of sorts took effect in October, and while most college football coaches tweet about the players that sign financial aid agreements, it took Dabo Swinney

Dabo Swinney
Head Coach
View Full Profile until he was asked to finally talk about his most prized signee of the 2014 recruiting class.
Gainesville (GA) quarterback and five-star prospect Deshaun Watson will enroll at Clemson for the spring semester, but signed his financial aid agreement on the first day possible back in October.
Watson joins linebacker Chris Register, and wide receivers Artavis Scott, Demarre Kitt and Kyrin Priester

Kyrin Priester
Fr. Wide Receiver
#80 6-2, 190
Lilburn, GA
View Full Profile as those who have signed financial aid agreements and plan to enroll in January.
By signing the financial aid agreement, all of the recruiting communication rules cease to exist.
"We've had that in place. We've been signing those and it's happening earlier," Swinney said Tuesday during his weekly press conference. "You have to be a midyear candidate. You can't just do it with anybody. It's got to be someone who's on path to graduate. By the time they get into that fall semester of their senior year, they have to be a midyear enrollee. We may sign five or six this winter. It varies. When guys are committed, it takes the recruiting rules away and allows you to communicate with them any time you want.
"It's been great for the guys who have signed with us, to be able to talk with them and text them. That's a very positive thing. I can see where it could be misused. Everything goes away. All the recruiting rules go away. You can talk about them and publicize them. The publicity, that's a whole different deal. It's one of those things some people may tighten up in the future."
Swinney, however, wasn't sure if he could actually talk about some of his most prized recruits and declined to do so until he was finally asked Tuesday.
"To be honest with you I didn't know we could talk about them," Swinney said. "These guys are also in the midst of their seasons. Over the last few weeks we just got the official ruling on it. Heck, we can go see him any time. We just can't go to the school. We can talk to them or text them any time. These guys signed awhile back. As soon as we could sign them, we did. None of y'all had asked me about them."
When asked though, Swinney said that he believes the Tigers' offense will be in pretty good hands with Watson at the helm.
"I think he's pretty good. He's a great prospect," Swinney said. "He's everything you could possibly want in a prospect. He's got a great skill set. He fits us perfectly. Real excited to be a part of our program."
Swinney didn't want to compare the nation's top dual threat quarterback to any of his current or previous players, but did say that he expects Watson to have the same type of success that he is having leading the Gainesville Red Elephants.
"I don't want to label anybody. He's just a pretty good Deshaun Watson," Swinney said. "We'll see. I just think he is a great player and a great young man. He has been incredibly well coached. What he does in high school is a perfect fit for what he will do here. I've been watching him since the ninth grade. I feel like we have been recruiting him forever. It will be a lot of fun seeing him at this level. When it's all said and done, I think he'll leave his mark here just like he did in Gainesville."