| | |
| --- | --- |
| Swinney recaps scrimmage and freshman standouts | |
---
| | |
| --- | --- |
| Saturday, August 17, 2013 3:16 PM | |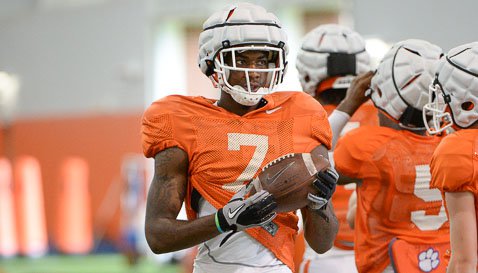 CLEMSON – The purpose of Clemson's scrimmage Saturday in Death Valley was not to show off the high-powered offense or the improvement of the defense, and many of the starters had the day off.
The purpose of the scrimmage was for the coaches to get a good, long look at many of the freshmen and players fighting for roster spots, and head coach Dabo Swinney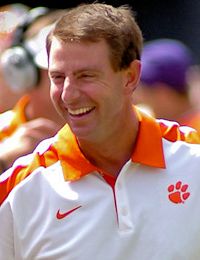 Dabo Swinney
Head Coach
View Full Profile said the coaches saw what they needed to see in the scrimmage.
"I thought we accomplished our objectives for today," he said. "We will go look at the film and see what these guys did. We held out some players today and got a lot of work for some younger players. They performed well. We went over a lot of special situations the second part of the scrimmage and even played an overtime period."
Quarterback Tajh Boyd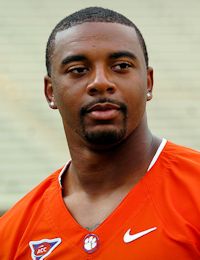 Tajh Boyd
RS Sr. Quarterback
#10 6-1, 225
Hampton, VA
View Full Profile played just four plays, receivers Sammy Watkins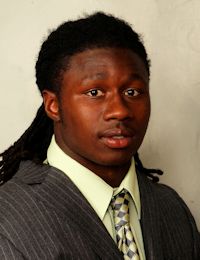 Sammy Watkins
Jr. Wide Receiver
#2 6-1, 205
Fort Myers, FL
View Full Profile and Charone Peake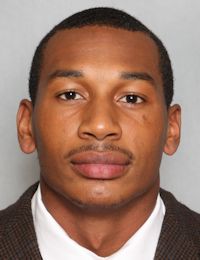 Charone Peake
Jr. Wide Receiver
#19 6-3, 200
Moore, SC
View Full Profile watched from the sidelines and running back Roderick McDowell was only an interested observer. On defense, defensive backs Darius Robinson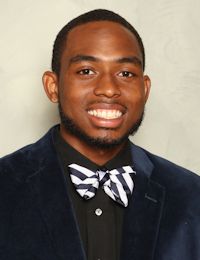 Darius Robinson
Cornerback
#8 5-10, 175
College Park, GA
View Full Profile , Robert Smith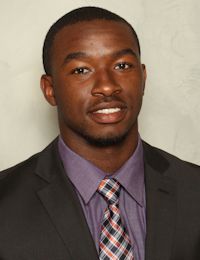 Robert Smith
Jr. Safety
#27 5-10, 210
St. George, SC
View Full Profile (green jersey) and Travis Blanks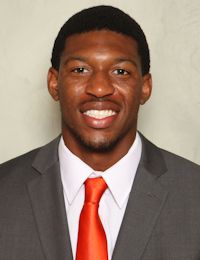 Travis Blanks
So. Defensive Back
#11 6-0, 190
Tallahassee, FL
View Full Profile didn't participate.
Freshman receiver Mike Williams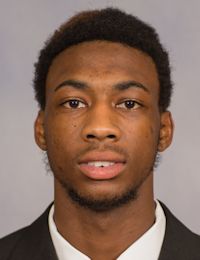 Mike Williams
Fr. Wide Receiver
#7 6-5, 205
Vance, SC
View Full Profile had three receptions for 111 yards, including a 50-yard touchdown reception from quarterback Nick Shuessler. Freshman T.J. Green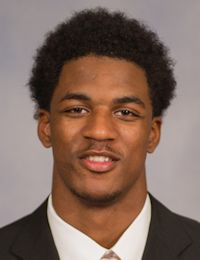 T.J. Green
Fr. Athlete
#82 6-2, 189
Sylacauga, AL
View Full Profile , who had missed 10 preseason practices with a knee injury, returned Saturday and had three catches for 24 yards.
Red-shirt freshman Germone Hopper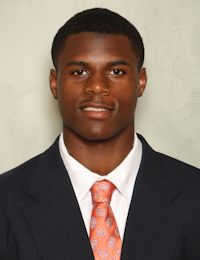 Germone Hopper
RS Fr. Wide Receiver
#5 6-0, 170
Charlotte, NC
View Full Profile had a 22-yard touchdown catch from Cole Stoudt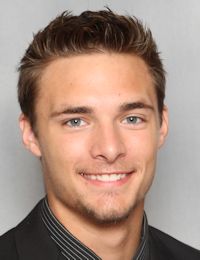 Cole Stoudt
Jr. Quarterback
#18 6-4, 205
Dublin, OH
View Full Profile . Freshman Marcus Edmond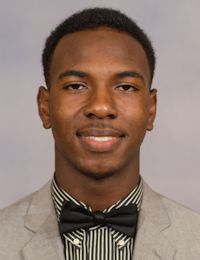 Marcus Edmond
Fr. Defensive Back
#29 6-1, 180
Hopkins, SC
View Full Profile of Lower Richland High School in Hopkins, SC, had two interceptions for 56 return yards. He returned one interception for a 26-yard score. Freshman Jadar Johnson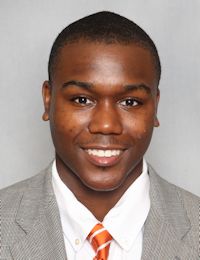 Jadar Johnson
Fr. Defensive Back
#18 6-1, 180
Orangeburg, SC
View Full Profile had the other interception.
Freshman running back Tyshon Dye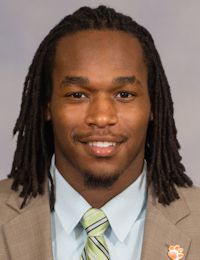 Tyshon Dye
Fr. Running Back
#23 6-1, 205
Elberton, GA
View Full Profile sat out the scrimmage with a lower back injury, and with the continued emergence of Zac Brooks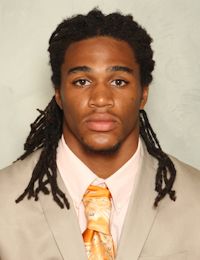 Zac Brooks
So. Running Back
#24 6-1, 185
Jonesboro, AR
View Full Profile and walk-on C.J. Davidson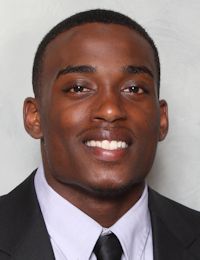 C.J. Davidson
RS So. Running Back
#32 5-11, 185
Clemson, SC
View Full Profile , the coaches have four running backs that they feel they can count on, and Swinney said the coaches are still unsure if Dye or Wayne Gallman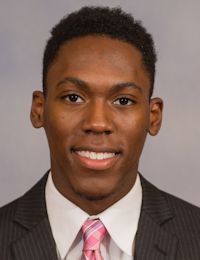 Wayne Gallman
Fr. Running Back
#9 6-1, 195
Loganville, GA
View Full Profile will need to redshirt.
"We feel good about those four guys, so it's hard to play six backs," Swinney said. "Special teams might be a part of it as well. Tyshon really got out of the gate pretty good and was bringing a presence we don't really have. But he just hasn't practiced in quite a while now. Hopefully we'll get him back soon. If not, we'll redshirt him."
Swinney said that despite what many may think, senior Roderick McDowell is the starter.
" Roderick McDowell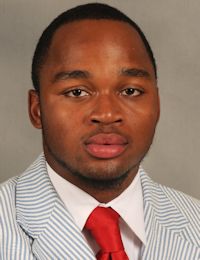 Roderick McDowell
Gr. Running Back
#25 5-9, 195
Sumter, SC
View Full Profile is our starter," he said. "He's clearly earned the right to be a starter. But he can't do it by himself. We are going to be a running back by committee and that's fine. When you play as many snaps as we have, you need a good crop of guys. We pretty much have played three or four backs pretty consistently. I could easily see us playing four or five guys in any particular game, and whoever gets the hot hand, that's how we roll. I'm confident with Hot Rod, confident with Zac (Brooks), confident with D.J. (Howard), confident with C.J. Davidson. I think those four guys have really proven - based on what we've seen at practice this last month, we can trust them."
Freshman linebacker Ben Boulware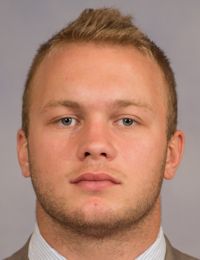 Ben Boulware
Fr. Outside Linebacker
#10 6-1, 230
Anderson, SC
View Full Profile led all defenders with seven tackles Saturday, continuing his push for early playing time this season. However, the Tigers have plenty of options at linebacker and Swinney said the coaching staff was on the fence about whether Boulware's year would be wasted if he didn't redshirt.
But Swinney also sees his value as a special teams wrecking ball.
"He's on the bubble but very close," Swinney said. "He's one of those guys that could help special teams really get over the hump. Because he's a heck of a backer, but he's not where a couple of those guys are. Now, he's not far, and that's where I'm proud of Ben - his knowledge and where he's learned. But he might be a guy who leads our team in special teams tackles."
Defensive backs
Swinney said that freshman Korrin Wiggins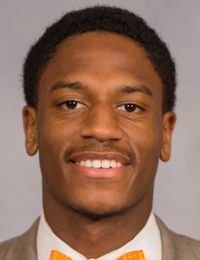 Korrin Wiggins
Fr. Defensive Back
#12 6-1, 185
Durham, NC
View Full Profile will play at safety after a camp in which he opened a lot of eyes. Defensive coordinator Brent Venables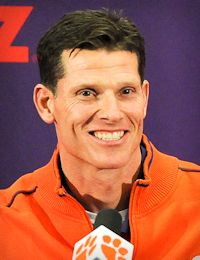 Brent Venables
Defensive Coordinator / Linebackers
View Full Profile said Friday that Wiggins picked up the defense and has worked at nickel. He will avoid a redshirt it seems.
Another safety/nickel candidate is freshman Jayron Kearse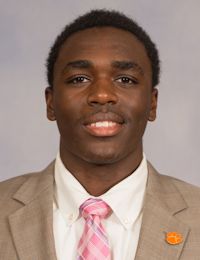 Jayron Kearse
Fr. Safety
#20 6-4, 205
Fort Myers, FL
View Full Profile , but he suffered a shoulder injury in the scrimmage.
Freshman cornerback MacKensie Alexander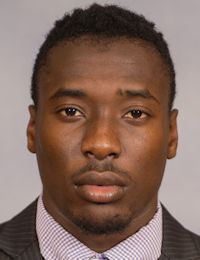 MacKensie Alexander
Fr. Defensive Back
#2 5-11, 185
Immokalee, FL
View Full Profile was the talk of summer workouts, and many observers expected Alexander to play early this season. His status is now in doubt. Alexander missed much of the first two weeks of camp with a groin injury, and Swinney said Saturday that Alexander was once again limited and has "regressed."
Freshman Marcus Edmonds picked off two passes Saturday, but Swinney said the situation in Clemson's defensive backfield is still unsettled.
"To be honest with you, all of those guys have competed really well," Swinney said. "We just have to decide who's most ready. We have several who could benefit from a redshirt. But it's going to be a close call on a couple of them because we need enough bodies and depth to go do what we need to do."
Jadar Johnson, another freshman competing for a spot at safety, had an interception Saturday and Swinney said the early enrollee is now in the mix.
"Jadar I thought started really slow in camp," Swinney said. "Really slow, especially for a guy who went through spring. But I think he's really refocused himself the last week and competed. So he's in the mix."
Mike Williams
For those who watched the scrimmage, freshman receiver Mike Williams was a clear standout. He had three receptions for 111 yards.
"He's kind of like a taller DeAndre Hopkins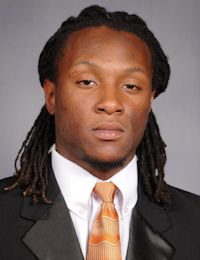 DeAndre Hopkins
Wide Receiver
#6 6-2, 205
Central, SC
View Full Profile Hopkins, to be honest with you," Swinney said. "Similar skill set. He catches the football in awkward situations, can high-point the ball. Hopefully he'll develop like Nuk did. But Nuk came in here as a freshman similar in a lot of ways. Just Mike's bigger than he was. Mike had a really nice day."
Shaq Lawson

Shaq Lawson
Fr. Defensive End
#90 6-4, 260
Central, SC
View Full Profile
"There is no doubt about Shaq," Swinney said of Lawson, who had three sacks Saturday. "There is no doubt he is going to be an impact player for us."

Tags:
Ben Boulware
,
Brent Venables
,
C.J. Davidson
,
Charone Peake
,
Cole Stoudt
,
Darius Robinson
,
DeAndre Hopkins
,
Germone Hopper
,
Jadar Johnson
,
Jayron Kearse
,
Korrin Wiggins
,
Mackensie Alexander
,
Marcus Edmond
,
Mike Williams
,
Robert Smith
,
Roderick McDowell
,
Sammy Watkins
,
Shaq Lawson
,
T.J. Green
,
Tajh Boyd
,
Travis Blanks
,
Tyshon Dye
,
Wayne Gallman
,
Zac Brooks