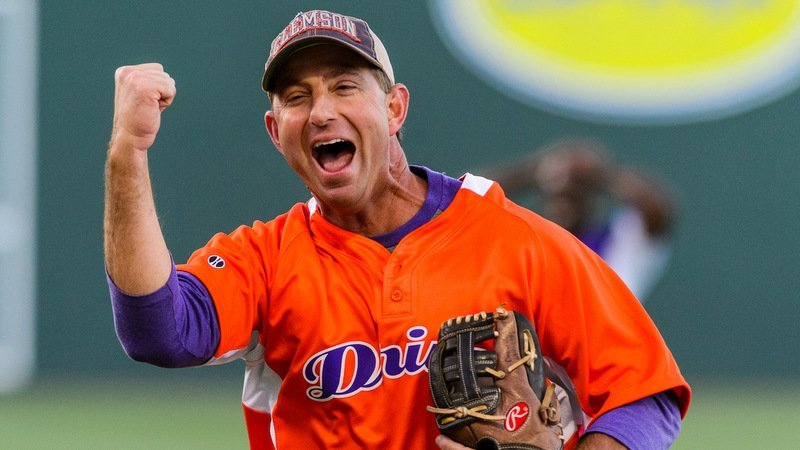 | | |
| --- | --- |
| Swinney praises players who went to see Kelly Bryant, recaps spring exit interviews | |
---
| | | |
| --- | --- | --- |
| Wednesday, April 17, 2019, 7:01 AM | | |
CLEMSON – Head coach Dabo Swinney hasn't slowed down since the end of spring practice, hitting the IPTAY circuit and conducting exit interviews with his players. Those interviews provide Swinney insight into the type of team he'll have in 2019.
The Tigers concluded spring practice 11 days ago, and many have wondered if any players would look at the post-spring depth chart and decide to move elsewhere but Swinney said that hasn't happened.
"I have a much better feel for this group after having these one-on-one meetings and conversations and just being on the same page of where everybody is and what they've got to do moving forward, making sure our evaluations are the same and if we have disagreeing comments, get on the same page," Swinney said. "But it's been really good. Nobody has told me that they're not coming back."
Tight end Garrett Williams hasn't made a final decision on whether to play in 2019 or move on to the military, but Swinney said he hopes Williams sticks around in some capacity. Williams had surgery on his knee early on this offseason and spent spring practice helping coach the Tigers' young and inexperienced tight ends.
"I don't think 100 percent, but I think he's close to it," Swinney said when asked if Williams has made a final decision. "I think he's probably not gonna be back. I'm hoping if he's not gonna play that he might at least stay and maybe be a student assistant coach for us, but we'll see."
Swinney said he was proud that several Clemson players, including Tee Higgins, Isaiah Simmons and Cornell Powell, made the trip to Columbia, Missouri, last weekend to support former Clemson quarterback Kelly Bryant during Missouri's spring game on Saturday.
"Guys come and go in the program, but relationships never end. These guys are friends. He's a graduate. He graduated. Some guys graduate and they go to the NFL. He just graduated and went to Missouri." Swinney said. "But that doesn't mean that their friendships end or their relationships end, that's for sure. I think it's neat that it worked out that way and those guys were able to go and support their former teammate."