| | |
| --- | --- |
| Swinney on suspensions: "Unfortunately three guys get headlines" | |
---
| | |
| --- | --- |
| Wednesday, December 30, 2015 8:55 AM | |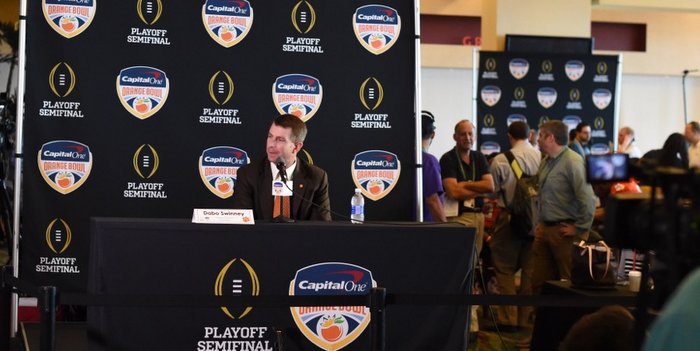 FORT LAUDERDALE, FL - Clemson head coach Dabo Swinney confirmed to the media Wednesday morning that three players have been suspended for Thursday's Orange Bowl against Oklahoma.
Wide receiver Deon Cain, kicker Ammon Lakip and tight end Jay Jay McCullough won't play in the game, and Swinney said that the Clemson careers of McCullough and Lakip are over. Both have faced suspensions recently – McCullough missed time at the end of last season and time this spring, while Lakip missed the first three games this season.
All three failed drug tests.
"If you don't do the right things there are consequences," Swinney said in final Orange Bowl Press Conference early Wednesday morning. "It's simple. It's not a complicated matter at all. We have 115 guys, and 112 did the right thing, and three didn't do the right thing. Now they don't have the opportunity, and they forego the privilege to be a part of the game. I hate it for them. They are the ones that have to deal with the consequences, and they are missing out on a great opportunity. There is not much to add other than I am proud of our team and how they have handled themselves. Unfortunately, three guys get the headlines."
Swinney said the loss of Cain isn't as bad as people think.
"Charone Peake is the starter at wide receiver, so nothing has changed there," Swinney said. "Trevion Thompson is the backup and both have played a lot anyway. But Charone is the starter and nothing has changed. All those guys (suspended) are backups."
Swinney said Cain will have the opportunity to come back and be a part of the football program, but McCullough and Lakip have seen their Clemson careers end.
"Deon can come back and if he does the right things he can be a part of the football program," he said. "Ammon is a senior, and he will move on, and Jay Jay is a redshirt junior but he will have the chance to come back to school next week and graduate in the summer, and then he will move on. If he wants to play somewhere else next year that's up to him."
Swinney said Greg Huegel would handle extra points and kickoffs.
McCullough has served as a reserve tight end, after playing some running back earlier in his career. He has been a mainstay on Clemson's kickoff return unit, as well as other special teams units. This season he logged 98 snaps over 12 games, appearing on offense in 11 contests.
Lakip served as a backup placekicker behind Chandler Catanzaro in 2012 and 2013 before becoming the starter in 2014, but his legal troubles led to Greg Huegel taking over the starting spot this season. However, Lakip came back for the Notre Dame game and started as the kickoff guy and has handled extra points over the last two games.
The freshman Cain emerged as one of Clemson's top deep threats this season and had 34 receptions for 582 yards and five touchdowns in 310 snaps over 12 games. Cain's five touchdown receptions are good for second on the team, and he is tops on the team with 17.1 yards per reception average.
He had two catches for 12 yards against North Carolina in the ACC Championship Game.
Swinney said he would always strive to do the right thing.
"We are going always to do the right thing here, regardless of what people think," he said. "I love those guys. They are not bad guys. They just didn't do the right thing."