| | |
| --- | --- |
| Swinney excited about fourth straight Top 15 recruiting class | |
---
| | |
| --- | --- |
| Wednesday, February 5, 2014 4:30 PM | |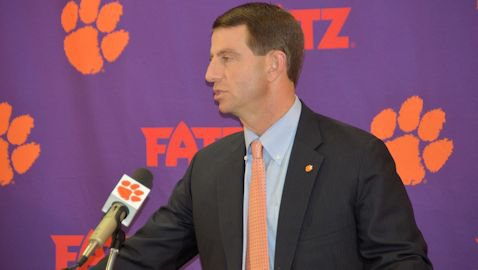 National Signing Day is like Christmas for many college football fans – the excitement and curiosity of who is going to sign where and waiting patiently (or impatiently) for the big announcement.
Excitement and drama are great for the fans sitting by their computers, but Clemson head coach Dabo Swinney

Dabo Swinney
Head Coach
View Full Profile was thrilled for a drama-free signing day.
Most of Clemson's 22 signees of the 2014 recruiting class never wavered from their commitments, and Swinney told the media during his recruiting wrap up that a drama-free day is exactly what he prefers.
"We signed 22 guys. Most of these guys have been committed for a really long time," Swinney said Tuesday afternoon. "No drama that's what I like. I like to have guys that know what they're going to do and have no issues. We also have several preferred walk-ons and gray shirts that that will join us."
The 2014 version of Signing Day was a lot different than 2013 when the Tigers missed out on several big name recruits late in the day, and Swinney said he was okay with that.
"Last year we had our fair share [of decommitments], Swinney said. "We did a really good job identifying the guys – high character guys with good support systems that signed up to be Clemson Tigers. I've been in these home and we are getting great people from great families."
Swinney said that he is excited to welcome 22 new Tigers and new families into the Clemson family.
"This has been a great, exciting day," Swinney said. "It's always an exciting day especially when you have a group of young men that stand up and say they want to play football for Clemson University. We are getting a great group of people and that's why we recruited them. I'm really excited about the group of parents that will be joining us as well. We forget about Corey Crawford, Vic Beasley, Stephone Anthony, and Grady Jarrett that decided to stick around Clemson. Those are huge additions. I'm really thankful that they chose to stay for their senior year."
The lone Signing Day surprise was defensive end Richard Yeargin

Richard Yeargin
Outside Linebacker
6-4, 225
Fort Lauderdale, FL
ESPN:


View Full Profile , but Swinney said that he's known for quite some time that Yeargin would probably end up a Tiger.
"I've known he was coming for a while," Swinney said. "He is a great kid and he was in a tough situation. We were his first offer and we had stopped recruiting him. He called and wanted to take a visit. And when he left he said man this is where I want to be."
For Swinney this recruiting cycle was different because of those players that are already on campus the foundations that the recent graduates left for future players.
"This is our fourth Top 15 recruiting class in a row," Swinney said. "Only seven teams can make that statement. That speaks to the consistency on the field, in recruiting and in the classroom. Everything we do is about personnel – players and staff. Our greatest asset are our players. When you lose great guys, you have to replace them with great guys. I really do think we have it all backwards in recruiting – the rankings should come out after senior year in college and be based on performance and not potential.
"I pulled out my notes from February 2009 and it wasn't a very big sheet," he said. "We had 200 people today and in 2009 we only had our wives and y'all because you had to be here. It's great to bring in a highly rated class, but what matters most is performance and development. That just shows how far we've come."
Swinney said that the guys that they signed more than filled the needs of the program and the void of that graduation and early departures left behind, and the key to Clemson's recruiting success during this cycle was treating the 250 mile radius around Clemson as in-state and recruiting the players in North Carolina, Georgia and Florida just as they do those from South Carolina.
"This class more than met our needs," Swinney said. "We have six mid-year enrollees and the rest will join the already talented group we have in here and fill some voids that we have. We signed 12 on offense, nine on defense and a kicker. Our class consisted of nine from the state of South Carolina, six from Georgia, four from North Carolina, two from Florida and one from Maryland. We have to do a good job in South Carolina, North Carolina and Georgia. We signed five of the top guys from Georgia – more than any other team that recruits that area.
Swinney said that the mid-year enrollees on offense – Deshaun Watson

Deshaun Watson
Quarterback
6-3, 190
Gainesville, GA
ESPN:


View Full Profile , Kyrin Priester

Kyrin Priester
Wide Receiver
6-2, 190
Snellville, GA
ESPN:


View Full Profile , Demarre Kitt

Demarre Kitt
Wide Receiver
6-1, 195
Tyrone, GA
ESPN:


View Full Profile , Artavis Scott

Artavis Scott
Wide Receiver
5-11, 180
Tarpon Springs, FL
ESPN:


View Full Profile – addressed the needs at wide receiver and all will have an opportunity to make mistakes and learn before fall camp and the season really get rolling.
"It [wide receiver] was a critical need for us- we signed four guys [ Trevion Thompson

Trevion Thompson
Wide Receiver
6-3, 190
Durham, NC
ESPN:


View Full Profile will enroll in June] and we are excited about all four," he said. "Having three of them here is a huge blessing. By the time we get to August it should be like they redshirted. To be able to coach them and have them make mistakes when the scoreboard doesn't count and then have them learn and get that chemistry with the quarterbacks is huge."
Swinney couldn't pass up an opportunity to thank people around the football office and the families for all that they do during the recruiting process.
"We have a tremendous staff that worked hard to make us successful in recruiting – coaches, support staff, our wives and mostly the players," he said. "The players do a great job and take pride in bringing in players. Our coaches are good people and they bring in good people. I'm very appreciative of the staff we have and the type of people that they bring in. Jeff Scott

Jeff Scott
Asst. Coach (WR) / Recruiting Coord.
View Full Profile continues to do a great job."
Click here to see a complete list of 2014 signees with bios, photos, rankings and videos