| | |
| --- | --- |
| Swinney discusses Dye, injuries and changes for Senior Day | |
---
| | |
| --- | --- |
| Wednesday, November 12, 2014 7:33 PM | |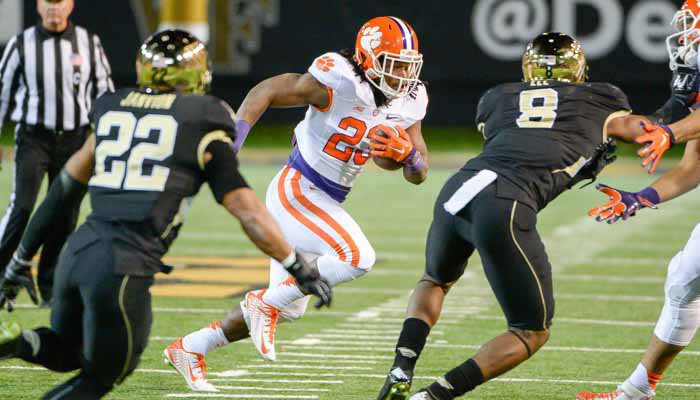 CLEMSON – Clemson's offense is finally getting healthy.
Quarterback Deshaun Watson

Deshaun Watson
Fr. Quarterback
#4 6-3, 204
Gainesville, GA
View Full Profile has been back at practice full-speed this week, and head coach Dabo Swinney

Dabo Swinney
Head Coach
View Full Profile told the media following Wednesday's practice that wide receiver Charone Peake

Charone Peake
RS Jr. Wide Receiver
#19 6-3, 204
Moore, SC
View Full Profile and center Jay Guillermo

Jay Guillermo
RS So. Center
#57 6-3, 314
Maryville, TN
View Full Profile should both be available for this weekend's game at Georgia Tech.
Peake hasn't played since the Florida St. game in September, and Guillermo hasn't played since breaking a bone in his foot against N.C. State on October 4th.
"Guillermo has done well. He will definitely be able to play," Swinney said. "We are certainly not expecting him to go in and play 70 snaps and start or anything like that - we are pretty confident with the five who will start and think they play well so that will dictate how much Guillermo plays. He is still not quite 100 percent but he is able to play and will play if we need him. Peake has done well. He's gone 1-on-1's and skelly and everything. He is a lot further along than Jay, but Jay is 300-plus pounds. I think that Peake is definitely going to be ready to roll."
Another player returning from injury is running back Tyshon Dye

Tyshon Dye
RS Fr. Running Back
#23 5-11, 214
Elberton, GA
View Full Profile , who earned a few carries last week against Wake Forest. This week, Swinney said that Dye has to be prepared to carry more of the load and said last week's action for Dye wasn't just "mop up duty."
"It was just 'when is the best time to put a guy in the game that hasn't taken a snap in a year-and-a-half?' And finding that time has been a little difficult the last couple of weeks and we finally got it worked out and he is a guy that I think will continue to get better," Swinney said. "He needs a spring is what I think he needs. He needs a spring and he needs an off-season and then spring practice. That is what he needs but we can't give him that right now, and we have to make the best of where we are today and then get a lot of work done during bowl practice with him. He has just missed so much but he has practiced well and he has to be ready to go. I told the team tonight if you are a backup you have to be ready to go and be ready to play every snap because you just never know. D.J. Howard

D.J. Howard
RS Sr. Running Back
#22 6-0, 205
Lincoln, AL
View Full Profile was a little limited and we are pretty thin there so we need for him to be prepared and it wouldn't surprise me at all to see him get a little more time."
Other notes
Ryan Norton

Ryan Norton
RS Jr. Offensive Line
#58 6-3, 292
Simpsonville, SC
View Full Profile
"I am proud of Norton. He is a competitor and most competitors respond when things don't go their way and I am really proud of how he responded. He kind of got sent to sideline and came back with a little different focus and a little different edge. So hopefully we will continue to see that from because we need it."
Deshaun Watson
"He has had a good week of practice."
The safeties with Robert Smith

Robert Smith
Sr. Safety
#27 5-11, 211
St. George, SC
View Full Profile
"They are doing good. We are mixing and matching those guys. It does help us having Korrin (Wiggins) more available and giving us another guy back there. Him and Jadar (Johnson) and T.J. (Green) are the guys that have been filling in back there and all of them have done a nice job. I like what I am seeing, but we still have a lot of work to do. This is a bunch that you have to prepare for all the way up to kickoff, so we still have a lot of work to do."
Zac Brooks

Zac Brooks
Jr. Running Back
#24 6-1, 199
Jonesboro, AR
View Full Profile
"He will be ready for spring. He has been doing really well. His attitude is good, his weight is good and he's north of 200 pounds and working as hard as he possibly can and he should be ready in the spring."
Senior Day
TigerNet learned Tuesday that Senior Day, at least from a football player standpoint, won't be held in the last home game this season.
Senior Day is typically held at a team's last home game – in this case South Carolina on November 29th – but the Tigers will hold a special Senior Day for football players on November 22nd prior to the home game against Georgia St.
Managers, trainers, band members and cheerleaders will still be recognized prior to the South Carolina game, but Clemson head coach Dabo Swinney told TigerNet Wednesday evening that he made the move because of the Tigers' large senior class.
"It was just something I had talked to the seniors about. The biggest thing was we had 34 seniors – we have never had 34 seniors," Swinney said. "We do a great job here in honoring those guys, and 34 guys will really interrupt or change your routine in a big way. It's not like you have 12 or 15 guys. That is a lot of parents on the field and those types of things. That type of game is always emotional as it is, and now you come down the hill and you're hugging your mama and now you have to go play a game. We just felt like that next week would bring a lot of energy to that game, first of all. We could really do it right and not really be pressed from a time constraint standpoint. And then the other thing is, in their last game they can really and truly enjoy running down the hill and going out and playing in the game one last time. That's the bottom line."
Swinney said trying to recognize that many players would affect preparation for the game itself.
"There were a lot of factors that we talked about, but the biggest factor was 34 guys," he said."It affects your pre-game, it affects your locker room time and all of those types of things. To get 34 guys down the hill and with all the parents and all of the emotion, we just felt like it would be good to go ahead and do it next week."