| | |
| --- | --- |
| Swinney details "wacky" week of Louisville preparation | |
---
| | |
| --- | --- |
| Tuesday, September 15, 2015 12:20 PM | |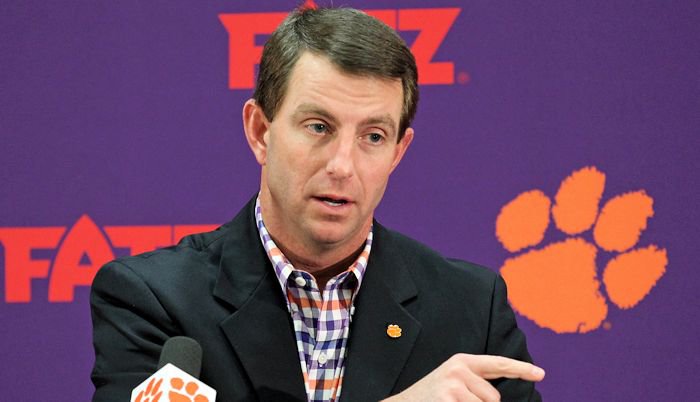 CLEMSON – Clemson head coach Dabo Swinney

Dabo Swinney
Head Coach
View Full Profile met with the media Tuesday morning to preview the ninth-ranked Tigers' Thursday game at Louisville, all part of what he calls a "crazy" week.
Clemson (2-0) will play the 0-2 Cardinals Thursday in a 7:30 p.m. ESPN matchup at Papa John's Stadium, and Swinney the short turnaround time has made for a wacky schedule.
"As you all know this is a crazy week. Everything is kind of out of whack," Swinney said. "I'm thankful I haven't had to do this too many times. It's just our turn to have a short week like this. We're excited about it, though. It's fun to not have to wait to Saturday to play. Louisville is a good team. They're 0-2. I wouldn't look too much into that. This is a good team that I have no doubt will be in a bowl at the end of the year. They have the same chance we have to compete and win this division. This is a great matchup and it will be an electric atmosphere up there. They have been tough to beat. We've got to go up there and have a great focus and execute, take care of the football and do the things we have to do to give ourselves a chance to win."
Louisville head coach Bobby Petrino hasn't settled on a starting quarterback for the game – he says he knows but hasn't told the media – and Swinney the Tigers will be prepared for whoever starts under center.
"They have played three different quarterbacks but we'll be prepared for whomever it is. They have a couple of young guys in there," Swinney said. "They're getting better as they go. Their receivers are huge; 6-6, 6-4, 6-3 across the board. There will be a lot of competitive plays that will have to be made by somebody. They will challenge us by far more than anyone we've seen. They also love to involve their tight ends. They throw the ball to their tight ends."
Louisville is ranked 77th nationally in total defense (53rd against the pass but 106th against the run) but Swinney said he sees talent for the Cardinals on that side of the ball.
"Defensively they're very good. It's kind of like us. They lost some good players but they got a bunch of new ones in there that can play," he said. "They've had several transfer in there who were really good players at other places. We've got our hands full there. They do an excellent job of attacking your protections and creating different looks where you have to communicate and be on the same page. We didn't do a great job of that last week. They're really good in the secondary with size and length. Their kicking game, they gave up a big return in the Houston game. Houston is pretty good but secondly Louisville turned it over four times and lost by three points. They're very capable. They're just trying to figure out who they are, just like us."
The game is the ACC opener for both squads.
"It's a great opportunity for our team. I'm excited to see us play," Swinney said. "I want to see us compete for four quarters in a hostile environment. How do we handle adversity in the game?"
Other notes
Norton out
" Ryan Norton

Ryan Norton
RS Sr. Offensive Line
#58 6-3, 284
Simpsonville, SC
View Full Profile got rolled up at practice last night. You know he's been battling some issues with his knees. That is what I was a little bit late, because I just got off the phone with (trainer) Danny Poole. We did an MRI this morning. He does have a pretty good sprain on his MCL, so he's definitely going to be out this game. We will reevaluate him next week. Right now they don't feel like there is any surgery, so that's a positive for Ryan. Hopefully with the open date he's not going to miss a whole lot of time."
How do you handle short practice week?
"Not much sleep. Some of this preparation started in the preseason. As coaches, we love the noon games. Our Sundays are always the same. There is a tremendous amount of work that we have to get done on Sundays. When you get a noon game as a coach, you can relax with your family and get some rest before starting fresh on Sundays. This particular week we went right to work. We celebrated in the locker room and then it was on to Louisville. We graded everything right then, getting Sunday work done Saturday night."
Getting used to Thursday night games?
"We've won a lot of them, maybe lost one since I've been head coach. We lost one at Georgia Tech my first year, a nightmare. We've been successful on Thursday nights. Most of our Thursday night games; usually the league tries to give you the previous weekend off. Sometimes with television and scheduling, everyone has to step up every now and then."
Will the freshmen be ready
"It's all a part of our preparation process. It's not just this week but all throughout our program. You reiterate some things. The biggest thing is that you hope your veterans lead the way. The only way to get experience is go do it. They want to win the game. We want to win the game. Let's make sure we have great focus in meetings, let's prepare with purpose and practice with good technique. We can control those things. These guys will be excited."
Rotation at center
" Jay Guillermo

Jay Guillermo
RS Jr. Center
#57 6-3, 324
Maryville, TN
View Full Profile will start. Justin Falcinelli

Justin Falcinelli
RS Fr. Offensive Tackle
#50 6-3, 293
Middleton, MD
View Full Profile has played some center, too. Falcinelli has played a ton of center. He played center all spring, in the spring game, in camp, he's played guard. He's had good work there. He'll be our backup. Zach Riggs

Zach Riggs
RS So. Center
#54 6-5, 270
Greer, SC
View Full Profile is another guy who will have to be ready."
Thoughts on Guillermo?
"He's come to work each and every day and has been engaged in what we're doing. He's had some good days and bad days. He's done a nice job. We're really fortunate to have him back. We're glad we have a veteran guy like that ready to go. I'm also excited about Justin Falcinelli as well, not just as a center but as a guard. We'll need Jay to step up and come through. And he will. Jay would have played a ton even if Ryan had been available."
Talk about the bad snaps
"It affected us. We had one really bad snap. It does affect things because your eyes go away from where they need to be. It's important. You have to have the right snap to execute and that goes back to what we talk about. It's not the big things. It's the little things. Now, we did a lot of good things. We scored 41 points against a really good team. Little things lead to big things and we have to master the little things. We were just sloppy on several snaps. We lost our focus a little."