| | |
| --- | --- |
| Swinney: "We can't let one game make or break our season" | |
---
| | |
| --- | --- |
| Sunday, October 20, 2013 7:07 PM | |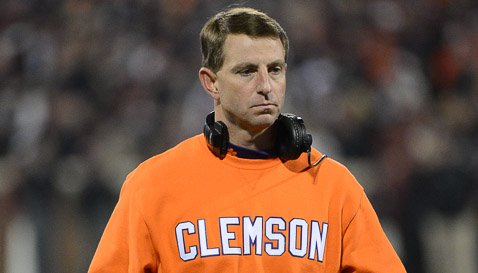 CLEMSON - Clemson head coach Dabo Swinney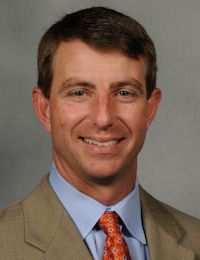 Dabo Swinney
Head Coach
View Full Profile said that as bad as the Tigers looked on Saturday, you can't let one game make or break your season.
Clemson was defeated by the Seminoles 51-14, and during his Sunday teleconference Swinney said it is the job of the coaches and the players to flush the loss and look ahead to the rest of the season and next Saturday's game at Maryland. Clemson opened as a 13-point favorites over the Terps Sunday.
"I'm very disappointed in how we played last night. The film wasn't much better. That's a good football team that we lost to," Swinney said. "FSU is definitely not a team that you need to help. We gave up 24 points off turnovers and we had nine. We got into their territory nine times and scored twice. The big story was the four turnovers. We had four all year going into the game. You can't just make those mistakes that we made and have a chance to win. We had some opportunities when it was 17-7 and came away with nothing before the half."
Swinney then said the Tigers have to "flush" this one out of their system and look ahead to next week.
"Defensively, it's the worst we've done from a yards after the catch standpoint. Again, give FSU a ton of credit. They have a heck of a team," he said. "They outplayed us and out-coached us in every regard. But we come in here and evaluate and get guys here in the morning, go through everything, make corrections, flush and refocus and see if we can get back on track at Maryland.
"Had we won the game, we'd be doing the exact same thing. You cannot let one game make or break your season. You want to have the best year you can possibly have. We felt like we had a great opportunity and didn't think we took advantage of it. There's still a lot out there for this team. That's what we're focused on. We look forward to getting back to work tomorrow."
Swinney reminded the media that the Tigers are still a top 10 team, and whether or not this is a great season depends on how the team responds to the setback.
"Our guys are certainly down right now. It's Sunday and they played late into the night and came up short. They wanted to play better. I wish I could explain why some things happen that are uncharacteristic of our team. That's competition. We have to learn from it, challenge each other as coaches and challenge the team and leadership. We have to get back to what we believe in. We just have to focus on trying to win this game. You're not going to lay down. That's not how we think.
"We'll get ourselves up and go up there and try to play the best game we've played all year. We will reemphasize our plan to win and have everyone take pride in their performance and everyone take accountability. It's one game. We're a 6-1 team and we're still in the top 10 and it's late October. So we're in the middle of a good season. Whether it's a great season depends on how we respond."
The good news is that the Tigers didn't suffer any significant injuries in the loss.
"Injury-wise, Tajh looked okay this morning. Same thing with DeShawn Williams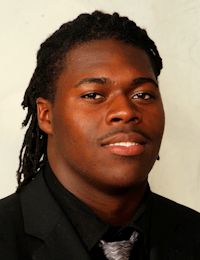 DeShawn Williams
Jr. Defensive Tackle
#99 6-1, 285
Central, SC
View Full Profile ," he said. "Hopefully he'll be back by Tuesday. Right now it doesn't look like anyone is out, but we'll reassess that in the next couple of days."
Other notes
Would the coaches consider player MacKensie Alexander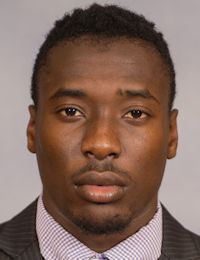 MacKensie Alexander
Fr. Defensive Back
#2 5-11, 185
Immokalee, FL
View Full Profile ?
"No. He's back at practice. He just got back this past week on Wednesday. He started working some scout team stuff. He's still recovering from surgery. He's doing good. As far as injuries at corner, we just have the one with Garry. We don't see him out all year but he'll be out the next couple of games. The plan is to have him back against Georgia Tech. [Bashaud] Breeland got ejected, so we'll be thin starting out."
Does the loss set the program back?
"It sets us back for this season because you want to win them all. That's always one of your goals. We took it on the chin. We didn't take advantage of our opportunity. They're one of the best teams out there. We have a heck of a team. I won't let one bad night at the office change that. There are a lot of guys hurting right now and that's a good thing. That means you care. As long as they care, I know we'll bounce back. And that's have the best season we can possibly have. That's one game. There were 50-60 teams that lost yesterday. Nobody likes to lose. You certainly don't want to lose or lose at home. That's the reality we're dealing with. We just didn't do the things we normally do to win games. You can't lose the turnover margin to a team like that. We had some costly penalties and some busts we have to clean up. They played better than we did. It's one game, it's over. Instead of worrying about what could have been, we have to worry about what can be."
Plans at CB at Maryland in first half
"We've got Jerrodd Williams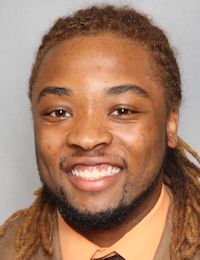 Jerrodd Williams
RS Sr. Safety
#36 6-0, 205
Central, SC
View Full Profile . Cordrea Tankersley

Cordrea Tankersley
Fr. Defensive Back
#25 6-1, 190
Beech Island, SC
View Full Profile will work at corner. We started him there a little last week. I'm excited about him getting work. We'll get Breeland back after that (in the second half)."
The problems with Tajh Boyd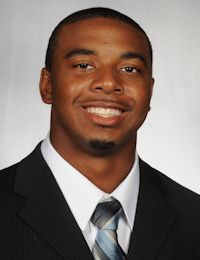 Tajh Boyd
RS Sr. Quarterback
#10 6-1, 225
Hampton, VA
View Full Profile looking out of sorts
"He'd be the first one to tell you that he's not happy with how he played. It wasn't one of his better games. You always want to play your best every time you're out there. He didn't have his best game, but I wouldn't trade him for anybody. He has done some great things for this program. If I know Tajh, he'll bounce back with a great performance this week. But he's human. He made some mistakes that he usually doesn't make."
On the Breeland ejection
"Good call. I didn't think it was flagrant. It looked like he tried to pull up. It wasn't the crown of his helmet, but per the rule, the quarterback is a defenseless guy. You can't be above the shoulder. Per the rule, it was the right call."