| | |
| --- | --- |
| Swinney: N.C. State's offense will present a challenge | |
---
| | |
| --- | --- |
| Tuesday, September 30, 2014 12:42 PM | |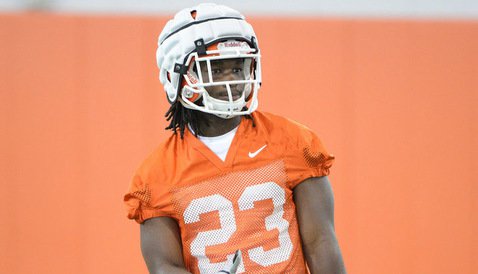 CLEMSON – One of the best offenses in the ACC will visit Death Valley this weekend in the form of N.C. State, and Clemson head coach Dabo Swinney

Dabo Swinney
Head Coach
View Full Profile says it will be a difficult challenge
Swinney met with members of the media Tuesday as part of his weekly news conference, and he previewed Saturday's 3:30 p.m. kickoff against North Carolina St.
"Glad to be back in the Valley. Really want to challenge our crowd this week and they were outstanding last week," Swinney said. "The next two weeks will be at 3:30. Our crowd is a difference-maker for us. This is a difficult place to play when the crowd is rocking. We have to do our part on the field, obviously. This will be a tough game, a difficult game. We will have to play a lot better than we played last week in order to beat N.C. State."
The Wolfpack – which lost 56-41 at home against Florida St. last weekend – are the best in the ACC in terms of total offense.
"Offensively, they have done a great job. You can see the transformation taking place in their program," Swinney said. "They're a big challenge; tons of shifts, motions, they do an excellent job of scheming you and attacking you and creating big-play opportunities. They had some guys just wide open against Florida State. They want to run the ball but play action creates big plays for them. They're No. 1 in total offense in our conference. They have been balanced but they threw the ball a lot more against Florida State. Their O-line is made up of a bunch of veterans. Veteran group; seniors and juniors."
N.C. State is led by quarterback Jacoby Brissett.
"The biggest change is their quarterback. Very impressed with him. He leads the league in touchdowns with 13. He's big," Swinney said. "He looks a lot like Jameis Winston. He breaks tackles and extends plays. There were times last week when the play shouldn't have happened, but it did. They couldn't get him on the ground. He created some big-time plays. He's got good instincts and a good presence. He runs well. Very impressed with him. They also play three backs and they're explosive. Impressed with their tight end, No. 86 [David Grinnage]. Big, strong and very effective in the passing game."
N.C. State's defense is adept at creating turnovers.
"Defensively, they lead our league in turnover margin. It's one of the big reasons why they're 4-1," he said. "They've created some turnovers in big situations. Their line was active and disruptive. They got pressure on Jameis, they hit him and knocked the ball loose. They are young from a depth standpoint up front. Their front line guys can play. They're playing a lot of man-to-man in the secondary with three starters back. Their punter also leads the league in punting and they have excellent return guys.
"This is a team that is much improved. For us, we will have to improve. We can't make some of the mistakes that we did in the second half defensively."
Other notes
Comparing NC State to UNC offensively
"I just think they're better. They're better defensively. They have more people, three starters back in the secondary and have five veteran guys up front. They're good players. They could play anywhere. They don't have a lot of depth right now. Their front line guys are good players. Offensively they do a lot of things that create issues for you schematically. You have to be really disciplined against this bunch. They're certainly better at quarterback. He has raised everyone else's play."
Offensive line issues
"At the end of the day we have played some good teams. It's been baptism by fire. There is a lot more good than bad, a lot more. Had you told me two years ago Kalon Davis

Kalon Davis
RS Sr. Offensive Guard
#67 6-5, 340
Chester, SC
View Full Profile would be the player he is now, I wouldn't have believed it. I wasn't sure he loved football. He has taken great ownership. Only thing we haven't asked him to do is play center. This guy will make some money. We lost two good pieces last year. There has been some transition.
"I'm pleased with Reid Webster

Reid Webster
RS Sr. Offensive Tackle
#77 6-3, 300
Woodstock, GA
View Full Profile . I wasn't sure he was going to make his mind up. To me two years ago he seemed complacent to be a backup, but he has come through. Norton has been good at times, not as consistent. Guillermo is still developing and is getting his first significant action. Battle is what we always tell you he is; he is a big-time future NFL talent, but not always as disciplined as we need him to be. He's physical, he's got a solid understanding of what we're doing, but not always committed technically and it's cost us at times. But he's improved. Crowder was a guy who showed progress in camp. We have to get him back on track. He has a bright future. Maverick Morris

Maverick Morris
RS Fr. Offensive Line
#69 6-4, 291
Broxton, GA
View Full Profile is a young talent who's not quite ready for the show. We think we hit on him. We like (Taylor) Hearn and (Justin) Falcinelli.
" Joe Gore

Joe Gore
RS Jr. Offensive Tackle
#73 6-5, 283
Lake Waccamaw, NC
View Full Profile probably had the best camp. Really impressive and didn't play up to his potential in the UGA game and even in the SC State game, but came back and played better the last two weeks. We're trying to get our best five. We lost four guys; three to medical. We also had one leave. We are a work-in-progress, but the guys are competing. They played well against a very good front in Tallahassee, so they're battle-tested. Are we where we want to be? No. But we will improve in a lot of areas. I know most people just want to focus on the bad. A lot of times people don't know what they're looking at and the O-linemen get blamed."
On how hard they have to coach Deshaun Watson

Deshaun Watson
Fr. Quarterback
#4 6-3, 204
Gainesville, GA
View Full Profile
"It depends on the individual. Some guys have success early and sometimes it's a distraction. Sometimes they may not be mature, then you have people like Sammy and Deshaun who are wise beyond their years. Sammy had one issue in three years and he was the face of everything. He couldn't go anywhere and I was very impressed with how he handled his popularity and everybody wanting a piece of him. I think Deshaun is very focused with what he wants. He's never been distracted. He's always been serious and studious. He's got a maturity to him that is rare. He's been through a lot, a tough cancer situation with his mother, he's been committed since the 10th grade and was not caught up in the recruiting process. He's just focused and has been a leader for a long time. He understands the responsibility that comes with that position."
Is Tyrone Crowder

Tyrone Crowder
RS Fr. Offensive Guard
#55 6-2, 322
Marston, NC
View Full Profile close to playing?
"He just got set back mentally. He was one of the bright spots in camp but mentally he took a step back. I think he will be a great player. He will get in that mix as the season progresses. He's kind of lost his confidence a little bit. He has worked really hard to get his body where it needs to be. He's one of the strongest guys on the team. He needs to improve in pass protection technically. He's still growing in confidence. The game is fast up front. To me the O-line is the hardest position to play as a young player. He's not quite where we want him to be, but we're pushing him back in that direction."
The status of Tyshon Dye

Tyshon Dye
RS Fr. Running Back
#23 5-11, 214
Elberton, GA
View Full Profile
"Still getting better. Out there in pads doing some fundamental stuff, but he's not ready to play. It's our hope that he will play this season, but we're not putting any expectations or pressure on him. I want him to mentally be where he needs to be. We need to get the guys going that we've got. He's just not ready to go today, but he's much improved physically and mentally. We're not trying to rush him."