---
| | |
| --- | --- |
| Tuesday, August 4, 2015 8:01 AM | |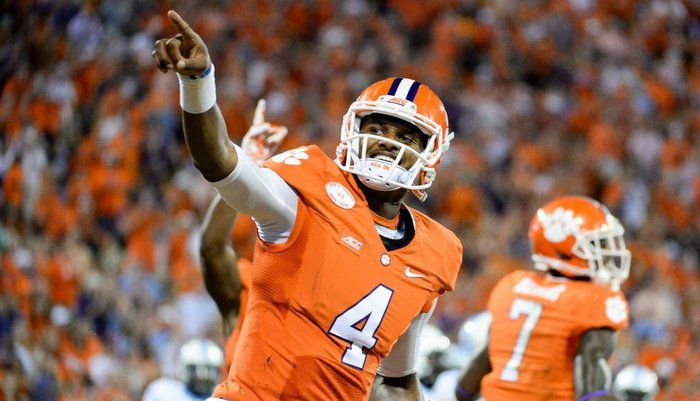 Later this afternoon the Clemson football team will make the trek from the locker rooms in the WestZone to the practice fields, crossing Perimeter Road and unloading in front of the indoor practice facility. The familiar clack-clack of cleats on concrete will fill the air as the team files onto the practice field for the official beginning of the college football season.
And they'll do it with confidence.
Indeed, these are heady days for a Clemson football program that suffered through a 6-7 season in 2010 and a humbling loss in the Orange Bowl the next season. This team isn't thinking "let's get to a bowl game." This team is thinking, "Let's get to the playoff."
There is a different feel to the program these days. There is the quiet confidence of the coaches. There is the swagger of the players. This team should be good. They have a chance to be great. And they know it.
What makes this group so confident?
Offensively, this team made it through what turned out to be a tough transition season at quarterback in 2014. Senior Cole Stoudt

Cole Stoudt
Quarterback (2011 - 2014)
#18 6-4, 225
Dublin, OH
View Full Profile was pushed by the talented Deshaun Watson

Deshaun Watson
So. Quarterback
#4 6-2, 205
Gainesville, GA
View Full Profile and eventually replaced, but Stoudt had to come in and start several games in Watson's absence. Watson started on basically one leg in the season finale against South Carolina and the Tigers still won going away. Stoudt then started the 40-6 win over Oklahoma in the Russell Athletic Bowl while Watson began his knee rehab.
Along the way, however, this team found something in running back Wayne Gallman

Wayne Gallman
RS So. Running Back
#9 6-1, 205
Loganville, GA
View Full Profile , wide receiver Artavis Scott

Artavis Scott
So. Wide Receiver
#3 5-10, 190
Oldsmar, FL
View Full Profile and receiver Mike Williams

Mike Williams
Jr. Wide Receiver
#7 6-4, 210
Vance, SC
View Full Profile . All three proved they could help carry the offense without Watson as both Scott and Gallman found their stride at the end of the season. Williams fared better with Watson under center, but still found ways to make plays.
All three are back. Watson is healthy. Add in playmakers like Deon Cain

Deon Cain
Fr. Wide Receiver
# 6-1, 190
Tampa, FL
View Full Profile and Ray-Ray McCloud

Ray-Ray McCloud
Fr. Wide Receiver
# 5-9, 175
Land O' Lakes, FL
View Full Profile and depth at running back and the offense should put up points in bunches. Honestly, if you're a defensive coordinator, who are you going to cover? Are you going to put a spy on Watson and leave the middle open? Going to double Williams on the outside and try and double Scott inside and leave Charone Peake

Charone Peake
Gr. Wide Receiver
#19 6-2, 205
Moore, SC
View Full Profile alone? Pick your poison.
On the offensive line, grizzled veterans like Eric Mac Lain

Eric Mac Lain
RS Sr. Offensive Tackle
#78 6-4, 305
Hope Mills, NC
View Full Profile are finding their stride, but there's an interesting dynamic at work. Fresh faces like Mitch Hyatt

Mitch Hyatt
Fr. Offensive Line
#75 6-6, 270
Sugar Hill, GA
View Full Profile and Jake Fruhmorgen

Jake Fruhmorgen
Fr. Offensive Line
#63 6-5, 285
Tampa, FL
View Full Profile are quiet but bring a nasty demeanor to the trenches. Youth will be served, but veterans will lead.
I asked Mac Lain at the ACC Kickoff last month how good he thought the team would be. He just smiled his trademark smile and said, "Dude, seriously? We are going to be as good as we want to be."
National pundits will tell you that the tale of the Clemson season will be told with the play of the defense. Many say that Clemson can't get back to number one. Some will tell you there might be a flame-out of Gamecockian proportions for the defense in 2015. There's a difference between this defense and what happened in Columbia a year ago – this group has talent and playmakers across the board. What they lack is experience behind the starters. But those backups? They're good. They're talented.
Christian Wilkins

Christian Wilkins
Fr. Defensive Tackle
# 6-5, 305
Longmeadow, CT
View Full Profile . Kendall Joseph

Kendall Joseph
RS Fr. Linebacker
#34 5-11, 225
Belton, SC
View Full Profile . Jadar Johnson

Jadar Johnson
Jr. Defensive Back
#18 6-0, 200
Orangeburg, SC
View Full Profile . Scott Pagano

Scott Pagano
RS So. Defensive Tackle
#56 6-3, 295
Honolulu, HI
View Full Profile . Richard Yeargin

Richard Yeargin
RS Fr. Defensive End
#49 6-4, 225
Lauderdale Lakes, FL
View Full Profile . Dorian O'Daniel. Korie Rogers

Korie Rogers
RS Fr. Outside Linebacker
#43 6-2, 235
Buford, GA
View Full Profile . Mark Fields

Mark Fields
Fr. Cornerback
# 5-10, 185
Cornelius, NC
View Full Profile . Remember those names. They're all listed as backups heading into the spring, but all could be starters elsewhere.
Mackensie Alexander

Mackensie Alexander
RS So. Cornerback
#2 5-10, 190
Immokalee, FL
View Full Profile put the Sooners on notice before the bowl game, not taking any pregame trash talk from Oklahoma wide receiver Sterling Shepard and had to be held back by the coaches. Shepard had one catch for 13 yards. Alexander backs up his play by work in the film room. He's good. He knows it. He also knows he can't rest and has to get even better.
Pushing him are the likes of Jayron Kearse

Jayron Kearse
Jr. Safety
#20 6-4, 210
Fort Myers, FL
View Full Profile , T.J. Green

T.J. Green
Jr. Safety
#15 6-3, 205
Sylacauga, AL
View Full Profile , Ben Boulware

Ben Boulware
Jr. Outside Linebacker
#10 6-0, 235
Anderson, SC
View Full Profile , and the quiet B.J. Goodson

B.J. Goodson
RS Sr. Linebacker
#44 6-0, 240
Lamar, SC
View Full Profile . Shaq Lawson

Shaq Lawson
So. Defensive End
#90 6-3, 269
Central, SC
View Full Profile says he is ready, as does Kevin Dodd

Kevin Dodd
RS Jr. Defensive End
#98 6-5, 275
Taylors, SC
View Full Profile .
Will this defense be good enough to be number one in the country? That's hard to do two years in a row. But they'll be plenty good enough to win 10, 11 or even 12 games. And by mid-season, those inexperienced backups will have experience.
If you don't believe these players think they can win and win big in 2015, check out their social media posts. While the coaches are quietly confident, the players will let everyone know they think they can win.
The season starts today. With a swagger. Will it end the same way?
We have to spot the ball to find out. Bring on 2015.

Tags:
Eric Mac Lain
,
Charone Peake
,
B.J. Goodson
,
Cole Stoudt
,
Kevin Dodd
,
Shaq Lawson
,
Mike Williams
,
Wayne Gallman
,
Ben Boulware
,
Mackensie Alexander
,
Jayron Kearse
,
Jadar Johnson
,
Scott Pagano
,
T.J. Green
,
Deshaun Watson
,
Korie Rogers
,
Artavis Scott
,
Richard Yeargin
,
Kendall Joseph
,
Mark Fields
,
Mitch Hyatt
,
Ray-Ray McCloud
,
Deon Cain
,
Jake Fruhmorgen
,
Christian Wilkins