| | |
| --- | --- |
| Sunday night update: No letdown | |
---
| | |
| --- | --- |
| Sunday, November 15, 2015 8:12 PM | |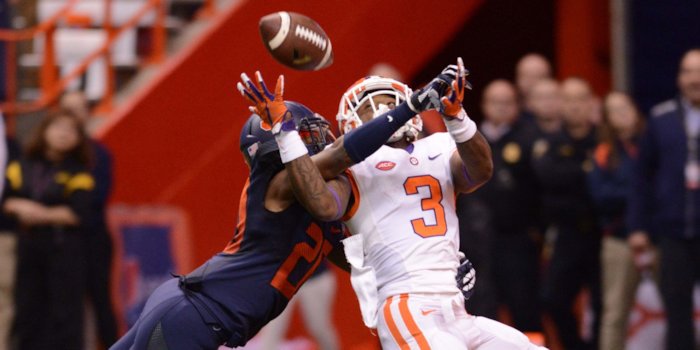 Dabo Swinney told the media Sunday night that he was happy to leave Syracuse with a double-digit win.

Top-ranked Clemson had to hold off a pesky Syracuse team and left the Carrier Dome with a 37-27 victory that improved its record to 10-0 and 7-0 in the ACC.

Swinney said that despite the turnovers and poor play of the defense at times, he was proud of the way his team played.

"Good trip up to Syracuse. I'm really proud of our team. Watching all phases of the tape, it was kind of a mixed bag," Swinney said. "We did a lot of good things, a lot of good things, but also had some critical mistakes. I'm proud of our team. I really am. To get a 10th win five years in a row is just an incredible accomplishment. Really this is a tough stretch - three out of our last four were on the road and a couple of long trips to Miami and Syracuse and Florida State right in the middle of it. These guys have competed their tails off. Really proud of them, I really am. We are going to get everybody's best shot and certainly got that last night. I think unless you have been in this business it's really hard to have an appreciation of just how hard it is to win. All you got to do is look at TV. You had four top 10 teams get beat this weekend and two of them at home to unranked teams. It's just a really, really difficult thing to do to win with great consistency. And to be able to overcome mistakes. For us, to lose the turnover margin on the road minus-two and still win the game, I tell you that is a really good sign I think of the type of team we have. Again, a lot of good things."

Quarterback Deshaun Watson continues to put up impressive numbers, but three turnovers and several dropped passes marred what was otherwise a stellar night.

"Offensively just an excellent night. I mean very, very little negative plays," Swinney said. "We had 566 yards of total offense. I love the balance. We averaged 5.7 a carry. Obviously had a great night throwing the ball as well. Deshaun had a career high total offense day. He is just really playing at an elite level for us. We had no sacks. Just a lot of good things. The biggest disappointment offensively were the two fumbles. Really killed our momentum. Disappointed that we put the ball on the ground, but listen good players make mistakes. Kelly Bryant is not a good player, he is a great player. We got to get him going. He will get more opportunity. We are not going to throw a guy away because he makes a mistake. And that doesn't have anything to do with the defense. Defense has got to do their job. Really hurt our momentum and then we had a couple of drops. Leggett has been very steady, he had a big drop for a touchdown that could have really put it away and ended up having to kick a field goal there. All in all, just an excellent night offensively.

Defensively, Clemson gave up several long runs and allowed the Syracuse quarterbacks and running backs to run almost at will, something Swinney said was the responsibility of the players and the coaches.

"Defensively not our best, but certainly well enough to win. The biggest thing defensively is we continue to do a great job on third down," he said. "They were only 3 of 13 on third down. I think we lead the nation in third down defense. We did get a fumble and we did have some guys that played very well. Shaq Lawson played excellent. I thought Carlos Watkins played one of his better games. Kevin Dodd has been very steady. Jayron Kearse, it was good to see him get back and have a good game. The biggest disappointment was the big plays. They only had 300-something yards, but 243 yards came on seven plays and only one of them was a pass. So really, really disappointed in some of the things we did. We had some misfits where we didn't play some things correctly, but we also had some scheme issues and that is on us as coaches. So all of us are taking ownership and trying to get some things corrected. But having said that, I don't want to take anything away from Syracuse because I thought they did an excellent job of coaching their guys and having them prepared and they executed well. They came out with a little bit of a unique triple option type of deal bringing a guy back in motion with 2 backs. Just did a good job of schemeing us up and it cost us. But we had some big stops along the way as well."

Swinney was impressed with the special teams unit as a whole as the Kearse blocked a field goal attempt and Greg Huegel made all three of his attempts and remains perfect in ACC play.

"Special teams we blocked a kick," he said. "That is our second block in the last few games. Greg Huegel was really 4 for 4, but we took the points off the board on that last one just so we could end it, but he had some big kicks. One of our main goals was to not allow the punt returner to be a factor, and he had zero punt return yards. I'm really proud of Ammon Lakip and how he is kicking the ball. Excellent job with four touchbacks."

Despite giving up 27 points and only escaping with a 10-point win, Swinney said his team did not suffer a letdown Saturday afternoon.

"No. No letdown at all. We won by double digits. Offensively it was a career day for Deshaun and a career day for Charone Peake," he said. "We had great balance offensively. Just because the other team made plays doesn't mean we had a letdown. I hate that people say that. That third and forever on the three-yard line? Go look at the tape. Shaq destroyed their quarterback but they made a great play there. The quarterback made a good throw and their receiver made a good play on the ball. Those kids fought for everything that they got. They out-coached us a little bit. They blocked us some, too. That doesn't mean it was a letdown. What's a letdown? We won by double digits. We only have to have one more point. We can beat Wake and South Carolina and win by one point, we can win the ACC title game by one point and if we win the national title game by one point, we'll be national champs. Did we play perfect? No. Heck no. We overcame some mistakes and some big plays by them. A lot of good there. No question we have to get better and we have to play better this week. The objective is to win and we more than accomplished that."

Clemson returns to Death Valley for its final home game and will celebrate both Senior Day and Military Appreciation Day Saturday against Wake Forest.

"I think it's special for everybody because it's the last home game of the year," he said. "It is special every time we get a chance to play in Death Valley. It's just incredible. Any time we play here, these guys take such pride in that. We only get seven of these a year. They've won about 15 or 16 in a row. Showing up and playing at home has been great, but when it's the last home game of the year, you know you have to wait until next September. We may have a couple of juniors who may come out (after the season). I remember my last home game. Ironically we were playing South Carolina. You remember those things. It's special."

Other notes

Injury update

"Injury-wise, Wayne Gallman kind of rolled his ankle. He's day to day right now. Mitch Hyatt is okay. He had a stinger. He was okay this morning. Mackensie Alexander, same thing. We will evaluate him further tomorrow. We think he's okay but we're going to do an MRI and make sure."

Swinney said they will re-evaluate both Ray-Ray McCloud and Tyrone Crowder Monday.

Players of the game

"Players of the game were Charone Peake who had a tremendous effort, Shaq Lawson and Greg Huegel and Ammon Lakip on special teams."

On Deon Cain's increased role

"He's playing a good bit. He and Charone are rotating in there. Deon played 35 snaps. He's still having some mental errors which we have to get corrected. He's just a great young talent. We had 566 yards, but we really felt like we left about 150 on the field between the two turnovers, penalties and a missed throw. Deon is just growing and has gotten more comfortable. Still a lot of improving to do for him."

On Taylor Hearn not making the trip

"Sure (everything is okay). He just didn't make the trip. We only took 72, and we didn't take him."

Tags:
Charone Peake
,
Ammon Lakip
,
Kevin Dodd
,
Carlos Watkins
,
Shaq Lawson
,
Wayne Gallman
,
Tyrone Crowder
,
Mackensie Alexander
,
Jayron Kearse
,
Deshaun Watson
,
Taylor Hearn
,
Kelly Bryant
,
Mitch Hyatt
,
Ray-Ray McCloud
,
Deon Cain
,
Greg Huegel