| | |
| --- | --- |
| Sunday Dabo teleconference | |
---
| | |
| --- | --- |
| Sunday, September 11, 2011 7:06 PM | |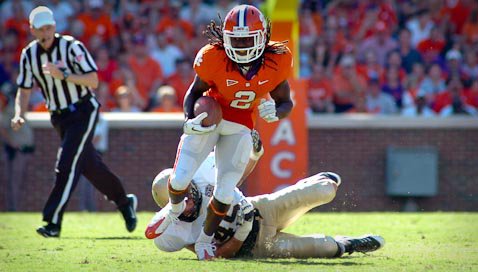 CLEMSON – Clemson head coach Dabo Swinney said on his weekly Sunday afternoon teleconference with the media that the Tigers are going to have to improve on both sides of the ball if they are to have a chance at beating Auburn next Saturday.
Auburn is the defending national champion and enters Death Valley with a 17-game winning streak. Saturday, Auburn held off Miss. St.
"We've learned a lot at this point. Our goal was to be 2-0," Swinney said. "At this point, that's where we are. We have to continue to improve in all areas, but I'm encouraged with the effort I'm seeing. But there are some things we have to improve upon if we're going to match up with a team like Auburn, that's for sure."
Swinney said the offense left too many points out on the field against Wofford in a 35-27 win.
"Offensively, it's been a long time since I've been disappointed with 476 yards, but we left something out there," he said. "We're just having some mistakes. But I thought our quarterback really improved from week one to week two. We had some protection issues which are very correctable. It was more being on our assignments. But I like what I'm seeing with some of our skill guys.
"It was good to see Andre have the kind of game he had. I'm very encouraged about our potential, especially as we continue to try to put it all together. No turnovers. That's a huge, huge, huge emphasis we've made. Any time you can do that you have a good chance to win. And it was good to see us offensively finish the game at the end. But again, a lot of improvement needed."
Swinney said the defense had some "busts" that were costly.
"Defensively, they only completed two passes, but they were for 127 yards," he said. "We had some busts - big plays. That's an area that we have to continue to try to improve upon. I thought we did a really good job on No. 7 [QB Mitch Allen]. But he ended up hurting us the most running the ball. We got better as the game went. And they played with a lot of effort. "
The special teams had issues – a botched hold on an extra point, gave up a big gain on a fake punt, a loss of nine yards on a fake punt and a missed field goal.
"Special teams, there were some issues with our field goal execution," he said. "We didn't execute the fake and we missed one. We had the fake punt on us where we did not force the punt. Our return game was better. Sammy looks like a guy who could be a difference maker for us. We have a big task this weekend with Auburn. Looking forward to getting the team back in tomorrow morning."
Swinney said the Tigers are still a work-in-progress.
"The next ten games are a big challenge for us," he said. "We have a lot of work to do. All you can do is measure where you are. As I said, we're a bit of a work-in-progress early. We've got a lot of potential. We're very capable. We have to find a way to keep winning. We'll find out Saturday if we're ready."
The offensive line wasn't particularly effective against the Terriers or against Troy the week before, and Swinney was asked if he was considering any personnel moves.
"Not really. I'm probably most disappointed in David Smith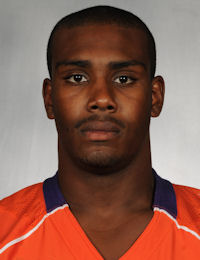 David Smith
RS Sr. Offensive Line
#73 6-5, 315
Greenville, SC
View Full Profile ," he said. "He didn't play well. Mason Cloy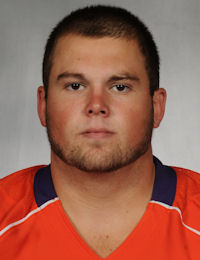 Mason Cloy
RS Sr. Offensive Line
#62 6-3, 295
Columbia, SC
View Full Profile is a guy you may see in there more. We have to get something out of Brandon Thomas

Brandon Thomas
RS So. Offensive Line
#63 6-4, 300
Spartanburg, SC
View Full Profile at some point. We have to do a better job. We're confident we can have a good first group but they've got to play better. It was assignment-oriented, stuff that just shouldn't happen. We'll have a very physical Tuesday and Wednesday. We're always open to changes."
Swinney said his team still isn't physical enough.
"I thought they tried to be more physical than they were in the first week," he said. "Still not what we want. At the end of the day, we had 500-something yards of offense. We lost 45 yards on the sacks. Two of them were legit sacks where we just got beat. The others were assignments where we turned guys completely loose. But we ran the ball pretty effectively. The fourth-and-one was 100-percent on our tight end. Our tight end just didn't block the C-gap. The guys up front really knocked them off the ball. They'll get better, though. They'll get better."
Swinney said there were no significant injuries Saturday, and that safety Rashard Hall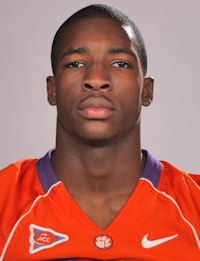 Rashard Hall
RS Jr. Safety
#31 6-2, 200
St. Augustine, FL
View Full Profile should be ready for Auburn.