| | |
| --- | --- |
| Stephone Anthony: "We're going to be Clemson Tigers until we die" | |
---
| | |
| --- | --- |
| Tuesday, January 27, 2015 2:15 PM | |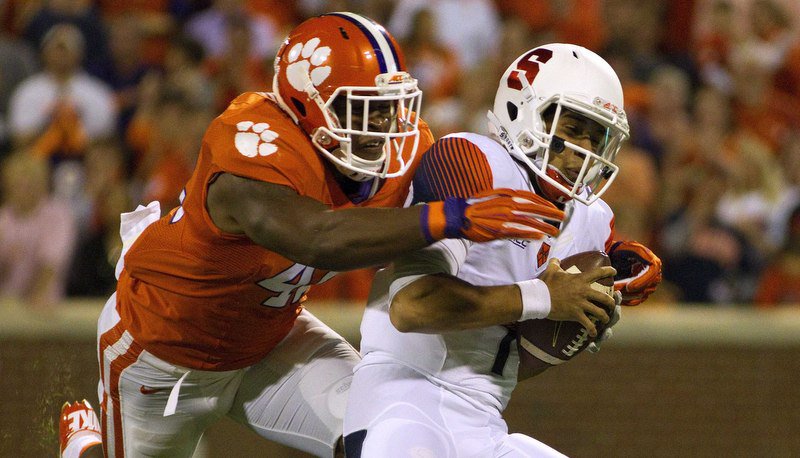 Grady Jarrett

Grady Jarrett
Sr. Defensive Tackle
#50 6-1, 290
Conyers, GA
View Full Profile and Stephone Anthony

Stephone Anthony
Sr. Linebacker
#42 6-2, 244
Polkton, NC
View Full Profile represented Clemson in the Reese's Senior Bowl last week in Mobile Alabama.
During the week, the two former Clemson standouts spoke candidly with Nick Trist, who worked with TigerNet during the Senior Bowl activities, about their time at Clemson, their former teammates and the future of Clemson defense.
Part two of this two part series is an edited transcript of the interview with former Clemson linebacker Stephone Anthony.
TigerNet: How has your week in Mobile has gone?
Stephone Anthony: "We're both having a good week. We're out here competing and just trying to show what we can do. It's been a blessing for both of us to be here and to compete with these guys and show the scouts what we've got. I think we definitely grabbed some attention this week."
TigerNet: Would you recommend other players participate in the Senior Bowl?
Stephone Anthony: " I would definitely recommend this event to any of our players that get invited. Phil Savage has done a great job of getting this thing planned throughout the whole week. It's only three practices. You can look at it however you want but it's three good days for you to come out compete and give all you've got."
TigerNet: The competition at the Senior Bowl has been very high. Can you talk about the South Roster and the talent you've been facing up front?
Stephone Anthony: "I'm blessed to compete with those guys. I definitely feel like all of those guys are capable. It's fun to come out here and measure yourself against those guys. We've all done some great things practice."
TigerNet: Talk about getting to work with the Jacksonville Jaguars coaching staff.
Stephone Anthony: "It's been an outstanding opportunity for us to get to know Coach Bradley and his staff and being able to work with those guys. Running a 4-3 defense very, very similar to Clemson so I feel like we came down here and fit in well. It was good relationships built. His staff has brought enthusiasm like no other. They take passion and coach us hard and they coach us well."
TigerNet: What is Grady Jarrett's best attribute?
Stephone Anthony: "It's work ethic. His attitude and passion to play the game. Everybody wants to put limits on him and that's his motivation in his grind and the things he does."
TigerNet:Clemson loses a lot of talented players on defense and one of those is Corey Crawford

Corey Crawford
Sr. Defensive End
#93 6-5, 276
Columbus, GA
View Full Profile . What kind of player was he at Clemson and what kind of player do you think he'll be on the next level?
Stephone Anthony: "Corey is an outstanding athlete. He's 6-5, 6-6. He definitely has a body and the long length. He has the measurables to play at the next level. He's definitely fast enough. He's definitely powerful enough. He's got enough explosiveness to him. He's got a chance at the next level and he'll have a chance to get to hear his name called on draft day."
TigerNet: What does the future hold for Clemson's defense – specifically at the linebacker spots – with all of those young guys?
Stephone Anthony: >"I don't expect any drop off. That culture has been built and it's in the linebacker group according to Brent Venables

Brent Venables
Def. Coordinator / Linebackers
View Full Profile . He's instilled that in us. They know what it takes to win. They know how to prepare and get ready for a ballgame. You've got B.J. Goodson

B.J. Goodson
RS Jr. Linebacker
#44 6-1, 240
Lamar, SC
View Full Profile , Ben Boulware

Ben Boulware
So. Outside Linebacker
#10 5-11, 235
Anderson, SC
View Full Profile , Dorian O'Daniel

Dorian O'Daniel
RS Fr. Linebacker
#6 6-1, 217
Olney, MD
View Full Profile , Kendall Joseph

Kendall Joseph
Fr. Linebacker
#34 5-11, 230
Belton, SC
View Full Profile , Korie Rogers

Korie Rogers
Fr. Outside Linebacker
#43 6-2, 242
Buford, GA
View Full Profile - two young linebackers that are going to really good. There's going to be no drop off and I expect nothing less. It will be interesting to see who leads and how those guys respond this coming summer."
TigerNet: What are you going to miss most about Clemson?
Stephone Anthony: "The grind - the summer workouts with your brothers. You go through that with guys that you barely know but as you grow with time - year one, year two, year three, year four - you grow a bond for each other that's unbreakable. We're going to be Clemson Tigers until we die. It's been a wonderful opportunity and a blessing. It's an atmosphere like no other. It's a campus like no other. The people come to Clemson because it is different. Everybody says it's different and it truly is different. I appreciate the opportunity to go there. The coaching staff is amazing and whatever kid that choose to go there won't regret it."