| | |
| --- | --- |
| Stats and More Stats: Clemson's perfect season defined by crazy numbers | |
---
| | |
| --- | --- |
| Monday, January 14, 2019 2:28 PM | |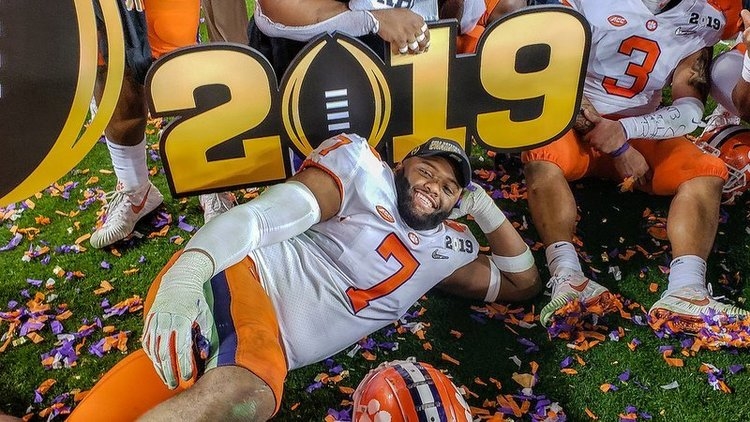 The 2018 football season will forever be a season defined by numbers, with the most important numbers being 15 and 0, as in 15 wins and zero losses.
The numbers from this past season are fun to look at, and while many of them have been published, written about and talked about, there are a few no one has mentioned we will bring to light and a few that are worth mentioning again.
The freshman season of quarterback Trevor Lawrence was, in a word, stellar. The morning after Clemson's win over Notre Dame in the Cotton Bowl, an avid TigerNet reader (who wishes to remain nameless) sent me an email that mentioned Lawrence was in rare company, saying he had a chance to own a freshman record for touchdown passes in a season.
The email said: David Neill set the overall (true or redshirt) freshman TD passing record in 1998 at 29 touchdown passes. He played at Nevada, so not exactly the toughest competition. He was a true freshman.
No true freshman has thrown more than 28 touchdown passes in a season since then. John O'Korn of Houston threw 28 in 2013 as a true freshman.
Outside of John O'Korn, no true freshman has thrown more than 26 touchdown passes since 1998 except for Trevor Lawrence, who now sits at 27.
So Lawrence can set the true freshman TD passes record against Bama with a good game.
The overall freshman passing TD record stands at 40 by Jameis Winston, but he redshirted his actual freshman year.
That email started me looking at stats, and it appeared he was right. A good game against Alabama and Lawrence would stand alone as the only true freshman quarterback in history to reach 30 TD passes in a season. Lawrence tossed those three touchdowns, and ESPN later confirmed that Lawrence is just the third quarterback in history to throw for 30 TDs in a season, joining Winston and Sam Bradford (who were both redshirt freshman when the feat was accomplished.
*Another reader (with the appropriate name of Tiger Landrith) emailed me this:
Not counting the Furman game (they were 0-0), our Tigers defeated (6) undefeated teams along their way to the National Championship. (Texas A&M, Georgia Southern, Syracuse, NC State, Notre Dame, and Alabama).
So, 40% of the teams Clemson had victories against this year were undefeated at the time we played them. WOW…40%. That has to be some sort of record, right?
My Fuel for Thought question to you is, has any other major college team been more successful this year against undefeated opponents than our Clemson Tigers? Also, when was the last time a National Championship team (in the modern era) had more victories against undefeated opponents than our 2018 Tigers?
I am emailing the great Tim Bourret to ask him those questions, but feel free to look. If someone comes up with an answer, let me know.
*Clemson and Alabama now have a combined 110-8 record since 2015. Excluding the four games, the teams have contested against one another in that time frame, the Tigers and Tide are a combined 106-4 (96.4 percent) against all other competition over the last four seasons.
*Clemson sealed the victory with a 14-play, 94-yard drive that lasted 10:02 to run out the clock. It was the first 10-minute drive in Clemson history, exceeding the previous longest drive in school history of 9:47 against Maryland on Sept. 10, 2005.
*Speaking of Lawrence – he entered the game having thrown a career-long 137 consecutive pass attempts without an interception, with his most recent interception coming on his final pass attempt at Boston College on Nov. 10. On his eighth attempt of the game, a 26-yard pass to Tavien Feaster, Lawrence broke Cullen Harper's single-season school record of 143 consecutive interception-free attempts in 2007.
Statistical oddities from the title game
Clemson was 10-of-15 on third downs; it gained 255 on those 10 conversions (25.5 per, with gains of 74, 62, 37, 26, 17 and 14). However, Clemson gained 5 or more yards on just 5 of 26 first down plays (and all gained 11 or more); Alabama gained 5-plus yards on 20 of 33 first down plays (10 or more 14 times).
The two PAT kicks that were missed (both hit the left upright) were the first PAT kicks missed in CFP title game play.
When Clemson took a 44-16 lead late in the third quarter, it marked the biggest lead (28 points) at any point in the five CFP title games; the previous largest margin had been 22, the final score in the first game (Ohio State 42, Oregon 20).
Alabama had three second-half possessions end on downs; all three ended in plus territory, as Clemson's defense stepped up and limited the Tide to 59 yards on 22 second half plays on its side of the 50.
Feast or Famine: not including the last drive that ran out the clock (10:02, 14 plays, 94 yards), Clemson had six scoring drives and its other three were all three-and-outs.
More on Lawrence
Finished the first quarter 2-of-7 for 70 yards with 0 touchdowns and 0 interceptions before going 10-of-14 for 127 yards with 1 touchdown and 0 interceptions in the second quarter. After the 2- of-7 opening quarter, he was 18-of-25 for 277 yards with 3 touchdowns and 0 interceptions the rest of the game. On third down, he was 8-of-11 for 240 yards.
Lawrence becomes the first true freshman QB to beat Nick Saban since Mississippi State's Wesley Carroll in 2007. He is just the third true freshman ever to defeat Saban (Florida's Chris Leak in 2003 while Saban coached LSU and LSU's Herb Tyler in 1995 while Saban coached Michigan State).