| | |
| --- | --- |
| Standouts abound at Swinney football camp | |
---
| | |
| --- | --- |
| Wednesday, June 8, 2011 8:01 PM | |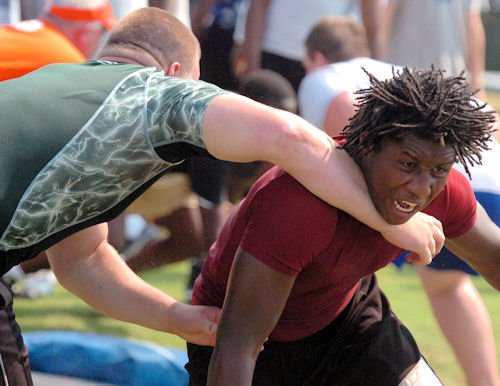 CLEMSON – The Dabo Swinney Football Camp was in full swing Wednesday morning, and TigerNet got a look at several of the top prospects on the Tigers' board.
*As soon as I arrived, I immediately went over and took a look at Bamberg defensive end Martin Aiken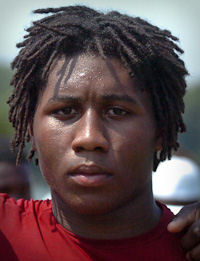 Martin Aiken
Defensive Line
6-3, 240
Bamberg, SC
View Full Profile . Aiken's size and explosiveness out of the stance were what stood out to me while watching him in individual and 1-on-1 drills. He may be just a tad shorter than what you would like in a defensive end, but he more than makes up for it with a relentless motor.
In one drill, he had to "head slap" two tackling dummies while simulating a rush to the quarterback, and he almost knocked both devices over with slaps that sounded like gunshots. He showed in the 1-on-1 drills that he has the ability to get below blockers' pad level and simply beat them off the edge. I would have loved to have seen him work against Clemson OL commits Patrick DeStefano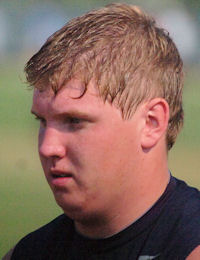 Patrick DeStefano
Offensive Line
6-4, 275
Roebuck, SC
View Full Profile or Jay Guillermo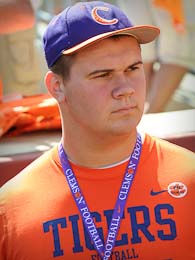 Jay Guillermo
Offensive Line
6-3, 285
Maryville, TN
View Full Profile , but that didn't happen.
*As the session was ending, I went over to watch the kickers and couldn't help but be impressed with new Clemson offer Bradley Pinion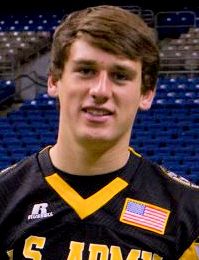 Bradley Pinion
Punter / Kicker
6-6, 220
Concord, NC
View Full Profile . He has a booming leg, and I counted two punts that went over 70 yards and he had a hang time of anywhere between 4.5 and 5.1 on most kicks. He worked under the watchful eye of Danny Pearman for a good bit of the session, and then kicked – basically for a scholarship – for head coach Dabo Swinney later in the session. The ball just jumps off his leg, and once he learns to repeat his motion every time – and gain consistency – this kid (6-6, 220) is going to be a major weapon for somebody.
*I watched the linebackers work out for two periods, and noticed that defensive coordinator Kevin Steele worked a lot with 2013 offer Peter Kalambayi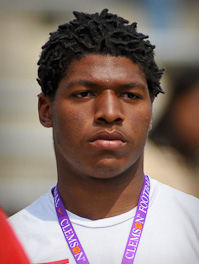 Peter Kalambayi
Linebacker
6-2, 220
Matthews, NC
View Full Profile out of Butler (Matthews, NC). Steele constantly yelled "eyes, eyes, eyes" to the outside linebacker prospect.
Also in that group was 2014 prospect Kevin Crosby
Kevin Crosby
Linebacker
6-3, 225
Bamberg, SC
View Full Profile out of Bamberg, the son of Bamberg head coach Butch Crosby. He was attired in a white Clemson workout shirt, and already looked the part of a college linebacker. He is unbelievably fast in his backpedal, and his burst out of the backpedal back towards the line were what you like to see in a player that young. One head coach who was there – who coaches against Bamberg – told me that he knew Crosby was going to be special in middle school and that by the time 2014 rolls around, he might just be the best player in the state. Nothing I saw told me that couldn't happen.
*Gaffney DL Jaylen Miller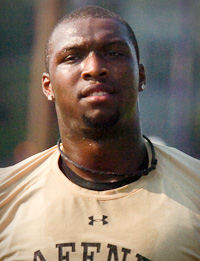 Jaylen Miller
Defensive Line
6-2, 235
Gaffney, SC
View Full Profile (6-2, 250) spent a lot of time getting instruction from line coach Dan Brooks during the morning session, and as the two headed for a water break Brooks grabbed Miller around the neck and said, "See! That's what happens when you use the right technique."
*One of Allendale-Fairfax High School coaches told me to take a look at 2013 tight end prospect Re'Shawn Riley
Re'Shawn Riley
Tight End
6-0, 190
Fairfax, SC
View Full Profile . Riley showed a knack for catching tough passes, but also looks like a kid who hasn't completely grown into his body yet. Once he does, he could be a beast.
*Clemson receivers coach Jeff Scott spent a lot of time with two 2013 prospects in Ahmad Fullwood (Jacksonville, FL, Bishop Kenny), Mike Williams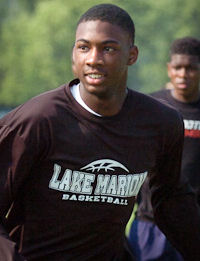 Mike Williams
Wide Receiver
6-4, 185
Holly Hill, SC
View Full Profile (Lake Marion) and Blake Bone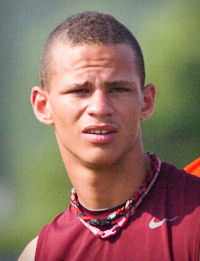 Blake Bone
Wide Receiver
6-3, 165
Woodruff, SC
View Full Profile (Woodruff). Fullwood has verbal offers from Clemson, Arkansas, South Carolina, Boston College and Ole Miss, and the 6-foot-4, 200-pounder is graceful for his size. He caught several passes on the sideline – the drill where you have to exaggerate dragging one foot in bounds – and was extremely quick coming out of his breaks. Fullwood even beat one of the best defenders in camp – Travis Blanks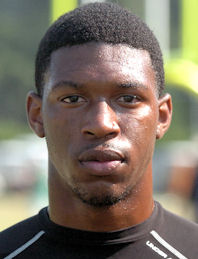 Travis Blanks
Athlete
6-1, 180
Tallahassee, FL
View Full Profile - straight down the field, earning praise from Scott. Bone is not as big as you would like –yet – but his feet are quick and he has really good hands.
* Trevon Stewart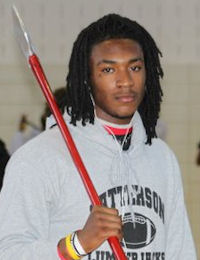 Trevon Stewart
Defensive Back
5-9, 185
Patterson, LA
View Full Profile , from Patterson (LA), is the kid who comes to the Clemson camp hoping to earn a scholarship offer from the Clemson coaches. He showed decent coverage skills during the morning session, can turn his hips with the best of them, but might be a little smaller than what secondary coach Charlie Harbison is looking for.
*OL Javarius Leamon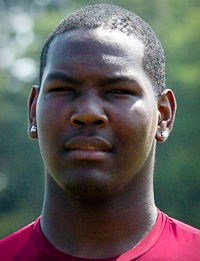 Javarius Leamon
Offensive Line
6-6, 260
Woodruff, SC
View Full Profile (6-6, 260, Woodruff) was also on hand, and the dude is huge. He went 1-on-1 with Aiken at one point and simply dominated the Bamberg end. He has long arms and might have more physical tools than anybody else in the state. Ninety Six OT Oliver Jones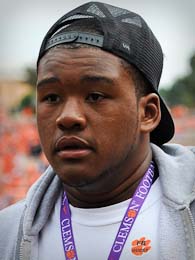 Oliver Jones
Offensive Line
6-5, 292
Ninety Six, SC
View Full Profile was on hand, but he is still recovering from his ACL injury and didn't take part in drills.

Tags:
Blake Bone
,
Bradley Pinion
,
Javarius Leamon
,
Jay Guillermo
,
Jaylen Miller
,
Martin Aiken
,
Mike Williams
,
Oliver Jones
,
Patrick DeStefano
,
Peter Kalambayi
,
Travis Blanks
,
Trevon Stewart