| | |
| --- | --- |
| Spring Breakdown: Tight Ends | |
---
| | |
| --- | --- |
| Wednesday, February 18, 2015 8:01 AM | |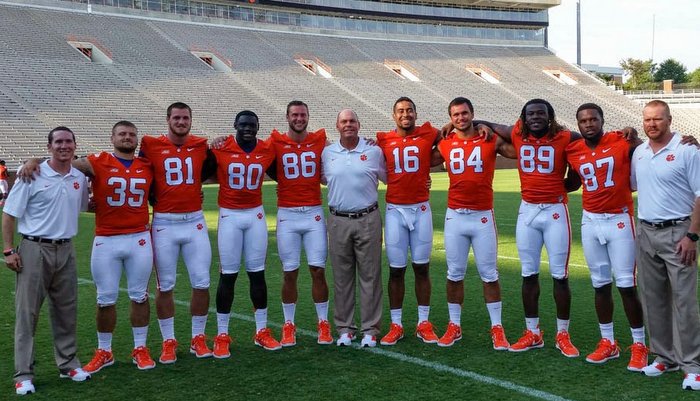 Last fall, we heard about the depth the Tigers had at tight end and that depth was sorely tested during the season.
Heading into spring practice, the Tigers will once again boast depth at the position, and it will be up to the players to see which one separates himself from the pack. Why? Because I am not sure if there is a clear-cut starter heading into the start of spring.
Heading into the fall of 2014 the Tigers had Sam Cooper

Sam Cooper
RS Sr. Tight End
#86 6-6, 250
Brentwood, TN
View Full Profile , Stanton Seckinger

Stanton Seckinger
RS Jr. Tight End
#81 6-4, 241
Isle of Palms, SC
View Full Profile , Jordan Leggett

Jordan Leggett
So. Tight End
#16 6-5, 251
Navarre, FL
View Full Profile , Jay Jay McCullough

Jay Jay McCullough
RS So. Tight End
#89 6-3, 248
Fort Mill, SC
View Full Profile and D.J. Greenlee

D.J. Greenlee
RS Fr. Tight End
#87 6-1, 240
Clemson, SC
View Full Profile all poised to take snaps at the spot. But injuries began to mount – starting with Cooper during warmups for the season opener at Georgia – and every player on the roster missed time at some point during the season.
The coaches redshirted Milan Richard

Milan Richard
Fr. Tight End
#80 6-3, 243
Savannah, GA
View Full Profile and Cannon Smith

Cannon Smith
Fr. Tight End
#84 6-5, 235
Columbia, SC
View Full Profile last fall and went into the year thinking the above five would be enough to get them through the season. There was also a heightened expectation that this would be the Tigers' deepest group at the position in a long time and there were hopes the tight ends would be a major part of the passing attack.
Injuries, a lack of consistency and a need for the tight ends to help cover some holes on the offensive line made the position a veritable black hole on game day. In other words, the tight end position was disappointing from a pass-catching standpoint.
Leggett wound up with just 14 catches for 161 yards and one touchdown, and he was the headliner of the group. In fact, Leggett had just two more catches in 2014 than he did in 2013 despite playing 200 more snaps.
Jay Jay McCullough played a ton of snaps over the first part of the season, but was suspended by head coach Dabo Swinney

Dabo Swinney
Head Coach
View Full Profile prior to the game against Georgia Tech and missed the last four games of the season. He finished with seven receptions for 96 yards. Seckinger was healthy throughout the season and caught nine passes for 122 yards and a touchdown, but suffered a knee injury against South Carolina and will miss spring practice. Greenlee played 28 snaps over four games before suffering a knee injury in practice in early November.
Things got so bad - especially from a blocking standpoint - that the coaches moved defensive lineman Roderick Byers to tight end in early October and he wound up playing 19 snaps on the offensive side of the ball, mainly in goal line and short-yardage situations.
Cooper has graduated. Seckinger and Greenlee are likely out for the spring. McCullough is still "suspended" by Swinney and his status for the spring probably won't be known until we talk to Swinney in two weeks. That leaves Leggett and the two redshirts to fight for playing time.
Leggett admitted during 2013 that he was lazy at practice, leading for his teammates to call him "Lazy Leggett." He vowed during the fall last season that talks with former Clemson tight end and current Indianapolis Colt Dwayne Allen

Dwayne Allen
Tight End (2008 - 2011)
#83 6-3, 255
Fayetteville, NC
View Full Profile meant that he was going to put his best forward. He needs that kind of attitude this spring, and that attitude needs to lead to production. As far as we've heard, Byers will be in the mix at tight end this spring but we will know more once practice starts.
After seeing Richard during bowl practice, I mentioned to Swinney that my first reaction was "wow" because it looked like Richard (listed at 6-2, 245) had grown a couple of inches and put on a lot of muscle. Swinney laughed and had this to say about Richard and Smith.
"He (Richard) is a wow kind of guy. He is a specimen athletically. He and Cannon," Swinney said. "They are different kinds of players, but Cannon is probably going to be one of the more physical guys that have come through here. He has great explosiveness in his hips. Those two guys have really caught everybody's attention all fall. The defensive coaches have really bragged about both of them. Milan is a long athlete. And I went through the power hour numbers today, and his improvement from when he first got here is off the charts in every category. This will be good work for him. We have thrown him in with the varsity some and gotten him some reps in skelly. I think both of those guys will have very productive springs."
Richard and Smith both have good bloodlines – Richard is the nephew of Herschel Walker and Smith is the son of Bill Smith, a member of the Clemson Board of Trustees and who was starting defensive end on Clemson's 1981 National Championship team; he was a four-year letterman (1977-79, 81); started and had 10 tackles in Clemson's win over Nebraska in the 1982 Orange Bowl.
Both youngsters will push Leggett, and will make their case to stay in the upper reaches of the depth chart when/if the other players return.