| | |
| --- | --- |
| Spring Breakdown: Running Backs | |
---
| | |
| --- | --- |
| Tuesday, February 17, 2015 7:01 AM | |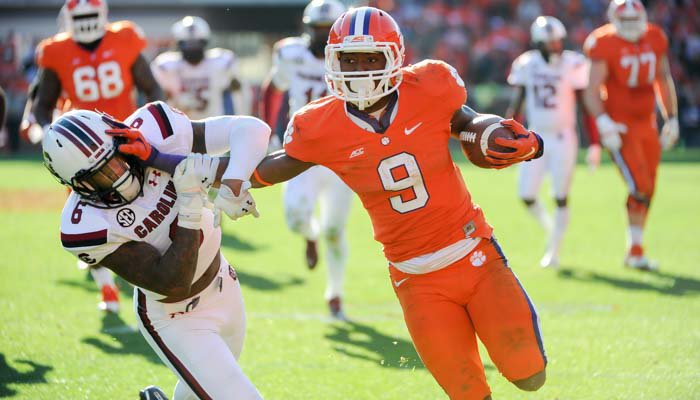 CLEMSON – Spring practice is just a little under two weeks away and despite the ice and sleet that covered the ground in Clemson early this week thoughts have already turned to spring football.
Several positions are up for grabs on the offensive side of the ball, and while most eyes will be on the quarterback battle a healthy competition will be taking place at running back.
Last spring and fall, Clemson's coaching staff (especially offensive coordinator Chad Morris

Chad Morris
Offensive Coordinator / QBs
View Full Profile ) tried to convince everybody that while Clemson lacked a true feature back heading into the season the Tigers were in good shape with the deepest stable of backs during head coach Dabo Swinney

Dabo Swinney
Head Coach
View Full Profile 's tenure.
That was put to the test when Zac Brooks

Zac Brooks
Jr. Running Back
#24 6-1, 199
Jonesboro, AR
View Full Profile suffered a season-ending Achilles injury in fall practice and Adam Choice

Adam Choice
Fr. Running Back
#26 5-10, 211
Thomasville, GA
View Full Profile suffered a torn ACL against Boston College. Add in C.J. Davidson

C.J. Davidson
RS Jr. Running Back
#32 5-10, 203
Clemson, SC
View Full Profile – whose fumbles earned him a spot in Swinney's doghouse – and seldom-used reserve D.J. Howard

D.J. Howard
RS Sr. Running Back
#22 6-0, 205
Lincoln, AL
View Full Profile and Clemson was forced to rely heavily on Wayne Gallman

Wayne Gallman
RS Fr. Running Back
#9 6-1, 209
Loganville, GA
View Full Profile .
Gallman delivered, and now he headlines what looks to be a deep AND talented group heading into the spring. Last season's group may have had depth, but this group is a little better.
Competing for the starting spot
Gallman had his best game of the season in Clemson's biggest game of the season – the win over South Carolina in the regular-season finale. Gallman rushed for 191 yards and a touchdown on 27 carries, finishing the season on a high note. Gallman finished the season with 769 yards and four touchdowns on 161 carries, and he added 24 catches for 108 yards and a touchdown. In the final four games of the season, Gallman was outstanding, rushing for 486 yards and two touchdowns on 89 carries. Gallman is just a sophomore, and he's still learning how to play the position after playing all over the field and getting limited carries in high school. He's only going to get better.
Tyshon Dye

Tyshon Dye
RS Fr. Running Back
#23 5-11, 214
Elberton, GA
View Full Profile was on everybody's watch list once the middle of the season rolled around. Swinney said that Dye would be ready by October, and Dye made his much-anticipated debut at Wake Forest. He finished with just five carries for 14 yards, but didn't play the next week in the debacle at Georgia Tech. However, he broke out against Georgia St. with 20 carries for 124 yards and two touchdowns.
Clemson head coach Dabo Swinney has said that all Dye needed was a full spring to get bigger, stronger and more involved in the playbook. He gets that chance this spring.
Pushing the first two
This will be a big spring for Brooks, who was expected to carry much of the load last season. Brooks was Clemson's third-leading rusher in 2013 when he had 246 yards on 48 carries. Brooks is not only dangerous running the football but he's a threat to catch the ball out of the backfield. His return gives the group something it lacked last season – a true threat to make plays after the catch.
Choice looked like he was ready to challenge for the starting spot when he suffered his torn ACL against Boston College on Oct. 18. He won't be on the field this spring as he rehabs from that torn ACL. Choice finished the season with 50 carries for 218 yards and a touchdown.
C.J. Davidson needs to find a way to stay out of Swinney's doghouse, and that means taking care of the football. Davidson is a nice change-of-pace back, but he was playing critical snaps early in the season in getting 12 carries against Georgia in the opener and in the loss at Florida St. a few weeks later. However, it was in that loss to Florida St. – his first career and only start – that Davidson had a critical fumble. Clemson's Jadar Johnson

Jadar Johnson
So. Defensive Back
#18 6-1, 207
Orangeburg, SC
View Full Profile had intercepted Florida St.'s Sean Maguire with just over two minutes to play, and Davidson had carried the ball to the Florida St. 14-yard line to set up a potential game-winner, but he was stripped of the ball by the 'Noles Eddie Goldman and Florida St. won in overtime.
He began to regain the coach's trust and played 21 snaps against Boston College, but had a big fumble in the win over Syracuse and was rarely heard from again – he had just 12 snaps and six carries in the final five games. This will be a big spring for Davidson as he tries to not get left behind.
The freshman
C.J. Fuller

C.J. Fuller
Fr. Running Back
#27 5-11, 216
Easley, SC
View Full Profile redshirted in 2014, but head coach Dabo Swinney and running backs coach Tony Elliott

Tony Elliott
Assistant Coach / Running Backs
View Full Profile raved about Fuller during bowl practice.
"Man, he is a guy that couldn't have picked a better name," Swinney said of Fuller. "He really jumped out at us out there today. In fact, we were getting shut out in the PAW drill until he got in there and he just kind of changed that. He was another one that was out of shape when he got here. He wasn't able to come in until late and I don't think he worked like he needed to on his own over the summer. But he has worked his butt off in that power hour. He is strong and fast and he is a natural runner with great vision. He was impressive today. Very impressive. In fact, I told him he had inspired me today and I liked the look in his eye. C.J. is a guy that no one asks me about but he will have a great career here if he stays healthy."
This is a big spring for all of the names on the list, and with Choice returning in the fall and the possibility of a Ray-Ray McCloud jumping into the fray over the summer playing time will be hard to come by. Who will be the winners and losers?
.