---
| | |
| --- | --- |
| Sunday, May 17, 2015 8:01 AM | |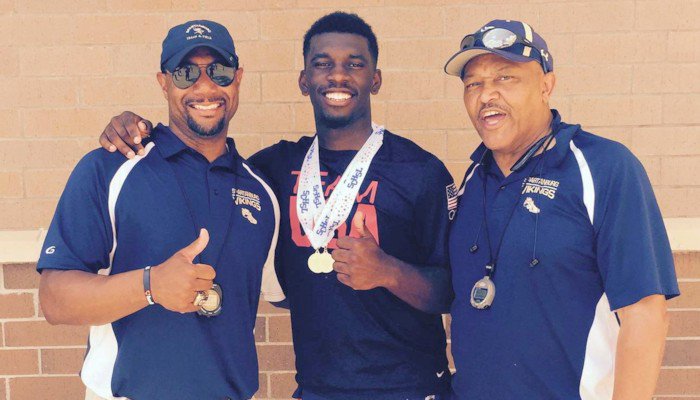 Tavien Feaster

Tavien Feaster
Running Back
6-0, 190
Spartanburg, SC
ESPN:


View Full Profile proved once again Saturday that he is one of the fastest high school athletes in the country as the Spartanburg junior swept the 100- and 200-meter titles for the second straight year at the 4A South Carolina High School League state track and field meet at Spring Valley High School.
Feaster finished with a time of 10.42 in the 100 and broke a state record by crossing the finish line in 21.11 in the 200. His time in the 100 was second-fastest in the nation this year, and the time also matched former Spartanburg standout Stephen Davis' winning time at the state meet.
Feaster's time in the 200 was 11th fastest in the country this season.
The 2016 Clemson running back commit told TigerNet after the meet that a good week of practice led to his fast times.
"It was excellent. I came in really focused today," Feaster said. "I thought I had a good week of practice and I prepared myself to just go out there and do what I do."
Feaster said he treats track practice like he does football – you play like you practice.
"You just have to go out there and take practice like it's a track meet," he said. "You've got to go 110-percent. You can't slack off one bit and go 75 and then go 100 the next day. You have to go 110-percent every day to prepare yourself, because there are guys coming out there to take your spot because they want to be the champ."
He then said that he wasn't worried about the records or the times – he just wanted to win.
"Honestly, I wasn't worried too much about the time," he said. "I was just more concerned about winning the race. I just wanted to win it and defend my titles."
The number one player in the state of South Carolina for 2016 and the 30th-ranked player nationally by ESPN, Feaster committed to Clemson in early February at his school. He said that while other schools still call, he is focused on the end of his school year.
"It's slowed down. I'm still being recruited by a couple of schools, but it has definitely slowed," Feaster said. "In my mind, I'm just working on getting all of my grades and stuff where they need to be. "
Feaster will participate in the national track meet in June before returning his focus completely to football.
"I'll probably go to the national track meet in June and then it will be back to football," he said. "I'm going to try to go to Clemson's camp but I've got to check the dates because the national track invitational is June 16th and 17th."
As a junior, Feaster had 133 carries for 1153 yards and fifteen touchdowns and 45 receptions for 1016 yds and eleven touchdowns despite having an injured shoulder for most of the year. In the 2014 state title game, he rushed for 130 yards and two touchdowns on 26 carries. He also had five receptions for 132 yards and a touchdown and a 44 yard interception return. He was the state champion in the 100 meter dash (10.59) and 200 (21.29). As a sophomore, he had 171 carries for 1429 yards and 15 touchdowns on the ground and 44 receptions for 723 yards and 12 touchdowns.
courtesy - Spartanburg Sports Report
Spartan High's @Fast_lane28 on top of podium after winning 4A 200M dash (21.11 sec- NEW state record)! @SptbgSports pic.twitter.com/18qw751a2Z

— Justin Mathis (@J_Math23) May 16, 2015